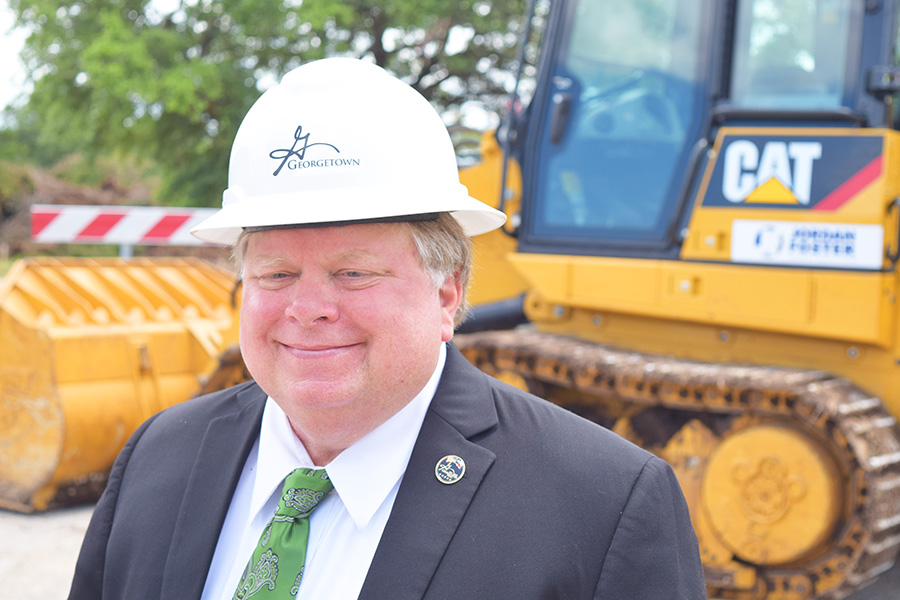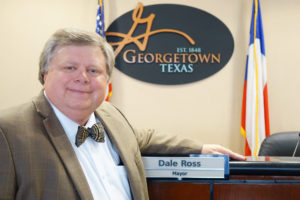 The Advocate sat down for a little Q&A with Mayor Ross this week to find out what more is in store after Georgetown received national attention on several fronts throughout 2016.
How would you characterize your expectations for the coming year?
I think it will be most fitting that when we look at 2017 we see a hard-hat. This year you will see construction happening in our city from east to west.
Roads, parks, city facilities, schools, apartments, houses, and businesses are being built to support the 13 residents each day, on average, who are moving here. We have a great number of projects already underway or that will be breaking ground this year.
What improvements can we look forward to in transportation?
Work is continuing on the Southwest Bypass, the 2.4-mile long road that will provide a north-south connection from Hwy. 29 to Leander Road, and I believe the road will be open in early 2018. The City's segment will connect with a Williamson County segment from Leander Road to Interstate 35. When finished, the road will provide a new loop around the southwest side of the city.
The FM 1460 project also continues this year and should be completed early next year, providing a key north-south route to Round Rock and the growing higher education corridor.
I'm also very excited about the extension of Mays Street that will be completed this fall. This new road segment will open up development opportunities south of Westinghouse Road near the Bass Pro Shop.
After a great deal of debate and discussion, a fixed-route bus system is scheduled to begin service on four routes in August. Federal funds will help pay for new buses and bus stops on the first fixed-route transit system in Georgetown. And a grant from the Georgetown Health Foundation will help fund the system's operating costs.
We are also looking forward to recommendations from the Williams Drive Corridor Study to be included in a report this spring, based on input from workshops and public input meetings last fall. The primary issues identified include traffic congestion and circulation, traffic operations and safety, redevelopment and reinvestment barriers, gateway aesthetic enhancements, and pedestrian and bicycle improvements.
What changes will we see in our high-caliber parks?
Our cornerstone park, the San Gabriel, will have a first phase of renovations this spring. Everything from street access to picnic areas and restoring the natural springs. Georgetown voters approved the bond and we should have the first phase completed before summer.
We will also have a complete renovation of VFW Park on Second Street—new softball fields, parking areas, restrooms, concession stand, and lighting.
Of course everyone is excited about the start of Garey Park, set for later this year. The new park will include hiking and picnic areas, an equestrian area, the Garey House event center, and other features.
Are there plans to upgrade or renew our municipal facilities?
The Downtown West project is nearing completion and construction will begin in the Fall. We are also renovating the former public library, which will become City Hall, as well as renovating the current building at 510 W. Ninth St. to become the new Municipal Court and Council Chamber. Construction should be completed and we can transfer over by the end of next year.
I am also excited about the city's sixth fire station, set to begin construction later this year and operational by the end of next year. The station, which will be owned by Emergency Services District 8 and operated by the Georgetown Fire Medical Department, will be located near Williams Drive and FM 3405.
Will we be able to shop more in 2017?
We are already seeing new retail development in a number of locations in the city, including a shopping center with a new Randall's grocery store at Williams Drive and Jim Hogg Road. The new grocery store should open later this year. The City will also be targeting new retailers this year based on the Retail Strategy and Recruitment Plan we completed last year.
Is Georgetown still a destination city for business and industry?
We announced just a few weeks ago the new Holt Cat construction equipment sales and service dealership which will begin construction later this year. The facility on Airport Road near Lakeway Drive is expected to create 129 new jobs and a net benefit to the City of more than $13 million over ten years.
How does the city plan to accommodate all the newcomers to Georgetown?
We have several new residential developments under construction and the first homes are for sale. This includes the Hillwood Wolf Ranch development along Wolf Ranch Parkway and Saddle Creek, a project on Sam Houston Avenue in southeast Georgetown. Each of these major residential projects include multiple phases with more than 1,000 single-family residences as well as retail areas.
Overall, and in all these ways, I believe the City and private development are responding to the remarkable growth we've been experiencing. That growth is the result of many people like us who have found and embraced the city we love.