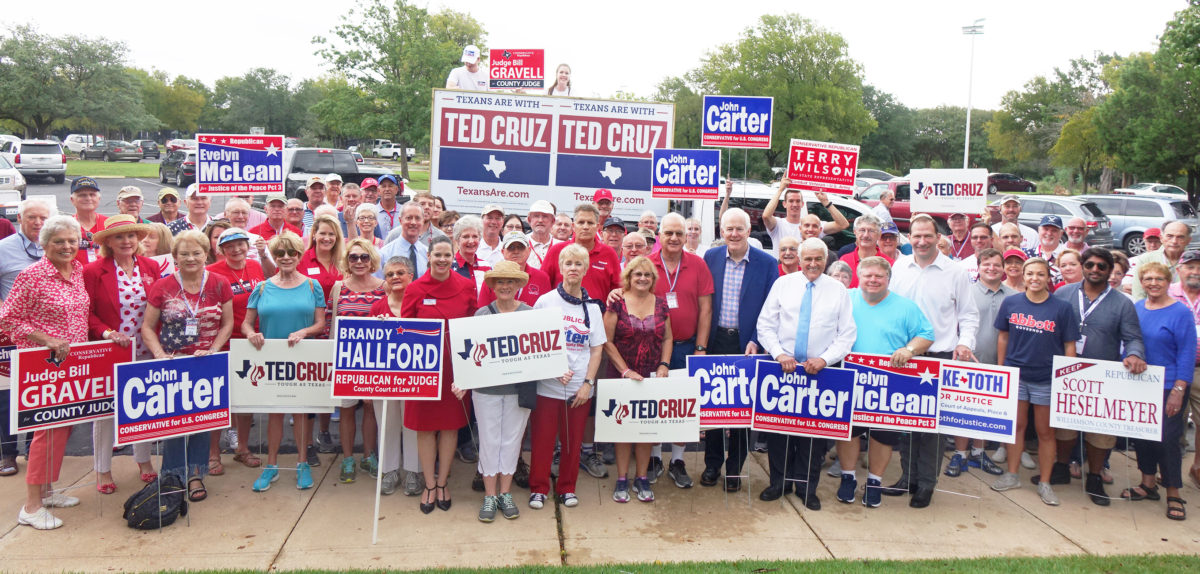 Notwithstanding a highly divisive primary season, Georgetown and Williamson County played host to senior statesmen and VIPs on several occasions in 2018 to generate support for the Republican ticket in the mid-term general election. It even looks like President Trump's October visit to Texas was likely initiated by a phone call by our very own GARW President.
Judge Bill Gravell defeated Round Rock City Councilman Frank Leffingwell in a race that turned out to be closer than both sides had predicted.
In September, U.S. Senator Ted Cruz made a retail stop in Georgetown to visit with more than 400 local residents and generate support for the Republican ticket in the general election.
More than 400 friendly attendees filled a restaurant on Austin Avenue to hear the Senator's recap on Congressional accomplishments of the last term and under President Trump. Excerpts from his speech:
• The Senate in 2018 doubled the child tax credit, from $1000 to $2000 per child per year. For hard-working Texas families, that is real money in your pockets to help makes ends meet and help provide for your family.
• Congress voted to double the standard deduction. This means in 2019, 90 percent of Americans will be able to fill out their tax returns on a postcard. Personally, I think that should be 100 percent. We should adopt a simple flat tax and abolish the IRS, but 90 percent is a good start.
• Unemployment, nationally, is at its lowest in decades. African-American and Hispanic unemployment is the lowest ever reported. Youth unemployment is lower than it has been in 52 years.
• Republicans came together to repeal the individual mandate for Obamacare. Obamacare was sold to us on a whole pile of lies. No one thought it possible but 52 Senators came together; now we need to finish the job and repeal the rest. If you want prices to go down, you want more options and competition.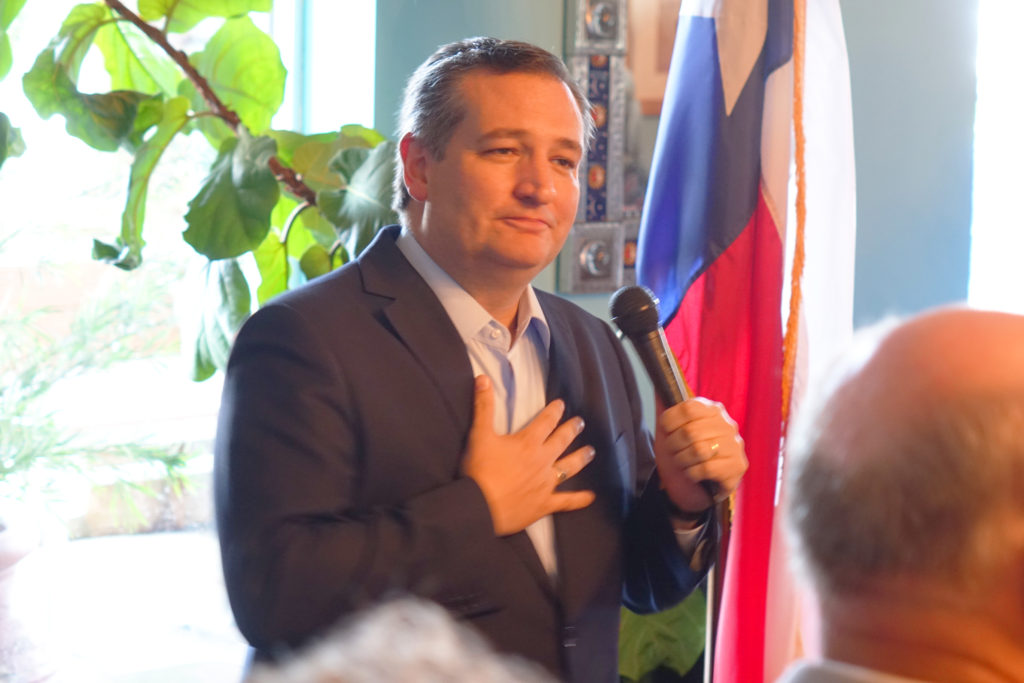 Senators Visit Again
On October 23, Georgetown hosted both Texas Senators for a Republican Rally at the ballroom in Sun City. The standing-room-only crowd heard from and took photos with all of the Republican candidates who were on hand to encourage voters.
Judge Bill Gravell opened the rally with a prayer and said of the event, "Senator Cruz was very dynamic, but the best part for me was being able to turn to my U.S. Congressman [John Carter] and hear a man who works harder, covers more territory and was with the United States President just the night before. The passion and energy I've seen among Republicans in the past two days is inspiring. I can only compare it to the strength and energy I saw in college when we elected Ronald Reagan."
On Election Day, Travis County had recorded 28,000 early voters to Williamson County's 21,000. "When you consider," Gravell says, "Travis has twice the number of registered voters we do, our numbers are tremendous. Having our senators in the same room shows we are on the national radar and our voters care!" Polling locations reported lines with as much an hour wait, all day long, over the first two days of early voting.
Senator Cruz got his greatest applause when he reflected on how angry the party is over the treatment of Justices Kavanaugh and Gorsuch. "I bring a message to you from President Trump, which is we got a whole lot more work to do ahead of us." He identified low national unemployment, higher oil production and a booming Texas economy among the recent party achievements. He is also continuing the fight for Second Amendment rights and to "repeal the train wreck that is Obamacare… because Texas is in our DNA."
Swearing In
Interspersed with thanks to family and supporters, several Williamson County inductees had some profound words for the citizens in the room, those watching on Facebook and for everyone they serve.
Judge John McMaster quoted Sam Houston with regard to the challenges of being a public servant; "Do the right thing, and suffer the consequences."
Judge Rick Kennon applauded voter turnout; "In my 2014 election, there were just over 21,000 votes cast. This time I received over 100,000 votes, so we are all pleased to see greater public interest every year."
JP1 KT Musselman accepted his new position with humility; "I recognize that at this point forward, I don't represent the 57 percent who voted for me in this election, nor do I represent the 100 percent of people who voted in the election. But I represent all of the people; the citizens, residents, the young, the old, those with access to an attorney, those who do not. Those who feel they have been outside the justice system and those who feel they're a part of it. From this day forward, I will do my best to serve those and serve every one of you and those in my community with fair and equal mind toward justice so that all can be served in this time."