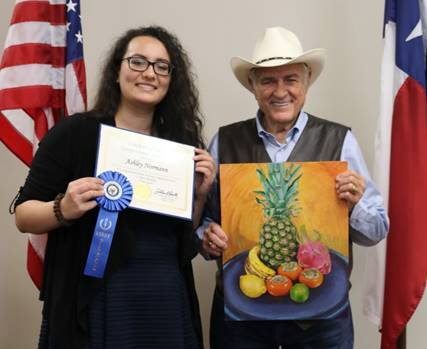 Representative John Carter (TX-31) announced the winners of the 2019 Congressional Art Competition at a reception celebrating all of the participants in Round Rock campus over the weekend. Noah Hanson from Thrall High School was awarded Best in Show for his artwork entitled "Main Street Memories."
2nd Place: "Coupland" Vanessa Villarreal, East View High School

3rd Place: "Through the Fence" Emma Almaraz, Georgetown HS

2nd Place: "Belonging" Sierra Wann, Georgetown High School

"Don't tread on me!" Jill Fulton, Georgetown High School

3rd Place: "Sophie" Mary Fluitt, Georgetown HS

2nd Place: "Growing Roar" Andrea Graham, East View High School
"Thank you to all of the talented students who participated in the 2019 Congressional Art Competition. With more than 120 outstanding submissions, our judges certainly had their work cut out for them. I look forward to Noah's visit to D.C., and having his artwork represent our community in Washington. Congratulations to all of the artists from District 31, these young men and women have a lot to be proud of," Congressman Carter said.
Noah will receive complimentary airfare to Washington, DC and lodging to attend the Congressional Art Competition Winners Reception at the United States Capitol with Rep. Carter in June. Noah's artwork will hang in the Capitol for one year.
Many of the participants' artwork will be on display at the Texas State University Round Rock Campus until May 20.
Winners from Georgetown include:
Paintings
• 1st Place: "Fruit Bowl" by Ashley Normann, Georgetown High School
Drawings
• 2nd Place: "Growing Roar" by Andrea Graham, East View High School
• 3rd Place: "Sophie" by Mary Fluitt, Georgetown High School
Mixed Media
• 1st Place: "Don't tread on me!" by Jill Fulton, Georgetown High School
• 2nd Place: "Belonging" by Sierra Wann, Georgetown High School
• 3rd Place: "Through the Fence" by Emma Almaraz, Georgetown High School
Photographs
• 1st Place: "Mr Crabs" by Katie Quinlivan, Georgetown High School
• 2nd Place: "Coupland" by Vanessa Villarreal, East View High School
• 3rd Place: "Revenge" by Grace Texter, East View High School
Collages
• 3rd Place: "Hayden" by Morgan Bruning, Georgetown High School