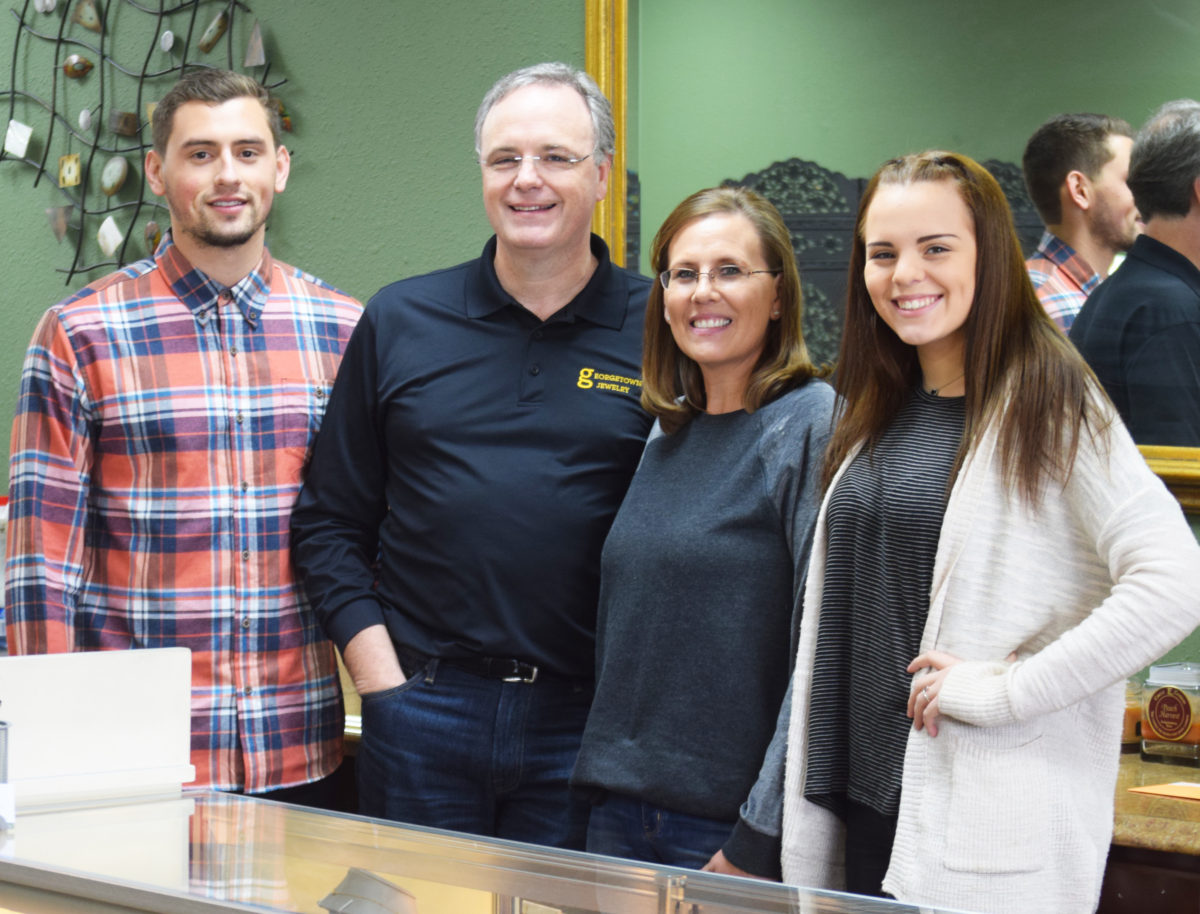 Georgetown Jewelry gems are not just under glass
On June 3, 2013 Ricky Poe and his wife Cyndee opened Georgetown Jewelry after searching for the perfect place to build a business. While they are experts in the business and try hard to provide good quality with good prices, the real dream, Ricky says, is to build relationships and help people.
"We buy and sell precious metals, stones and coins. We are also a Safe Place where people can conduct private transactions with confidence that we have their back."
Ricky and family discovered, when they opened their doors, that the business is a place of fulfillment. "I feel good about protecting people in their financial and business decisions. We take special care with vulnerable folks because jewelry is sometimes very closely tied to people and relationships." He says it is not unusual for a customer to sell an estate piece or inherited ring to be able to afford medicine or rent. "That's a profound truth in this business, and while some stores just buy and sell things, I wouldn't be fulfilled just to service jewelry needs."
He jokes easily about pricing; "We are not in it to be millionaires; i.e., going with the industry-standard 800-1000 percent markups. We put more gold and more investment into quality pieces and sell them cheaper because we don't want you to just have the pieces forever, we want to be your jewelers forever."
His son, Jordan, also works in the store and, like Ricky, is a certified diamond grader. Jordan also does custom work and says if you can think of it, he can create it.
The bottom line for the Poe family is that they make about as much as they need because when not working with his family at the store in Williamsburg Village, Poe has another unique calling.
At 19, he got the call to be a minister and quickly realized that he was in his element. He went to work in his brother's jewelry store and began a chaplaincy that has spanned 31 years and nine agencies. He was an evangelist and seeded churches, but always wanted to work in the ministry, so his business allows him to do that and still support his family.
He works with law enforcement personnel and supports them in a professional and personal capacity. "I am the guy the police officers call when they are the ones who need help," Poe says. "Their stresses are a lot different than most, and my priority is their mental and emotional health so they can be there for everyone else. Whether it's PTSD or marriage difficulty, "
Poe splits his current duties at the UT Police Department with other chaplains and credits his wife for making sure he doesn't overdo it. "I have a hard time saying 'no'," Poe says. "I have sold rings to people and turned around and married them right in my store. I give back to the community as a business owner, neighbor and chaplain." Anyone who frequents Georgetown fundraisers will have heard the store mentioned in many donation and sponsor lists.
"It's about making and keeping connections. I'm not here just to sell a product, although we do sell good quality products. I just want to perfect what we're doing, which means business with integrity and compassion, and grow the business to be able to help more people. My business is a channel to do the things I really want to do to help humanity the way I know best."
It seems what the Poes are doing is working. Not a single passer-by did not wave or step in the door to say hello or wish them well. Suffice to say the best accessory this jeweler has to offer is good will.