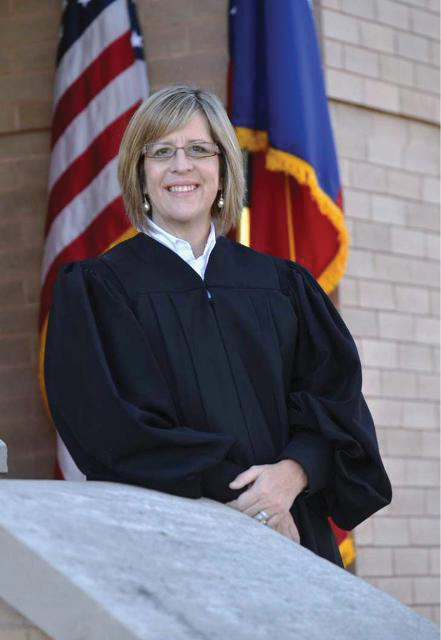 1) How do you maintain composure when faced with a truly heinous act or defendant?
Maintaining composure when faced with heinous acts or situations can be one of the most challenging aspects of court.  When in trial, it is especially important for a judge to not show any emotion or reaction that could be seen by the jury. I try various methods such as keeping my eyes averted or my head down when listening to testimony or viewing exhibits. I hope people know that I care about the case I am hearing, but that I have to maintain a level of impartiality that limits me from demonstrating my opinion.  I have seen and heard many horrific things in my career as both a prosecutor and a judge. These experiences have helped me to maintain composure while on the bench.
2) Who is your mentor or favorite judge/justice and why?
I have been fortunate over the course of my career to have many mentors along the way – too many to mention by name. I believe mentoring is one of the greatest gifts you can give and I have always sought out people to learn from and who can help me grow.  It is common for judges to feel isolated because they are so limited in the communications and relationships they can maintain with lawyers and litigants.  I am thankful that in Williamson County we have a judiciary that supports each other – from JP to District Judge.
3) What case do you love to have? The most challenging?
I love my juvenile cases! It is so rewarding to be able to work with juveniles that have struggles and end up in the justice system. Juvenile law itself is very interesting.  Part of it is governed by the Criminal Codes and part by the Family Code. It is a hybrid-type system that allows for more options and strives to come to a result that is in the best interest of the child while also protecting the community.  However, those can also be the most challenging when a very serious offense is involved or when a child has been a victim.
4) What do you miss about being a lawyer?
There are times I miss advocating for the state or on behalf of a victim as I did when I was a prosecutor. There is a different set of ethical rules judges must follow that limit the way we can be involved in a case. That can be frustrating at times because the judge is the referee, not one of the players. But, as much as I enjoyed being a practicing lawyer, I love being a judge!
The Honorable Stacey Mathews is Judge of the 277th District Court. Send your questions to info@fpgtx.com