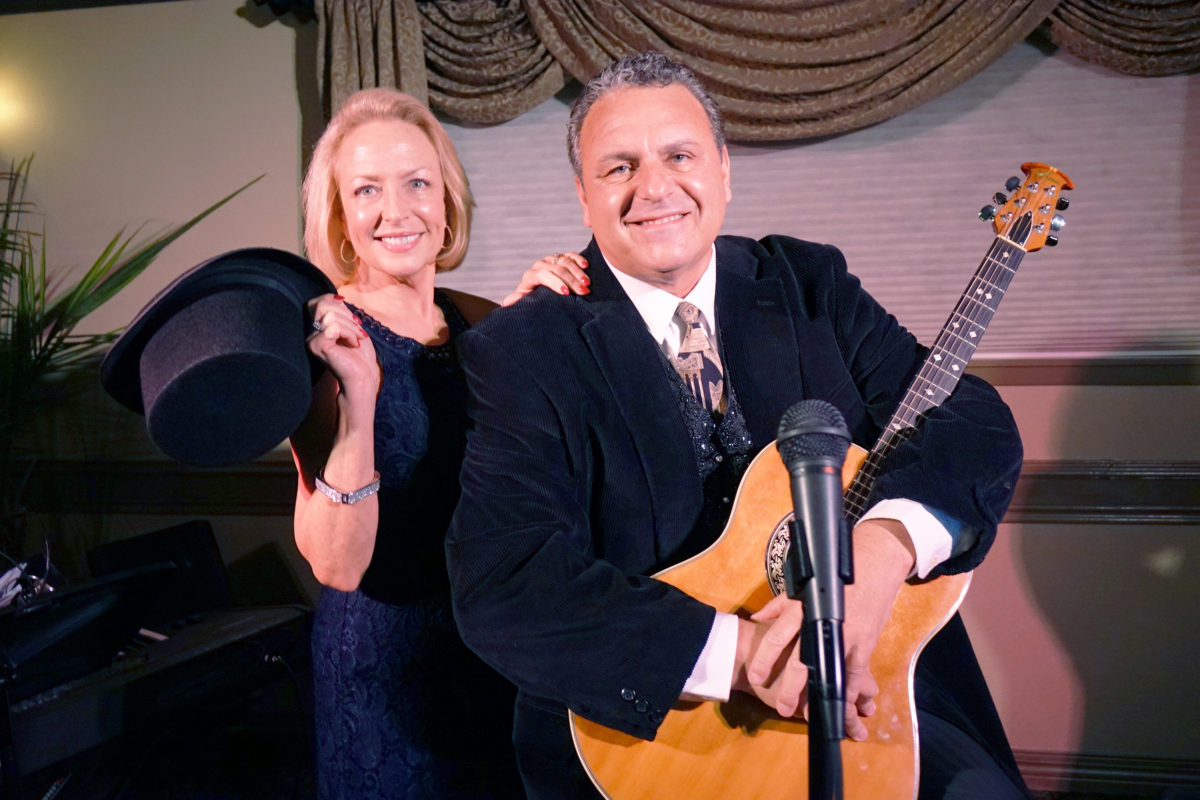 The lights shined down at the Georgetown Country Club February 22 for a Champagne Cabaret fundraiser sponsored by the Angel Fountain Foundation. In an effort to transform the standard dinner-and-auction evening, guests were treated to 90 minutes of extraordinary intimate performances by direct-from-Broadway Raymond McLeod.
Founder and director Beth Baker explains, "We are here for much more than the 3rd annual 'On Broadway' showcase of the best talent in GISD. We are the only educational and mentoring program of our kind in the State of Texas. Last year we provided master classes to high school students, at no charge, in musical theater and voice and this year we are expanding to include improvisation and stage combat."
The superlative instruction is headed up by superstar McLeod and other performers who, literally, stepped off the New York stage to share their experience  and mentorship with local students.  "Our classes are much more than instruction. Ray and the other performers teach them the finer points of auditioning, presentation and real life for a musician in the business."
     McLeod lives in New York, teaches nationwide, and is one of the most renowned baritones on Broadway. Pop culture fans may even recognize him as the singing voice of Sebastian the Crab in Disney's The Little Mermaid.
Founded in Georgetown to promote the performing arts at local schools, Angel Fountain is preparing for On Broadway at the Klett Center April 6-8.
Baker says she gets nothing but positive feedback from colleges and other fine arts programs. "Our program veterans' preparation and confidence are off the charts. One of  our youngest performers—our program is open to all ages—visualizes a room full of Ray McLeods when she get nervous on stage."
     This year, Broadway drummer John Berger is taking a break from Hello, Dolly to teach band students about instrumental music careers; how to make it in a Broadway pit and how to do what you love while still paying the rent.
     Registration for master classes is open now; students and teachers in GISD and local private/charter schools need only request information from their fine arts teachers.
Baker has managed the Broadway program conservatively, which allows her to distribute funds from Cabaret Night in the form of scholarships. "No doubt we have the quality instruction and we want to do more to provide visibility for the arts in Georgetown. So, aside from our spectacular show in April, we are very excited about the scholarship." She announced the award of two $1200 scholarships at the event and has plans for more.
GISD Fine Arts Director Carol Watson Carol Watson is a major supporter and says, "The real purpose of the show is to inspire students to the arts so everything Angel Fountain does is to break down barriers for children to participate in all of the fine arts."
Students may apply for scholarships or supplements for musical instruments or the ancillary expenses for band and choir activities. Individuals and businesses who wish to support the program can donate at AngelFountain.org. Tickets for the showcase will be available soon.