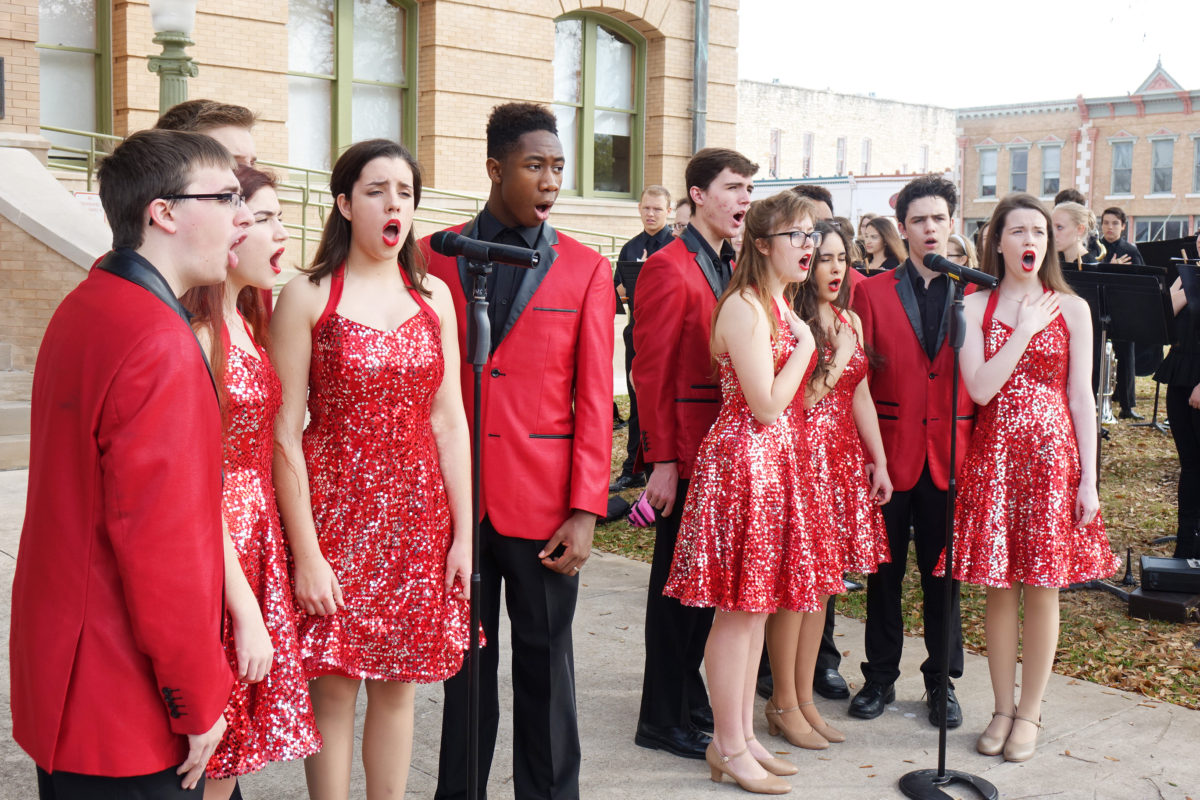 Georgetown ISD officially kicked off its 100-Year Celebration February 27 at the historic courthouse on the Square.
A crowd of about 150 supporters, teachers, former students, and elected officials sang "Happy Birthday", heard achievements and future plans from Superintendent Dr. Fred Brent, and enjoyed musical performances from East View and Georgetown High School choir and orchestra.
School Board Trustee Ben Stewart said before the ceremony; "One hundred years is an amazing thing for a public education system. You don't hear that every day, and just think about what this will mean for our kids. Looking at what it does for our youth; without it kids wind up going down a different path and we're going to spend money on kids one way or another. Putting that money into education is the best thing we can do. I think we're on the right track here and I just hope people will come see the schools, see what we're doing, and enjoy the successes that we have here."
Representative Terry Wilson's greetings included; "House Resolution 549 acknowledges not only the success of the past 100 years, but blessings for the future of the Georgetown ISD and the community that continues to inspire children."
Dr. Brent began with the vision for GISD as the most inspired students educated by the most empowered leaders. "Our mission really does drive what we do in the District. Today we are not only celebrating a milestone, but public education in general as a cornerstone of our community and our democracy. It is only fitting that this week, districts across Texas are celebrating Public Schools Week. Every day, real life engagement and profound learning occurs; something our teachers and students know well. You have been given a rare gift and built something special and I encourage you to hold on to it, tightly and grow the gift."
Dr. Brent listed the milestones in GISD since 1840 (right) and honored Annie Purl as the valedictorian of the first graduating class of GHS. He quoted Ms. Purl, "We might find something each child can do well for his own sake. You cannot predict by any stated scale that a child will be a failure, so we must find where each child needs help and nurture that."
GISD has many events planned over the next year. They are currently collecting memorabilia from the past century for display and historical record. During the month of March, students can compete in a t-shirt contest and there will be special events during the Red Poppyfest in April. In May, the district will celebrate the 100th graduating class, and the last ceremony at Williams Elementary.
The new Annie Purl Elementary will open in August of this year for new students, and next year's football season will include a grand celebration of the Centennial.