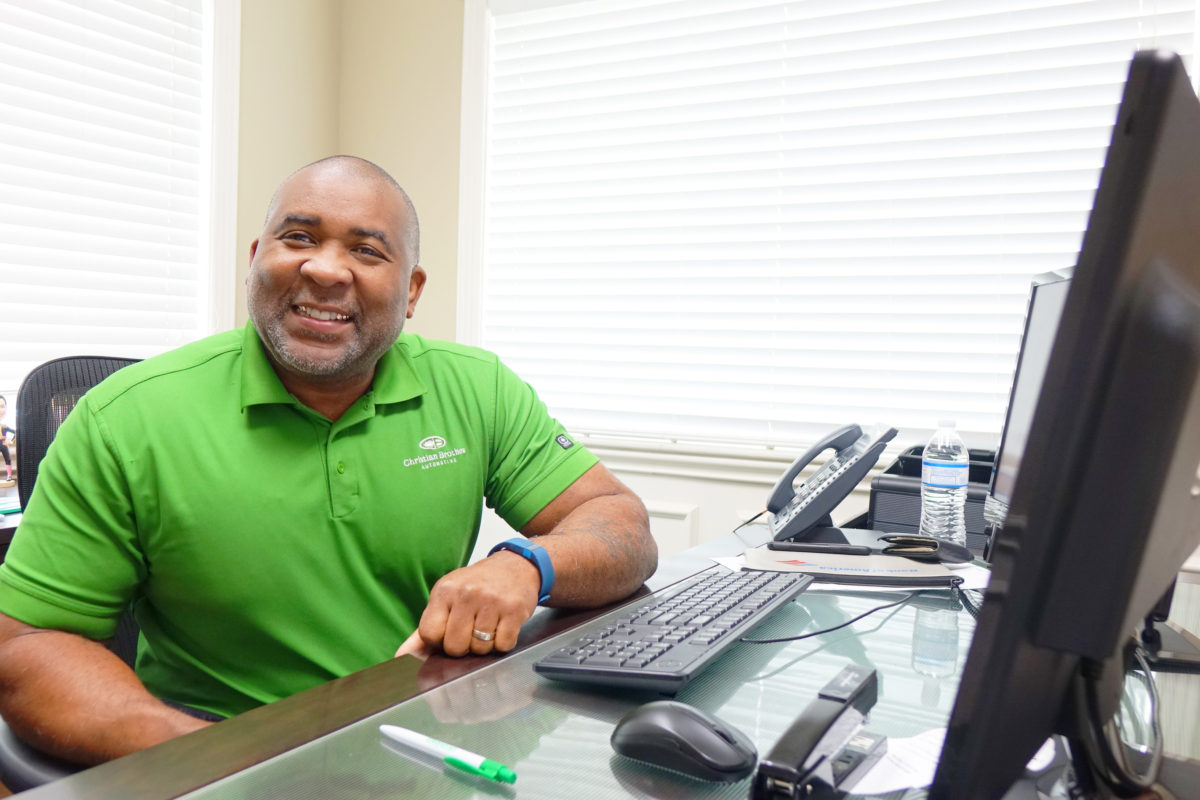 One Man's Journey to Georgetown Business
Christian Brothers Automotive of Georgetown will have a new owner soon and he has had a unique and hopeful path to business. He took the time, rather courageously, to share a bit of his history and how he hopes to serve and inspire the people he now calls his neighbors.
My first thought about Keith Guyton was that when it comes to being friendly, a God-fearing family man, and charming, he puts even Santa Claus to shame. He's immediately warm and on his toes to give his best to a customer, colleague or a stranger.
But as he tells his story, it's easy to see why—he is a man living The Grateful Life after challenges, bad choices, and getting a second chance on a journey from jail to prosperity. A journey that began $50,000 in debt to a drug dealer.
Growing Up
As a teenager in Houston, Guyton was a "good kid" involved in sports and other kid things. But hanging out, he started experimenting with marijuana, as a Cool thing. As many do, he later tried and used harder drugs; cocaine, pills and even PCP.
"As you use the drugs, you start to get used to it and wanting more and more. Then you get impatient to have to work for it so you start doing a little 'crime stuff' here and there. Everything from buying and selling to your friends at a profit to breaking into people's homes and stealing stuff." Guyton never robbed people at gunpoint, and felt justified that at least he wasn't violent or hurting people and was just taking Stuff. But he did recognize that his crimes were getting bigger.
Guyton says his addiction went from using to selling and soon decided that the money was a better high.
"I got caught burgling a building when I was older. Of course doing that time just made me 'cooler'. But it was a small town and people always knew what you were up to. Cops would stop me and tell me 'Keith, I'm just letting you know, whenever I run you down or pull you over—when I catch you, I'm going to see that you get 40 years.'" Guyton's response was generally, "Okay, good luck with that."
The police made good on that promise. They stopped him leaving a party with a lot of drugs in his car and while he was in jail he was told his sentence would be about 20 years. It turned out later the warrant was illegally obtained so, lucky for him, his case was thrown out.
"But that didn't teach me any lesson," Keith says. "I still wasn't scared about doing time and kept doing what I was doing."
About age 30 he says the relationship with God that his mother had fostered began to weigh on him—at first just a little but more and more on my shoulder. "I eventually began to feel convicted every time I would do a deal. One night it just got to be too big and I flushed $50,000 worth of cocaine down the toilet."
He called his supplier and explained that he had destroyed the product and he was Out. Despite the threat of violence or even death, he was steadfast and over ten years paid his supplier back every penny with honest money, which his supplier said was a first in his business.
In Georgetown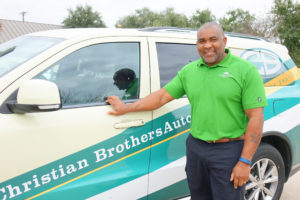 Walking his straight faith, he went into bodybuilding and started a family. He moved to Round Rock a few years later and with some car experience from his youth, he applied for a job at Christian Brothers. Knowing it would happen eventually, he was up front about his life story and his boss simply said, "Let's do it."
A few years later, Guyton went to work at the Hutto store and met Jonathan Carr, the son of founder Mark Carr. Jonathan transferred him Georgetown where he has been part of the Best of Georgetown team for the past eight years. The store is known for giving back to the community, donating repaired cars to needy neighbors, and more, and Guyton fits right in.
"Jonathan always told me, 'I got you,' and I didn't know what that meant but I trusted him and I worked hard for the company."
Turns out, the Carrs had plans to make him a manger or a store owner. Two years ago the owners put Guyton in their Future Franchise Academy, which puts employees into training and allows them to purchase a franchise without a down payment. Mark Carr told him they wanted him to own the Georgetown store (a jewel) and would finance the buy themselves. With that much faith in him, Guyton accepted the opportunity in tears. He starts his tenure as the owner January 1.
Giving Back… in his own words
I haven't told my story to a lot of people but that is my goal. I asked Jonathan about it and he said to go for it. If people don't accept me, forget 'em! He inspires me and it is my hope to be an inspiration for all people because it's never too late to turn around. I talk to kids when I have the chance but my story is one of hope.
I want young people to know that it doesn't matter what you've done or that you didn't have a daddy; there's no white man trying to keep you down—those are copouts. You can make up your mind and come out of any legitimate circumstance. If you change your ways and change yourself, there is hope for you.
I won't say it was easy. When I was dealing, I never had a money problem. Suddenly I had a boss and had to ask someone if I could go to lunch. But I've worked hard and moved from the garage to a desk and now I'm in [the owner's office] making more money than I did as a dealer.
There won't always be someone there patting you on the back, but God is watching and people are watching, even when you don't know. I just work on faith and do what is asked of me.
Jonathan encouraged me to tell this story and people know me for who I am now. If I can save just one person from their own bad choices, I'm glad to have come through it.
Writer's note: Get to know him; you'll be glad he did too.