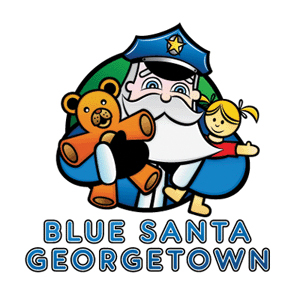 Blue Santa
Blue Santa and his elves need your help. This program of the Georgetown Police Dept. provides toys to more than 1,500 children during its annual toy drive and distribution. Monetary donations to purchase toys also are accepted. Checks to "CPAAA Blue Santa" should be sent to the Police Dept, c/o CPAAA Programs, 3500 D.B. Wood Rd, Georgetown, 78628. For information about donation events and donations to Blue Santa, go to BlueSanta.Georgetown.org. Blue Santa also donates toys anytime residents have lost their belongings in fires or natural disasters. Monetary donations and new, unwrapped toys are welcome any time. Call (512) 930-2747.
Breakfast with Santa Dec. 15
The 18th annual pancake Breakfast with Santa event is Saturday, Dec. 15, at the Community Center, 445 E. Morrow St. in San Gabriel Park. Georgetown firefighters will be making pancakes and sausage served with juice and coffee. The event is 7:30 to 11 a.m.
At the event, children can climb on board a fire truck, visit with firefighters, and have a free picture taken with Santa.
Tickets are $6 per person and can be purchased at the door on the day of the event or in advance at the Public Safety Operations and Training Center, 3500 D.B. Wood Road. Children age 12 and younger are free with a paid adult.
The event is sponsored by the Georgetown Fire Department, Sun City Rotary Club, YMCA of Greater Williamson County, and Georgetown ISD.
All proceeds from Breakfast with Santa, as well as other fundraising, provides clothing, food, and gifts for children in the Georgetown area. Breakfast with Santa aims to help 180 children in need in Georgetown, provide clothing and gift cards to homeless teenagers in Georgetown served by The Georgetown Project's NEST program, and provide help to Jarrell's UMC Christmas outreach program.
Tax-deductible donations are accepted to help fund Breakfast with Santa. Checks should be made out to "Chisholm Trail Communities Foundation" with "Sun City Rotary – BWS" on the memo line. Mail the donation check to Chisholm Trail Communities Foundation, 116 W. Eighth St., Ste. 203, Georgetown, TX, 78626.
For details, contact the Georgetown Fire Department at (512) 930-3473.
A New Pet for the Holidays
The cats and dogs at the Williamson County Regional Animal Shelter have sent their list to Santa, and every one of them listed "Home" or "Family". Make their wishes come true by adopting or fostering a pet during the holidays.
"Home for the Holidays" is a foster drive continuing through Jan. 3 that saves the lives of the lost and abandoned pets and raises awareness about the importance of pet adoption during the holiday season. The short-term commitment of fostering saves lives by opening kennel spaces and gives the dogs and cats a healthy break from the stresses of shelter life. After fostering, they are healthier and happier–ready to find their forever homes. More families bring a new pet home during the holiday season than any other time of the year.
Foster dogs and cats still will be available for adoption on the WCRAS website. Adopters can email wcras@wilco.org to get in touch with foster families. In December, all adult dogs and cats are only $12 to adopt, kittens and puppies are only $75. Visit Pets.Wilco.org to view adoptable animals or fill out a foster application.
County Office Closures
Williamson County offices will be closed for Christmas December 24-26, 2018, and January 1 for the New Year's holiday. Commissioners Court will not meet Dec 25 and will have a short meeting with agenda items pertaining to elected officials' offices and staff only Jan 1.
The Williamson County Regional Animal Shelter, 1855 S.E. Inner Loop, will be open Christmas Eve 11am-4pm, closed Christmas Day, and open regular hours December 26. The shelter will be open New Year's Eve 11am-4pm and will be closed New Year's Day except for lost dog or cat intake and reclaim.
Holiday Recycling
The County Landfill, 600 Landfill Road in Hutto, will accept Christmas trees for recycling Dec 26-Jan 12, free of charge for County residents. Flocked trees are not accepted for recycling. They will be closed Christmas and New Year's Days.
The City of Georgetown has partnered with Texas Disposal Systems to offer string-light recycling to Georgetown residents. Residents can bring old or broken string-lights through Jan. 31 to the Collection and Transfer Station, 250 WL Walden Rd; Georgetown Municipal Complex, 300-1 Industrial Ave.; and Library, 402 W 8th St.
Sun City residents may drop off old or broken string lights at the Cowan Creek Pavilion, 1433 Cool Spring Way.
The program is limited to string lights only and they must be taken to a collection station. String lights should not be placed in residential or commercial recycling bins because they can damage the sorting machines at the recycling center.