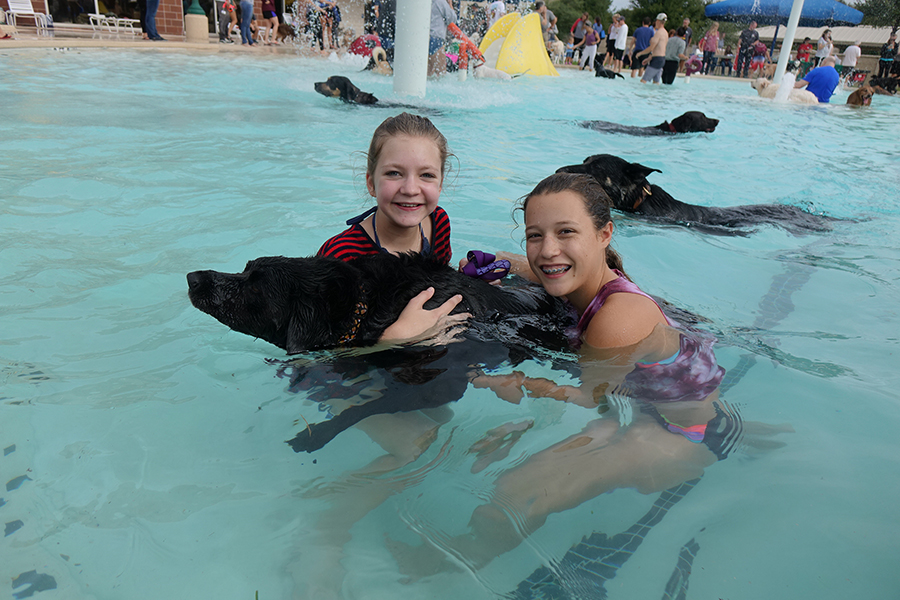 3rd Annual K-9 Kerplunk
Georgetown Parks and Recreation are having the 3rd annual happiest day of the year… also known as the K-9 Kerplunk. All dogs and their owners are invited to the Community Center for an end-of-year pool paw-ty. This annual event is just for pups and the fee is $5 per dog. Humans will be admitted free but are asked, for safety's sake, that dogs do the swimming only. More in the August Advocate.
Summer Nature Hikes at Garey Park
Join park staff for guided hikes on the following Tuesday evenings from 6-7pm during the summer: July 16, July 30, August 13 and August 27. 
Entry fees are required. Hikes are first-come, first served and limited to 20 people. The meeting point will change each week. Please check in at the Gate House upon arrival and staff will direct you to the meeting point.
The hikes will range from ½ mile-3 miles long. The trails are uneven, crushed limestone and crushed granite along the way. Bring water, a hat, and camera for pictures.
Sunset Movie Series
Enjoy a free screening of Incredibles 2. The movie will start at sunset but families are invited to come early for free popcorn and a special visit from A Safe Place! Friday, July 19 at the San Gabriel Park Soccer Fields. 
Risks: Swimming in Rivers and Lakes
While places along the San Gabriel River like Blue Hole as well as Lake Georgetown are popular summertime destinations, those using these natural water bodies should be aware of potential risks. Stormwater runoff flowing into our rivers and lakes often contains bacteria and other organisms, especially after rainfall.
During the summer months, warmer temperatures can lead to higher levels of bacteria in our rivers, streams, and in Lake Georgetown. Some of the highest levels of bacteria and other organisms can be found in areas where the river current slows or pools due to natural barriers or dams. Slow-moving water combined with higher temperatures can allow organisms to multiply in the water.
Swallowing natural water while swimming or diving or exposing cuts or open eyes to natural water can lead to a variety of illnesses or skin conditions. The Centers for Disease Control and Prevention has more information about how to avoid recreational water illnesses: cdc.gov/healthywater/swimming/swimmers/rwi.html.
If you have questions about health-related problems which you suspect may be the result of recreation in natural waters, or you would like more information, contact the Williamson County and Cities Health District at www.wcchd.org or call 512-943-3660.
HOAs Asked to Register
As of July 1, the City of Georgetown will notify registered neighborhood, homeowner, and property owner associations of proposed land use changes for properties in areas governed by an association or within 300 feet of the association's boundary. Association managers or representatives can go to planning.georgetown.org and click the "Neighborhood Association Notification Registration" button to begin the registration process. Changes in land use include rezoning and special use permits, as well as other changes.
At their June 11 meeting, City Council adopted new notification standards to increase public review and provide additional opportunities for adjacent residents to learn about, discuss, and provide feedback on proposed requests in advance of the public hearing process.
In addition, the changes increase the notification radius from 200 feet to 300 feet and require the City to notify property owners in the City's extraterritorial jurisdiction of requested changes.
"These changes go a long way to increase our outreach when it comes to changes in land use," Mayor Dale Ross said. "Notifying property owners within 300 feet, homeowner associations, and people in the ETJ goes well beyond state law and is a model for transparency in governance."
Registered associations will receive a notification for any land use changes requested for properties within their boundaries or within 300 feet of their boundaries. Registrations will be processed within five business days.
GISD School Supply Lists Are Ready!
It's early July, and although your students may not want to think about school, but for parents who want to get a jump on shopping before the shelves are picked over, the supplies lists have been posted at www.georgetownisd.org/Page/20660
All of the information families need to successfully start the 2018-2019 school year can be found on this page. It includes links for new enrollment, immunizations, calendars, school hours, and more. GISD asks parents to keep in mind some information, such as bus routes, is updated throughout the summer and may not be available until closer to the start of the school year.
Contact your student/s campus/es if you have questions.
2019 Free Summer Meal Program
Free summer meals for children will be served June 3-August 9. The meals are for kids 18 and under and include breakfast and lunch. All kids are welcome.
Meals will be provided at Tippit Middle School, Annie Purl Elementary and Cooper Elementary.
Breakfast: 7:00 – 8:45 AM
Lunch: 11:00 AM – 1:00 PM
To learn more visit summerfood.org
Summer Opportunities for Student Volunteers
Senior Access connects volunteer drivers with senior citizens who need a way to get around. The agency was founded on the premise that the elderly lead happier, healthier lives when they "age in place". Senior Access helps seniors continue to live at home by providing viable transportation, basic chores around the home, and access to essential services. 
The agency hopes to find high school students interested in volunteering during summer break. They are looking for high school age volunteers in the following three areas:
• Riding the Van with the Seniors – Volunteers would: assist the seniors in and out of the van, help carrying items such as groceries, and interacting with the seniors.
• Office Work: Help answer phones and assist with light office tasks.
• Drive Seniors: Drive seniors to and from appointments. Drivers must be 18 years old and have graduated from high school.
• Yard Work: ​Light yard work is a big deal to Clients. Chores such as raking leaves, mulching flower beds, seasonal trimming, and mowing and edging.
Contact Sherrie Rose at 512-310-1060 or visit SeniorAccessTX.org.