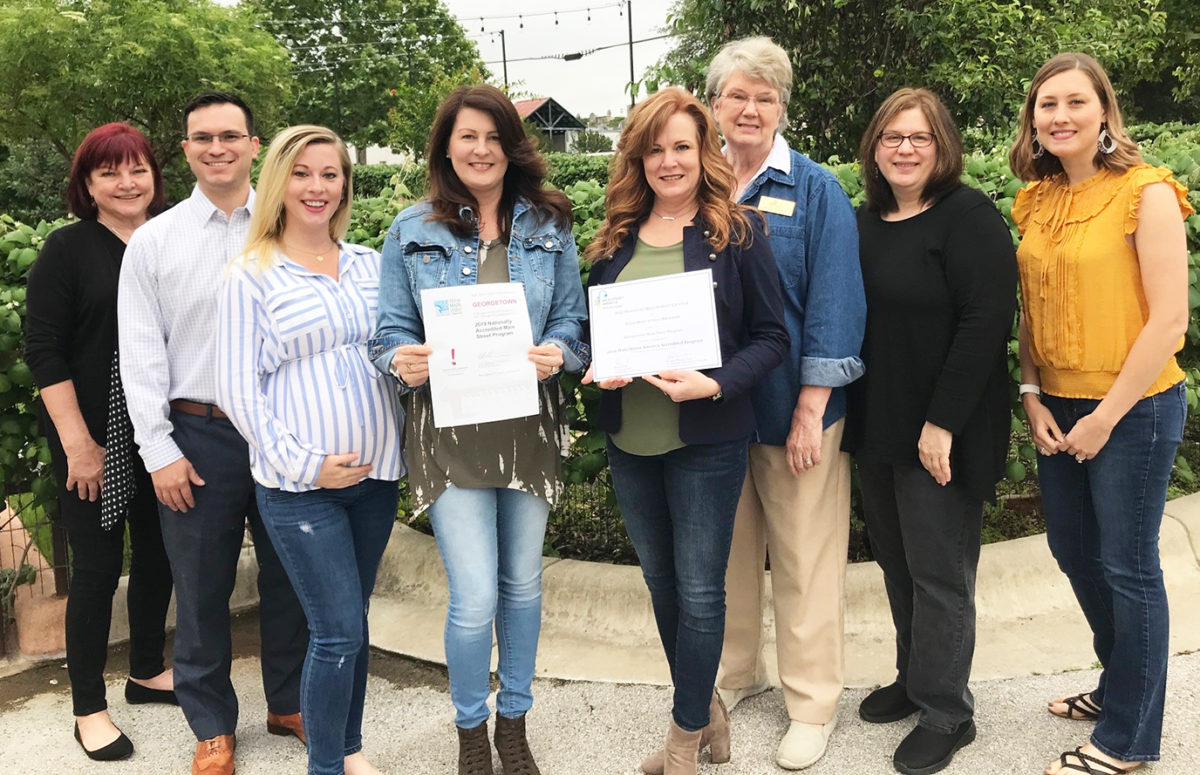 2019 National Main Street Accreditation
The City of Georgetown's Main Street Program has been designated as an accredited Main Street America program for meeting rigorous performance standards set by the National Main Street Center.
Each year, the National Main Street Center and its coordinating program partners announce the list of accredited Main Street America programs in recognition of their exemplary commitment to preservation-based economic development and community revitalization through the Main Street Approach.
"In Georgetown we are lucky to have our incredible board, volunteers and staff help us earn accreditation once again from the National Main Street Center," Downtown Development Manager Kim McAuliffe said. "It's through their hard work and dedication that we are able to have such a robust program that is creating economic opportunities in our community."
The Georgetown Main Street Program is a preservation-driven, economic development organization. In the past 15 years, the Main Street Façade & Sign Grant Program has awarded more than $469,000 to 80 downtown businesses and property owners. Most recently in May, the Georgetown Main Street Program presented Lark and Owl Booksellers with a $20,500 Main Street Façade & Sign Grant.
"Since 1981, many Texas communities have participated in the Main Street network and used its preservation-based framework to generate positive economic gains for their local economies and the state," said Texas Historical Commission Executive Director Mark Wolfe. "These positive strides happen because of local commitment to prioritize historic downtowns."
Accreditation is awarded to communities that build and maintain revitalization efforts, including fostering strong public-private partnerships, securing an operating budget, tracking programmatic progress, and actively preserving historic buildings.
Main Street America is a program of the nonprofit National Main Street Center, a subsidiary of the National Trust for Historic Preservation.
Igo Elementary Grand Opening
Jarrell ISD is hosting the Grand Opening of the district's second elementary school on Saturday, July 27 at 10 a.m. Students, parents, and community members are invited to join campus staff to celebrate the opening of Igo Elementary (1601 CR 314).
The funding of Igo Elementary is made possible by the passage of the 2017 Bond Package. It will open to students as a Pre-K-5th grade campus in August of 2019. The principal is Jack Wilson.
Igo Elementary is named in memory of the Igo Family, father Larry (age 45), mother Joan (age 46), daughter Audrey (age 17) and twin sons John and Paul (age 15) who were among the 27 residents killed by the F5 tornado that struck the community in May 1997.
GUS Search for General Manager
The City will be reorganizing the management of its water and electric utilities as part of the budget process currently underway. Earlier this month, long-time General Manager of Utilities Jim Briggs announced he will retire at the end of September. Current Utility Director Glenn Dishong will continue to lead the City's water utility, and the City will begin the search for a new general manager of electric this summer.
The new general manager of electric will focus on improving the performance of the City's energy portfolio, developing new measures to evaluate portfolio performance, as well as clarifying the process for how these measures are shared in meaningful ways with City Council and the public. This person will also be developing and implementing a comprehensive risk management policy that sets boundaries on risk tolerances, financial obligations, and guides decision-making at all levels of the electric utility. Finally, they will be charged with studying alternative governance structures for the electric utility (e.g., a separate oversight board) and the implications of opting in to the competitive retail market.
For more information, please review the FAQ on the City's energy contracts at gus.georgetown.org/electric.
Energy charge increase June 1
The City again needs to increase the power cost adjustment, or PCA, on customers' electric bills. This follows an initial increase in February that was originally expected to be reduced in September.
The PCA allows the City to compensate for fluctuations in purchased power cost and is one tool to ensure the stability of the electric fund. The City has increased and decreased the PCA several times over the years in response to changing energy prices.
The increased costs for energy is in part tied to energy providers not being able to supply energy to the statewide electric grid. This phenomena, known as congestion, occurs when there is more energy generated than is needed to meet demand. If the energy is not consumed, the transmission lines "fill up," breaching their limits, which can cause reliability issues. This congestion increases the overall cost of energy for the City.
Customers will incur an increase of $0.00625 per kilowatt hour, resulting in a new PCA of $0.02375 per kilowatt hour. This new PCA amount will be assessed on electric consumption starting June 1. The average customer uses 949 kilowatt hours per month and will experience a $5.93 increase on their monthly bill. During the summer, the average use increases to 1,600 kilowatt hours, resulting in an increase to $10 on their monthly bill.
"As we get through this fiscal year, we will revisit the PCA," City Manager David Morgan said. "Based on the current performance of the City's energy contracts and uncertainty regarding the energy costs this summer, fully reducing the PCA may not be possible."
The City has taken steps to address congestion, as well as securing new third-party energy management partners that are able to more rapidly respond and react to changing market conditions and better ensure against market volatility. Along with bringing on new partners, the city is focusing on internal and external resources to increase the reporting, oversight, and accountability for decision-making related to the energy contracts.
2019 Sunset Movie Series
The City of Georgetown Parks and Recreation Department presents its Sunset Movie Series program throughout the summer, continuing with "Mary Poppins Returns" (PG) on Friday, June 14, in San Gabriel Park. The event will take place on the soccer fields located behind the Georgetown Recreation Center, 1003 N. Austin Ave.
This is a free community event. The movie starts at sunset, around 8:30 p.m. Moviegoers are welcome to bring blankets, chairs, and picnics. Come early for free popcorn, to explore the park, and to visit with vendors.
For details, visit parks.georgetown.org/sunset-movie-series.
Upcoming Movies in San Gabriel Park: July 19, "Incredibles 2" (PG). Aug. 16 "How to Train Your Dragon: The Hidden World" (PG)
Music on the Square starts June 14
The Music on the Square summer concerts start Fri, June 14, on the Courthouse lawn. These free concerts start at 6:30pm each Friday, with the exception of First Fridays, in June, July and August. Bring a lawn chair or blanket, grab dinner-to-go from a local restaurant, and enjoy an evening of great live music.
June 14: Georgetown Fire Dept Pipes & Drums
June 21: Wilson String Band
June 28: Lexxi Garza
July 12: Mike Hamilton
July 19: Megatunes
July 26: Roland Waits and The Wayward Travelers
Aug. 9: Showmen Bluegrass
Aug. 16: Mike Elliot – Sincerely Elvis Show
Aug. 23: Porch Turtles
Aug. 30: Dueling Pianos
Concerts are sponsored by the Georgetown Convention and Visitors Bureau and The Williamson Museum.
For a complete schedule, go to the Georgetown Convention and Visitors Bureau website at VisitGeorgetown.com.