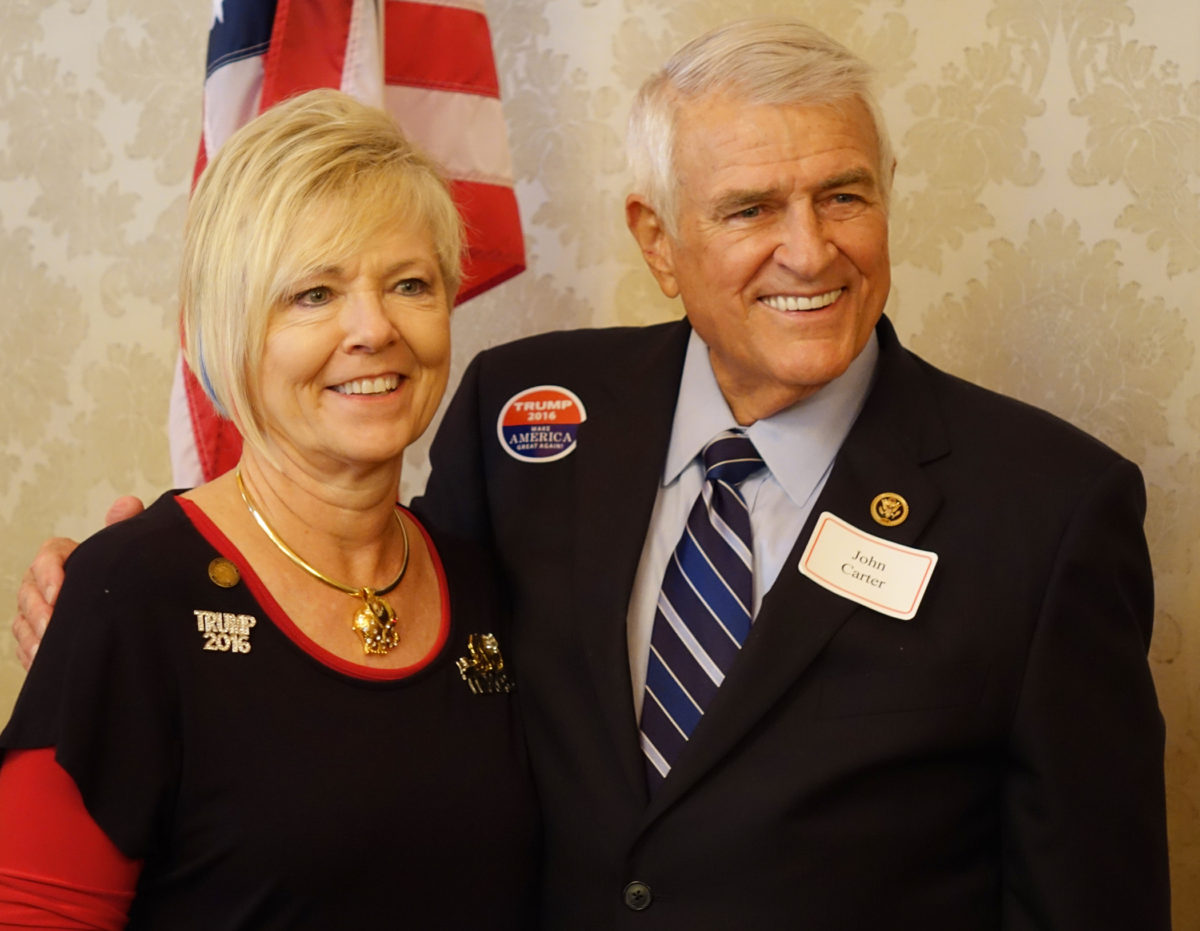 Congressman John Carter (R-TX31) was the featured speaker at the October meeting of the Georgetown Area Republican Women. As part of the 50th Anniversary of the Vietnam War Commemoration, the Secretary of Defense is supporting and facilitating programs across the country to honor those Veterans.
The commemorative program includes, among others, activities and ceremonies to thank and honor veterans of the Vietnam War and their families.
During the luncheon, Central Texas' Veterans Advisory Committee Chair CSM Elijah King, Jr. recognized Vietnam Veterans and/or their spouses and the Congressman presented them with pins and a certificate from the Department of Defense. The ceremony was poignant and emotional for many, and as CSM King pointed out, "We have taken this on as a mission. Vietnam was a very unpopular war. Many of our veterans returned home and were spat upon and were called names. Many of them took off their uniforms at port so they would not be recognized as soldiers who had served this great country. We can not go back and correct those wrongs, but I'm standing here today to say 'thank you' for your service. We honor you, and welcome home."
Unifying the Party
Congressman Carter spoke at length about the importance of the upcoming election. He compared our current situation to the Alamo, and how Santa Ana was only defeated later because the Texas army was able to splinter his forces.
"I believe in the Republican Party, and I have since before Williamson County was Republican. We need to look past all the details and see the big picture." He clarified by recalling how Democrats were the majority party for a long time, until they fragmented.
He added, "It is criminal to say that Texas is in the mix… that we are a purple state. Texas is conservative and we prove it every day by the way we run our businesses," for which he received great applause from the group. "We need to unite ourselves. If we were to eliminate all the presidents who have served because we knew bad things about them, 85 percent of them would be gone. History has shown us new things and if we had 24-hour news about Franklin and Eleanor Roosevelt, the nation would be different today. Things are re-run for 24 hours and today, history becomes a current event.  So let's realize no matter how flawed a candidate may be, our party is not."