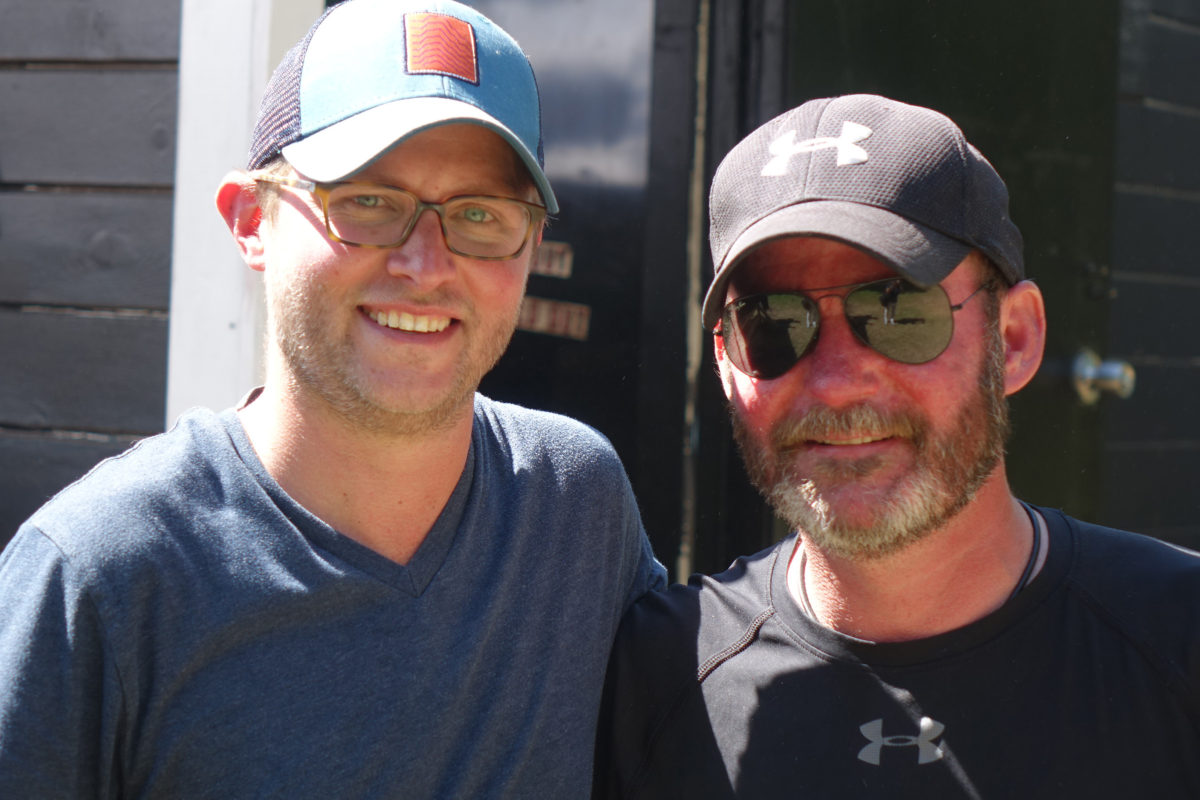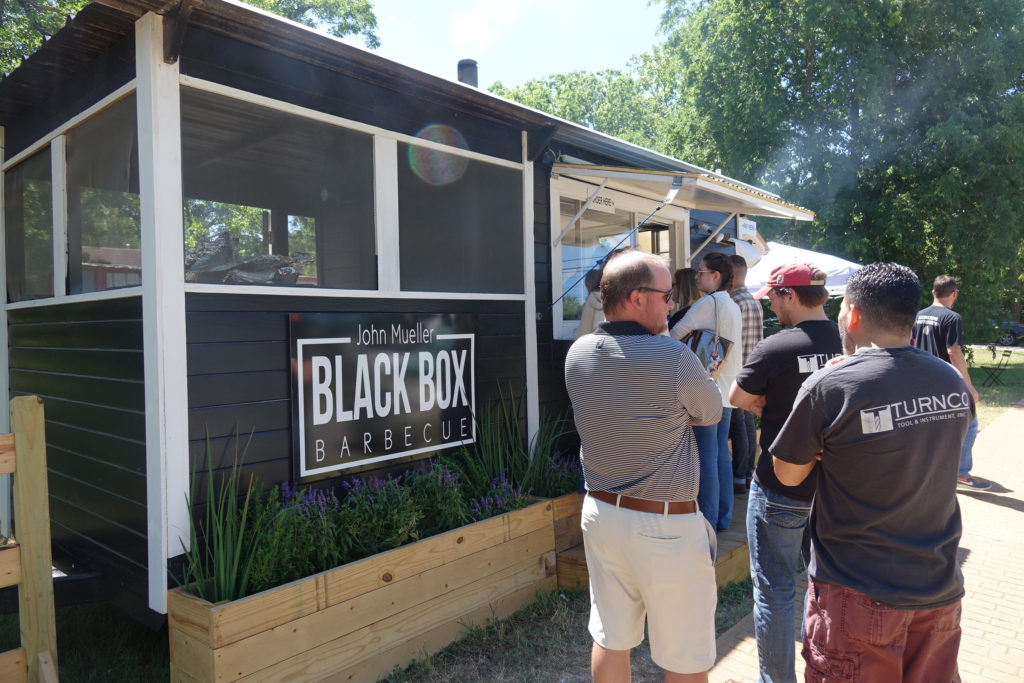 by Ann Marie Ludlow
An Austin legend has come to share his culinary delights with the good people of Georgetown. John Mueller's Black Box Barbecue opened for business over the Red Poppy Weekend and has been selling out ever since.
Located at the corner of 9th and Church Streets, just off the Square, the new eaterie consists of a black food trailer and another pit for cooking. But, Mueller says, he and his partners have big plans to make it a patio dining experience very soon.
Their current city permit only allows them to be open Friday, Saturday and Sunday for lunch, but they expect to have that rectified soon to be able to serve every day. "The line gets pretty long on Saturdays," Mueller says. "I know it's hot out  here so I give drinks to the people in line while they are waiting. I'm glad to have their business and I appreciate their patience."
Brothers Gary and Justin Boles are working with Mueller since his most recent restaurant closed in Austin. Justin Boles is the owner and operator of Union on 8th. "We are all intertwined in the business," Mueller says. "I am the cook. I was never really good at the other side of the business and it is great to be with a good group of men who know how to run the business and let me do what I do best. Over time, you learn what your limitations are, and after 17 years of the rigors of Austin, it's a fun situation out here in the box. I'm happy working the pit in the quiet hours and letting them be in the front."
Mueller has been working in the barbecue business since he was six years old. His family tree includes some of the biggest names in Texas barbecue and he worked on and off for the family business for many years. He has been featured in Texas Monthly, and, he says, "I've probably been interviewed 4000 times." His colorful past is well known to many, as is his nickname, The Dark Prince of Barbecue which, at this point in his life, is great branding and makes for curious customers. "People call me the Dark Prince because I'm not nice. But I'm really just kind of sarcastic and not everyone gets me."
Mueller said he was hesitant to put his name on the business because he knew it would bring media and perhaps some attention he wouldn't want to have again, but he is enjoying this honeymoon phase. "I really do love my customers; I love interacting with them and talking at the tables. I just don't want to cut meat any more."
With so many people new to Georgetown every day, and Central Texas in general, his reputation need go no further than the peppery slab of tender brisket they walk away eating. No question though, his food is worth a visit to the little piece of park land. "The biggest challenge is coming into another business venture with so much baggage, but I still know how to cook great brisket and that's what matters to me." Mueller's past is unlikely to shadow his current friendly demeanor. In fact, I told him I would ruin his reputation a little by saying he's a nice guy who seems to be living a grateful life and enjoys working with good friends.
Mueller and the Boles are planning to build a brick & mortar restaurant on the site, with a large patio and outdoor seating with misters.
His normal workday begins around 3:30 am in the rain, cold and summer heat. He cooks alone, which he enjoys, at the pits. He prepares all of the sides for the customers and is on his own for the first six hours of the day. Lunch begins at 10:30am and the other employees handle the non-stop lines until the food runs out, which it normally does.
"I was going to be whatever my daddy was," Mueller says. "And he was a barbecue man. If I couldn't do this job… well, I'd probably try to do this again, although I really like it here. I think this may be the last business venture."
After lunch, they all decompress and start getting ready for the next day. Once the restaurant is built and they are operating full-time, he expects to work about 90 hours a week. "I think it's always up to me if it will work out, but I have good people here to support me. It will be a good place to get food to go, but then not go anywhere."
Black Box is open Friday, Saturday and Sunday from 10:30 am until the food is gone. Mueller says the lines are long, but never more than a 15 minute wait, "I just keep the meat coming off the pit. People are getting used to the picnic style and relaxing out here. Hopefully the city will bring in those permits and we'll be open the rest of the week soon."
Look for them at 201 9th Street. BlackBoxBBQ.com