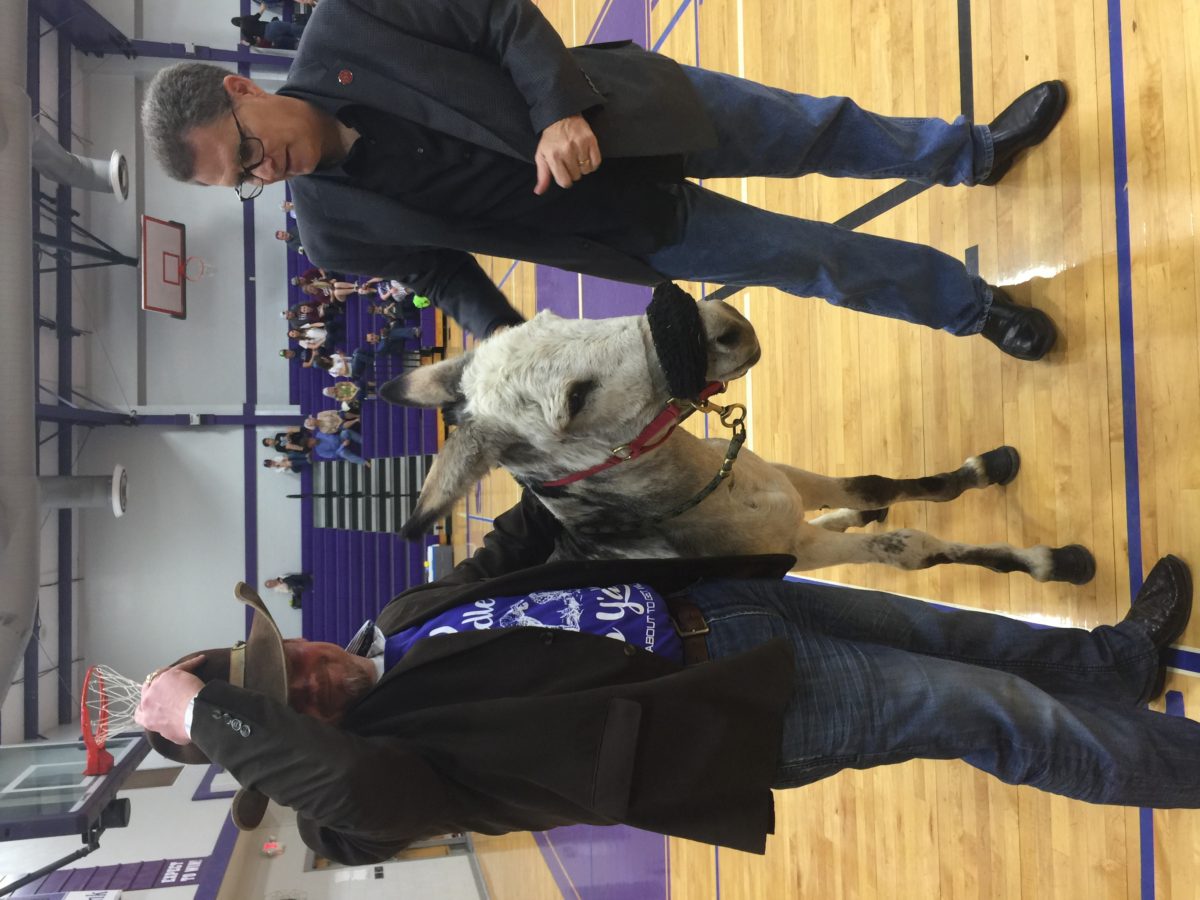 The Florence community came together to support the Florence High School Project Graduation donkey basketball fundraiser event February 11 at the middle school gym. This unique event featured animals from Buckeye Donkey Ball, which provides traveling animals for players to ride and each of the "athletes" wore rubber boots to keep from sliding on or marking up the gym floor.
Spectators watched three back-to-back games with Juniors vs. Seniors (photo below) , Administrators vs. Teachers and Neighbors vs. Neighbors. There was also a side event; "Kiss the Donkey" that had everyone from the Superintendent to a Justice of the Peace delighting everyone with their smooches.
Florence High has 74 seniors this year and the $2500 raised will help pay for costs, prizes and awards for the all-night graduation party May 26.
Senior Abigail Hallmark says "The school is a safe place to celebrate and makes it easy for students to make good choices." Abigail also got to ride a donkey in the first game; "Everyone had a great time and riding the donkeys was really interesting. Some of them were a little wild and players got bucked off all throughout the games." The asinus athletes also had their own shovel crew whenever one of them caused a "time-out cleanup."
Although they eschewed actually saddling up, Judge Bill Gravell and County Attorney Dee Hobbs (photo right) were on hand to provide emcee services to rave reviews. "Judge Gravell and Mr. Hobbs were hilarious and really good at getting the crowd riled up with their commentary," Abigail said.
Judge Gravell said, "I've been privileged to do many things, and meet important people but there is nothing more important than when I get to invest in teenagers; the future of our Texas. Donkey basketball was a privilege but I confess it was one of the most hilarious things I've seen in years. I laughed so hard I cried."
The Senior class wishes to thank some of the many sponsors; Advanced Electrical Systems, Budget Tax Service, Chunky Cow, El Charrito, Gray's Motor Sports, Todd Ver Weir Esq, Union State Bank and Jennifer Montgomery. Silver sponsors from Georgetown were R Bank, Wriggley's Pub, Aerie Awards & Signs and Glass Wrecker Service.