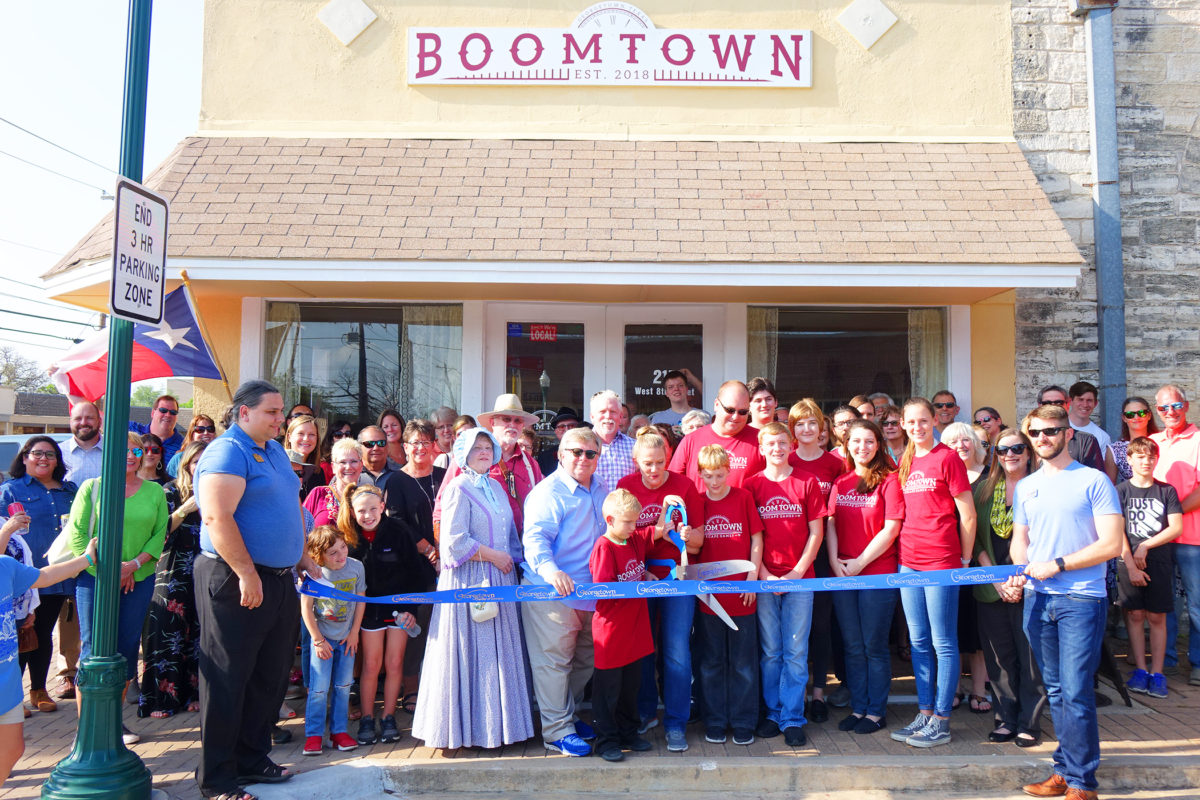 Ever imagined being locked in a room and challenged to break out using nothing but your skills and brainpower? Well, the owners of Georgetown's newest immersive entertainment invite you to round up your family and friends, put down the phones, and find out if you've got what it takes.
Boomtown Escapes is officially open for business at 215 W. 8th Street in Georgetown and features stories from Texas history that will challenge and delight visitors and thrill-seekers alike.
Escape Room was originated in Japan in 2007 and has grown tremendously, worldwide, reaching a peak in 2016.
Now, right here in Georgetown, escape games combine elements of the theater with gameplay and special effects. They are popular with millennials and fans of the experience economy; folks who prefer to spend money on creating memories and experiencing something new.
Owners and proprietors Valerie and Blake Nicholson said they visited an escape room on vacation last Fall, and Valerie says she just couldn't stop thinking about how much fun it was but also what a great business opportunity it presented.
She says opening weekend was very busy and had a lot of traffic from Market Days. "We had a lot of couples and groups, and most said they can't wait to bring their family or other couples back for double dates." She added their escape stories are ideally suited for 4-6 players at a time.   
Nicholson is very excited to bring a new venue to the Square that is family friendly but also doesn't require too much planning or commitment. "We focus on the time period as a natural result of their love of the Georgetown community and appreciation for Texas history."You can just stop in here for an hour when you're out downtown; and we hope people will enjoy our stop when they visit Georgetown or if they live here and just want to hang out on the square."
She also added that, as a member of City Council, it's a great development opportunity and adds to the ambiance and attraction of one of our busiest shopping districts. "Plus, as a mom, I love having something else we can do together."
Boomtown has several games to play currently and one in development. Plus, as a mom, she decided none of them is scary or threatening. But, around Homecoming there may be something a little more spooky.
Each game reflects the history of Georgetown or Texas, and there is even a Scavenger Hunt that asks players to physically see the Square for hidden clues and learn history in the process.
A peek: The Boomtown Saloon keeper is bored with his job so when passers by on the Chisholm trail come in, he locks them in the saloon just to amuse himself. And the Schoolmarm will lock you in the schoolhouse until you finish your work or you will miss the afternoon stage to get home.
Boomtown also has a lounge and serves refreshments so players can relax before or after their 48-minute experience. Although she does caution that post-game players don't give anything away to others in the lounge. (Games are deliberately timed to pay homage to Georgetown's founding in 1848.)
One important distinction of the Boomtown Escape is the game master will be in the room with you while you play. No more watching on cameras and announcing hints (after all, there were no intercoms in 1848). Game masters provide poker chips or rulers that players can use to buy a hint.
Boomtown is accepting bookings any time and their regular walk-in hours are Friday 2-10pm, Saturday 10-10 and Sunday 12-8. They are also available, by appointment, for groups or team building play.
Play is $25 per person. Visit https://boomtownescapes.com/ for more information.