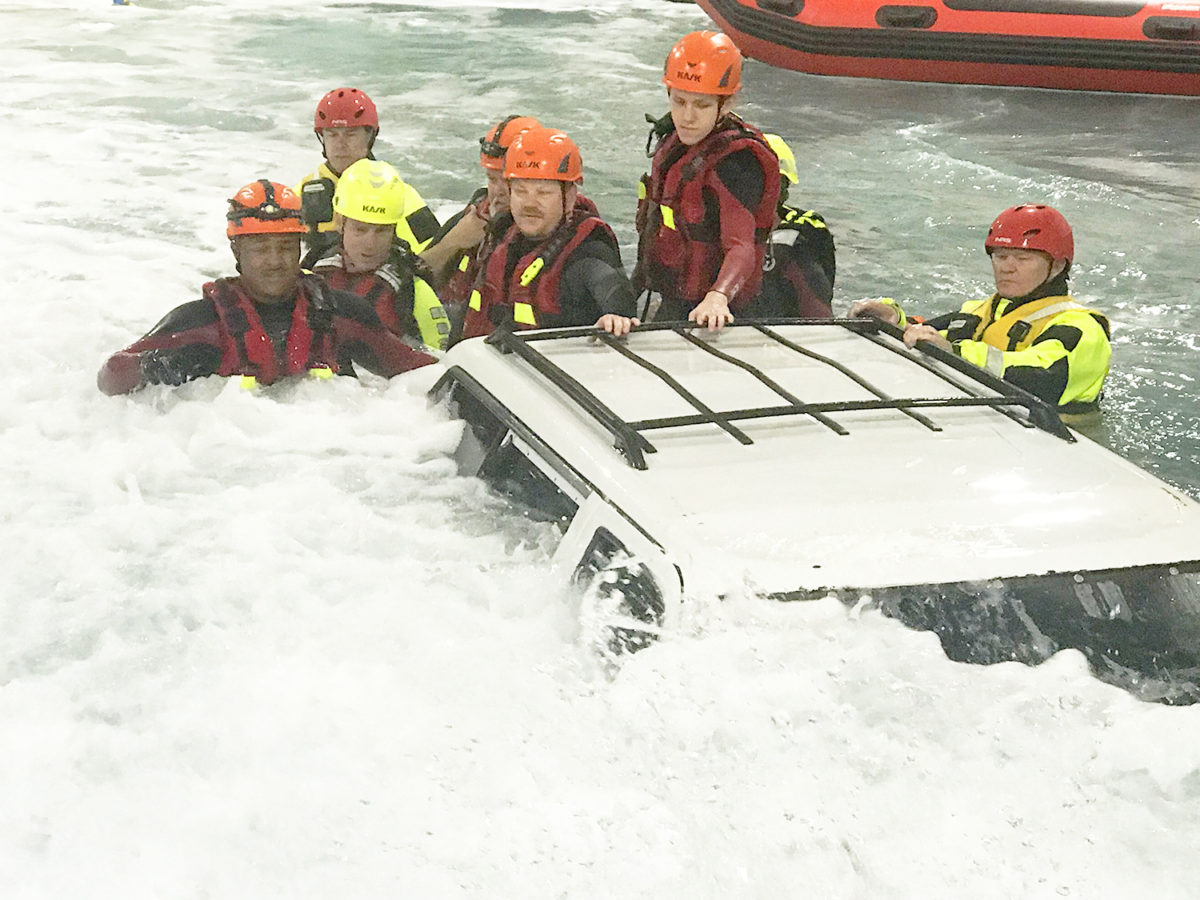 Just outside historic Georgetown is a nondescript building that is home to something so tremendous and, literally, one-of-a-kind, Georgetown-ians should be saving space on Facebook to brag about it.
In that building is Fathom Academy, founded and run by Charles Barton Bollfrass. This trailblazing facility provides indoor swift-water rescue training, year round, for law enforcement and emergency management, as well as a set for Hollywood movies.
As a former Navy EOD diver, Barton is an expert on "worst possible scenarios" and the dangers they pose to professionals. The mission of Fathom Academy is to prepare rescue teams for what to expect in a flood and, ultimately, reduce the 31 percent swift water rescuer fatality rate nationwide. "We have federal, state, movie producers and other municipalities looking for a safer and cleaner way to train in the water. We can create a real-world flood environment that is safe, clean and repeatable, so teams can train to fail."
Barton explains; training to fail allows a specialist to test and fail without causing harm. Knowing 99 ways that don't work is as important as knowing one that will.
The value of his indoor facility includes pumps that can simulate three-knot water speed with white caps, but will not sweep a rescuer 'downstream' further than the end of the pool. Chlorinated water means no rainwater—which, in nature, contains flesh-eating bacteria, so even a scratch underwater runs the risk of serious infection. Barton says two rescuers die each year from a water-borne infection.
His tanks are also heated to allow teams to train longer and focus on maneuvers. Not only do his pumps provide the "swift" water, the room also has wind fans, thunder, sirens, and a spotlight to simulate a helicopter hovering overhead, which can be blinding. He can place objects in the pool to simulate uneven underwater terrain, and accustom rescuers to expecting the unexpected. "If you've only trained in a lake on a sunny day (because it's difficult and dangerous to do otherwise) being asked, then, to execute maneuvers in a raging river, during a nighttime storm, with trees and debris coming at you underwater, choppers flying, and a victim clawing at you in a panic… is like being pushed off a building and being asked to fly, but make a cake, and talk on the phone while you're doing it."
His curriculum, developed in collaboration with Dr. Anita Greenberg, has been proven in the field, and in May 2017 they received the best possible review of the course, which Barton says made it all worthwhile. A Director in Georgia reported that for the first time in a flood situation, his entire team came home safely, thanks to Fathom training.
Fathom buys automobiles from Facebook or CraigsList, drains them completely, to prevent water contamination, and allows teams to tear them up. While speaking to City Insider, he was supervising a proprietary team using Jaws of Life® to remove mannequins from vehicles nearly submerged.
The biggest challenge Barton faces is getting the word out to the people he believes need this training most. "First responders tend to only listen to each other, so when today's team pushes out their video and photos, they will be helping us get the word out that we are here. We are safe, controlled, and allow people to be in the moment, mentally, so they can acquire automaticity in a crisis. We can't trust the weather in Texas to give us just enough rain at the right time, or not too much, to practice often enough in a tiny little window of time."
Fathom is the only facility of its kind in the world and, to date, they have trained people from Hawaii to Georgia, including the FBI. Courses can be completed in a day and at the end of the day, they put in a new car, reset the tank and no matter the weather outside, they can jump "back to 1".
You see, Barton also spent ten years as a movie producer; he even won the SXSW festival in 2008; so while he knows a lot about the reality and dangers associated with underwater operations, as a movie-maker, he knows how to re-create it perfectly for the sake and safety of others.
And before you start to think this amazing facility doesn't mean much to an average citizen, he is considering, in the future, having open house days during which civilian groups or individuals can get in the car and experience the sensation of being in a flood. Even a few moments of recognition or familiarity, in a panic situation, could be enough to save your own life. 
In our July issue, we will visit the other side of the building… where Barton and "Opifex Global" train astronauts!