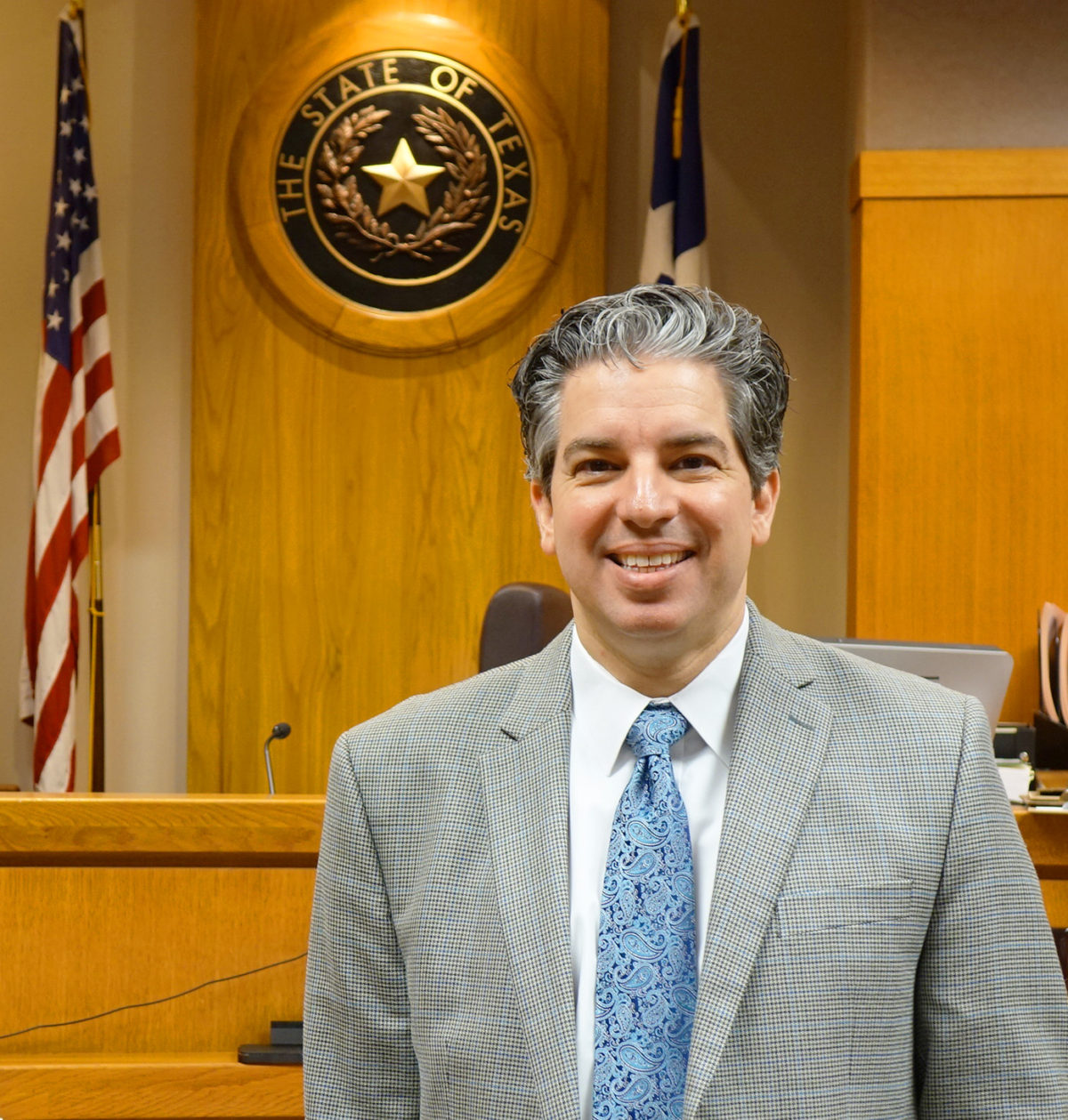 "Ideally, I'd like each court to have ten trials per year, so in a perfect world, that's about 30, and it is a lot of work for our staff. Last year the office did four. But trials are really the best way to gauge what our community feels about criminal activity." To accommodate the workload, his office has 19 new employees and Dick has plans for four more this year. "We put out notices across the state and found people from all over Texas were eager to work here. [First Assistant D.A.] Lindsey and I have created structure in our organization where there was none, and at the same time I have also begun the process of reconstructing our office spaces to accommodate new staff members." Capital improvement plans were due just 45 days in office, which include a conference room and office space for new and future employees.
"Veteran and new staff are already working through our backlog of 1500 cases as well as assessing new cases coming in every day. The backlog is largely due to the previous District Attorney's policy to accept every felony case that was submitted to her office, which resulted in nearly 3,800 cases being filed in one year. Her office eventually went on to dismiss approximately 40% of these improperly filed cases, sometimes a year or more after accepting the original charge. My newly created Intake Division is designed to screen out those cases on the front end—saving taxpayer money and county resources," Dick says.
"The system we have now organizes us into four divisions, working collaboratively to assess and evaluate every case at intake. While most counties put their least experienced attorneys in the intake positions, we have hired Board Certified Criminal Lawyers who have individually 33- and 40- years of legal experience that they bring to the Intake Division.  My Intake Division determines the viability of every case and determines if it is reasonable to go to a grand jury, back to the police or declined. This avoids engaging investigators, prosecutors, clerks, defense attorneys, and even judges unnecessarily, which saves tax dollars."
D.A. Dick reports the new organization is working very well and the team is enthusiastic about the vision and structure to fix the office. He is clearly confident in his recent hires. "Despite working in different courts, my staff is incredibly bonded and they have an excellent team mentality. We are collaborating well with investigators, victim assistance, the appellate division and prosecutors—everything is a whole-office effort."
One hurdle he continues to face is making sure staff have the tools to get the job done. "A lot of what I do every day is administrative at this point because this is a large government agency. A paradigm shift is necessary to bring Williamson County citizens the excellence in criminal justice they deserve.  Basic, fundamental changes must be implemented to achieve this goal. I believe this County is solid enough to manage and justify special circumstances for the sake of efficacy and I look forward to our elected officials being flexible about helping me make the necessary changes."
The biggest challenge administratively, he says, is the move to a paperless office. With some on his staff still physically going through boxes of paper, the task of moving old files to digital while keeping up with new casework is daunting. In addition to the volume, the software platforms are not optimally integrated, as planned, with judicial and jail systems. "We have to rely on this system to maintain thousands of records and it is my goal to create intuitive processes; we are creating a system nearly from scratch. At the same time, this is not just data entry. We have a flood of digital evidence—911 calls, body- and dash-cams from multiple officers, and jail cams on just one incident can mean dozens of CDs—plus greater discovery compliance and we must consider Michael Morton requirements. Case intake requires thoughtful and meticulous discernment so again we are relying on people with a lot of expertise in the law who can scan everything and ensure it gets assigned to the right people." Dick has also hired from a cross-section of professional skill levels; corporate, education and legal, to evaluate the process from all angles and make it as smooth as possible.
Personally, Mr. Dick says the job is going very well and he looks forward to coming to work every day. "Our goal every day is to make a difference and it is a lot more than trying cases, but I am glad to be in a position to be able to do so. One of the things I love, and missed, about being in the prosecutors office is the team work. Defense lawyers work pretty much on their own and the State has a whole team.
"At the same time, that's also one of the things I bring to this job; having been a defense attorney, it is useful to be able to see the trial from the other side and thereby help my prosecutors plan for whatever they will come up against in an opening statement."
Dick is looking forward to the days when the administrative work is more streamlined and he can balance focus on casework. "I am most happy when I get to make decisions. Right now I'm looking at some previous cases and while I think I may have made different decisions at that time, most do not have compelling arguments to revisit. I know some may be disappointed but I'm confident in those judgments."
In the current environment, priorities still lie with improved communication, greater organization and making everything more efficient to enable more trials. "I trust my staff to do the right things. We won't win every single case but that should not keep us from trying them. Win or lose, every day is instructive and we are always a little closer to knowing how our juries—our citizens—feel about crime and how we're combating it. This is a rare era, with a new Sheriff, new judges and new laws. I am motivated being a part of this growing county in an exciting time."