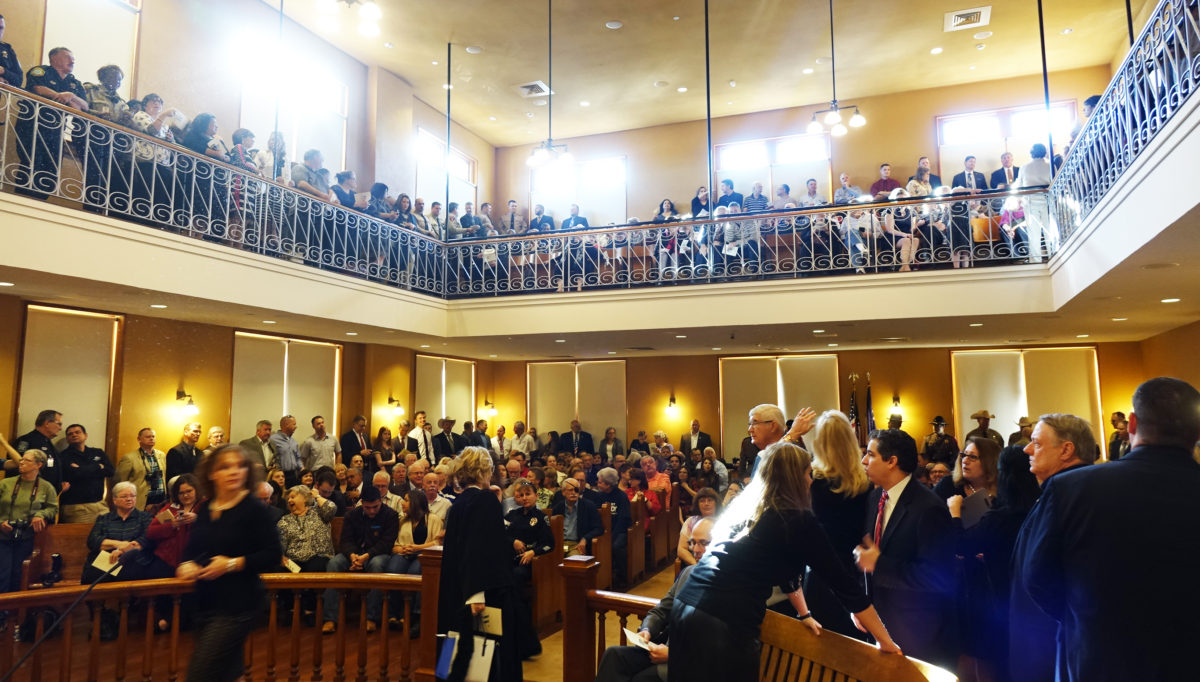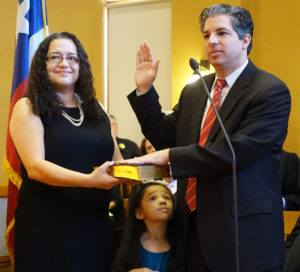 Promises to return integrity to the office.
District Attorney Shawn Dick was sworn in by 277th District Judge Stacey Mathews and pledged to working tirelessly "to restore this office back to the place it deserves to be."
Dick's family and several extended members were present to celebrate the family link in the office. Shawn's father Sam was also a District Attorney in Fort Bend County, TX, sworn into office exactly 30 years ago. In fact, the first ballot Shawn ever cast was for his father making them one of two known pairs of family D.A.s in Texas.*
Sam, Shawn and brother Chad also all worked in the District Attorney's office and Sam says, "[Being D.A.] was never a goal; in fact them being lawyers was never a goal."
Chad, however, wanted to be a lawyer since he was 10 years old.  "I love campaigning. I used to love to be in my dad's office and sit in his big chair. My 'babysitting' was watching trials."
When Dad had to be in a parade, Shawn and his sister didn't want to go but younger brother Chad was always excited and outgoing about it. "I took the boys to trials and juvenile detention and they both watched the kids to understand how things happen. So when Shawn interviewed in the Harris County DA office, they were surprised to learn he had no record of any kind at his interview. But I had always told them, 'if you get in trouble, you're going to spend the night and wait for your mother.'"
Even at home, things were quite litigious a times. "When they got in trouble at home, we would have trials and they would have to present their witnesses."
Shawn laughs, "I learned then how important it is that the prosecutor is not also the judge; we never had a chance."
"We are always guilty," Chad says. "So we would wait for the grandparents to be there. If the grandparents were around, we would wind up innocent."
Shawn's mother is a teacher with three children, a husband and a daughter-in-law who are all lawyers. "She has always been there when times were low and times were good—even since she sat in the car with me before baseball games and helped me study," Shawn says.
Sam admits, "She would listen to my case information and when I used some of her comments in my closing arguments, it was hard not to look at her and smile."
Sam has had a private practice since his days in public office and recently turned it over to Chad for full time management. "Both my boys are caring and great people," he says. "People came to Shawn about the job, and when they offered their help, it became a new mission. He has a lot of responsibility; life or death cases, and also running a large office and managing people. It's an awesome undertaking and I know he will be amazing."
As for his first days in office, D.A. Dick says "We are close to full staff and we have really been fortunate to attract the best and brightest in Texas. Everyone in the office is all smiles and it is exciting to see and encouragement we are getting from all sides. Williamson County is a community of excellence and I am so proud to be a part of it."
* Father and son Gene (1976) and Staley (2006) Heatly served as elected 46th Judicial District Attorney Office the tri-county Wilbarger, Foard, and Hardeman office.