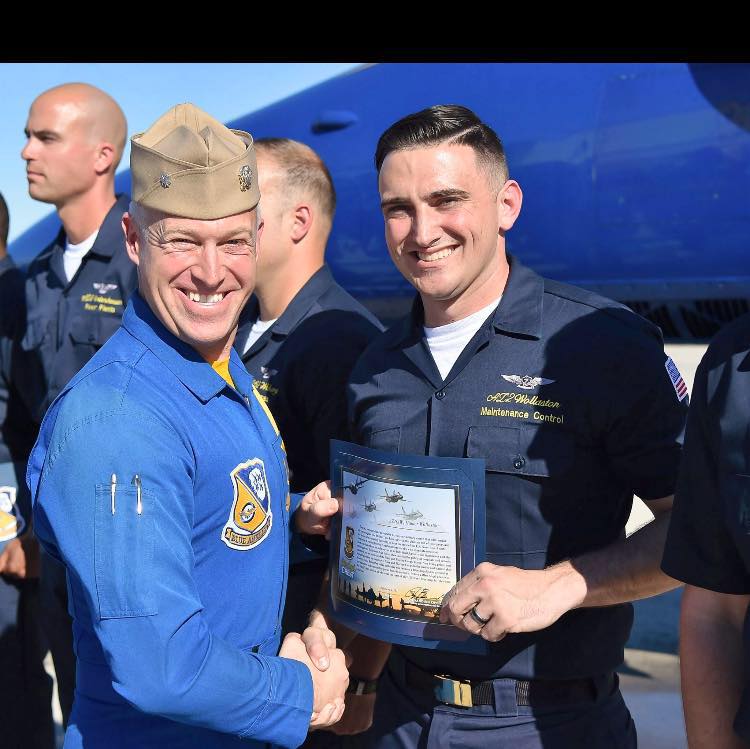 2010 GHS graduate a member of elite US Navy Flight Demonstration Squadron
Hunter Wollaston recently earned his crest as a Blue Angel and works for the Blue Angels Maintenance Control Department. He is looking forward to his first Home Show, the Wings Over South Texas Airshow in Corpus Christi April 1.
The Blue Angels team travels the nation and the world to showcase the pride of the United States, Navy and Marine Corps at air shows and special events. In addition to impossible aeronautic feats, they have been providing outreach and inspiration to generations since 1946.
In his new role, Wollaston tracks and organizes maintenance for the famous F-18s. "My job is to direct, coordinate, and manage all maintenance to be performed on our aircraft. Essentially, for optimum jet performance and the safety of the pilots—when any maintenance or inspections need to be done—it's my job to see that they are."
Wollaston has been in the Navy since 2011 and says "It is the dream of so many to be in Naval Aviation and mine started when I was in the ROTC program in high school. I knew I wanted to be in the military and see the world on my own. Even then I loved the structure of the military and in just five years I've already seen so many countries.
"Being with the Blue Angels, I am looking forward to traveling across my home country and interacting with the people here; schools, hospitals, veterans and more."
Wollaston admits getting there was challenging; a week-long interview process and 90 very tough days of the Cresting Program come before the ceremony. "Those days are hard but at the end you know you've really earned your place. Fewer than 3600 people have ever worn this uniform, and it's not just about excellence in flight. There are many traditions with the squadron and we are in the spotlight wherever we go. I feel so proud to sign an autograph for a young person and feel like I am a good influence. It is a dream come true."
Hunter's Georgetown family is thrilled. Mom Deanna Cornelius says, "I am so grateful that he has found his way in the Navy. He tested very well for the program in high school and he is destined for a great lifelong career in the service."
Dad Chris Wollaston is the owner of Georgetown Woodworks and is also very proud. "We knew this was a path that would make him the great man that he has become."
The Blue Angels are just part of Hunter's extraordinary year. Just last summer he became half of a newlywed power couple. Wife Laurel is a clinical research coordinator, finishing her Master's degree in Exercise Science and planning to become a Physician's Assistant.
Wollaston will be with the squadron for the next three years and hopes he will be able to visit Georgetown to share his experiences and achievements with the next generation. "I love interacting with people. You get three years to do your best and, while I wasn't the best kid growing up—now representing the pride of the Navy—I love talking to young people about moving beyond mistakes and realizing even the greatest dreams. From here my new goal is to become and officer and an F-18 pilot myself. I've worked with them for some time and I would love to fly them."
A gentleman as well, Wollaston gives as much credit to his family for his achievement; "Part of the creed of the squadron is that we never forget where we came from and I wouldn't be here today if it weren't for my mom and dad. They and my wife, my rock, helped me through those 90 days of the cresting program and I'm so thankful they were there for me through it all."
If you would like to see Wollaston's work and the best in aviation, the Wings Over South Texas Airshow is free and open to the public at the Naval Air Station in Corpus Christi. Visit WingsOverSouthTexas.com. If you happen to see him April 1, wish him a Happy Birthday.