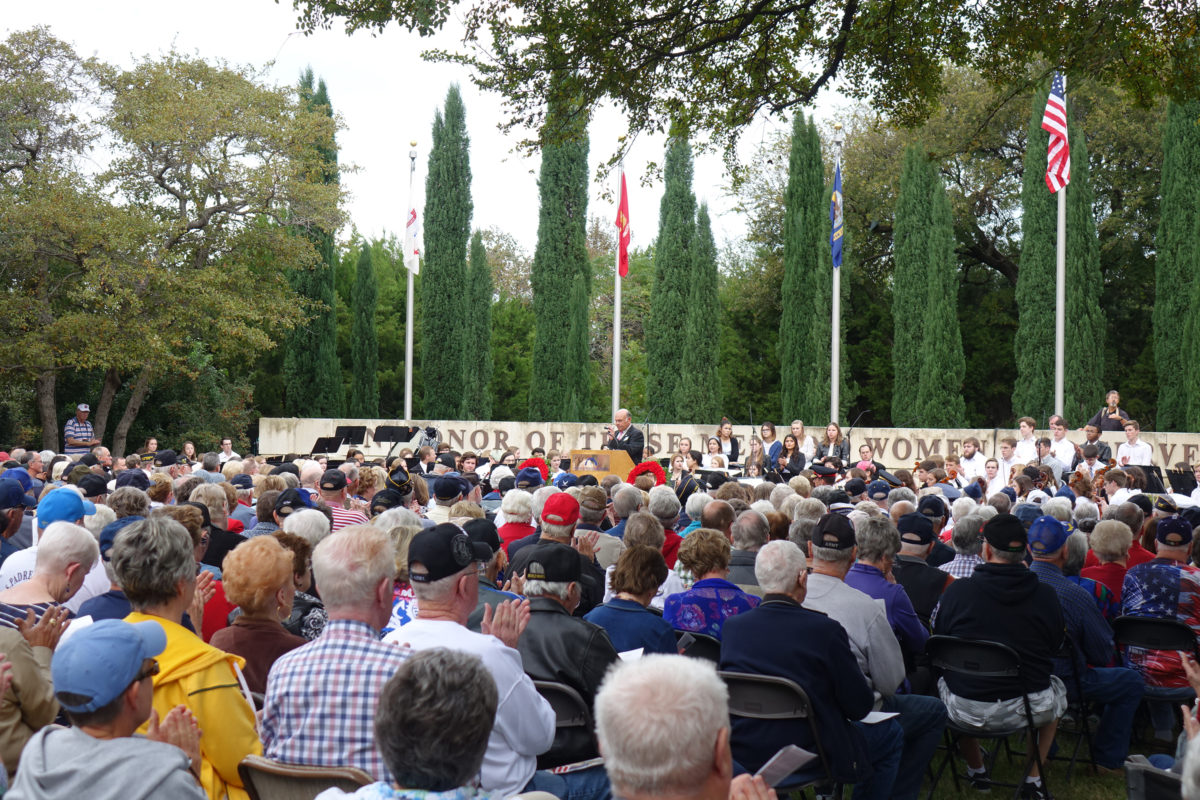 Residents across Georgetown—from the youngest to The Greatest Generation—honored members of our Armed Forces, past and present in many diverse ceremonies on November 11.
Georgetown ISD held events at 11 schools, and invited parents and family members to attend with their students to be recognized for their service. Pictured left are the K-5th graders at Carver Elementary, all holding signs with individual and personal messages to thank our veterans.
The Georgetown High School orchestra, band and choir all performed at the Williamson County Veterans Memorial Plaza in Sun City for a crowd of approximately 2500 people. Despite the gray weather and a little bit of rain just before the event began, the musical performances were as stellar as they were moving. Choir director Joey Lowrance led the entire crowd in a chorus of "God Bless America" to close the ceremony.
Elsewhere at Veterans Plaza, veterans from all wars were recognized from the dais, from World War II to the Global War on Terror. Many who are typically too humble to want attention for their service, were proud to stand and accept the applause of those in attendance.
British Major General Douglas Chalmers was the keynote speaker. Gen. Chalmers is the Deputy Commanding General at Fort Hood and, having served at the pleasure of the Queen for more than 30 years, his experience, poignant words and admiration for veterans of all nations was as impressive as the decorations on his own uniform. "The diversity of ages, services and experiences make this one of the most vibrant Veterans Day celebrations that I've ever had the privilege of attending."
Major Chalmers also spoke of the universal need for soldiers to protect our society and mentioned the red poppy he had affixed to his cover. He was pleased to know that Georgetown has an entire weekend dedicated to the flowers that are descended from the very same poppies that grew in the European trenches he referenced in his speech.