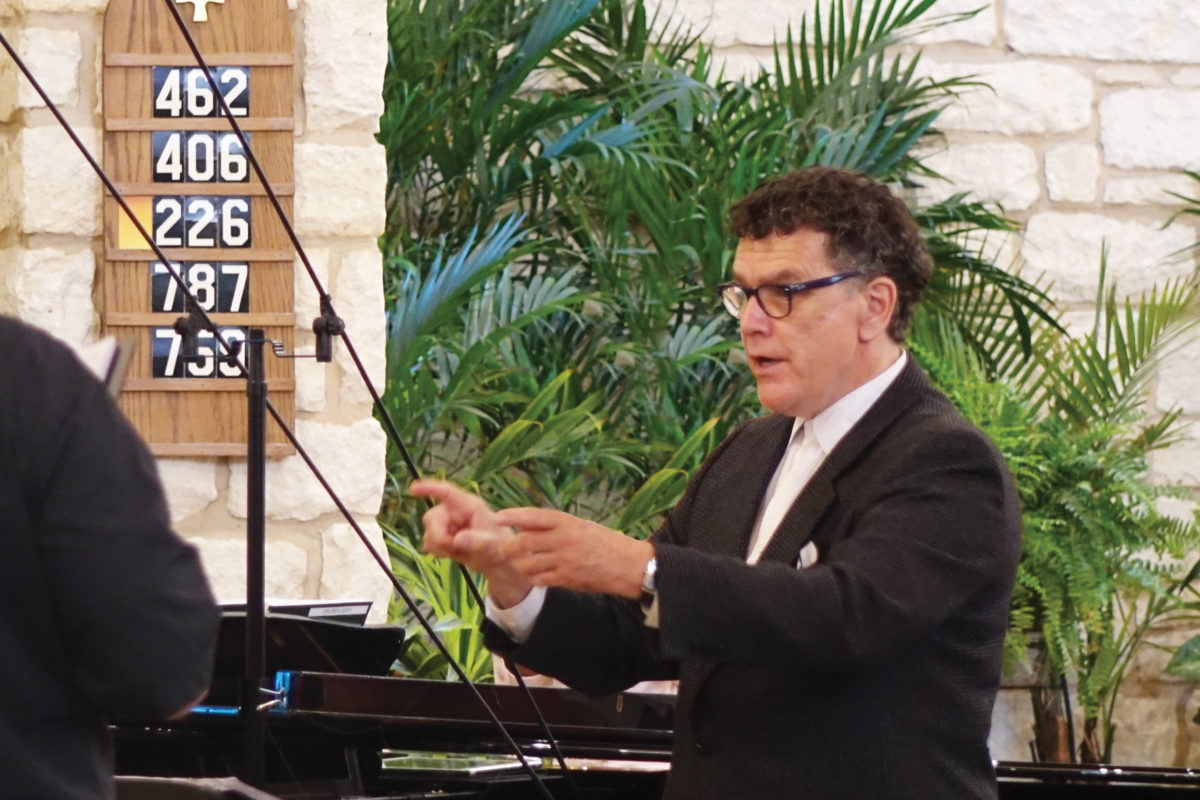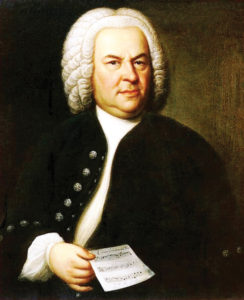 Georgetown is joining the fashionable fraternity of global locales to host a classical music festival devoted to the music of famous Baroque-era composer Johann Sebastian Bach (1685-1750). The Texas Bach Festival (TBF), founded by Artistic Director and Conductor Barry Scott Williamson, begins this July 6-9 at St. Helen's Catholic Church.
It is our continued good fortune to call Dr. Williamson a neighbor, as he has been working hard to bring world-class professional instrumentalists and singers to us for this inaugural event.
Throughout the majority of his 40-year career, while working, winning awards and in demand from New York to Austria, he has been an integral part of the Austin-area music scene. He returned to Central Texas in 2012 to be close to his daughter Caitlin and, once again engaged in local music, Williamson is bringing his innovative style to the sacred music at St. Helen's as Director of Music Ministries.
Like many professionals, he still travels to accommodate requests to share his gifts with the likes of Carnegie Hall (June 2018) but, he says, "No matter where life and concertizing takes me, I will return to Georgetown to lead the Texas Bach Festival for at least the next 25 years."
Williamson founded the non-profit organization, the only one in Central Texas devoted to the life of and music of Johann Sebastian Bach, to engage and enrich the people and arts community in Georgetown. "The majority of the festival musicians are members of the Austin Symphony," Williamson says. "They have been lobbying me for years to create this festival. These musicians have a big ASO concert on July 4th and they said if I did this, they would all stay in town for another week before heading out around the globe for other projects. I said 'thank you, all right, let's go!'"
The festival will comprise four days of performances July 6, 7, 8 and 9, ranging from sumptuous chamber music of Mozart, Schumann and Brahms to challenging Bach cantatas with orchestra plus his famous Magnificat, the latter selections having been favorites for 300+ years.
Classical music festivals are held worldwide and feature western secular and liturgical music from the 11th century to today. Williamson is a renowned expert on music of the 18th century, and is particularly passionate about Bach.
"First, during his lifetime Bach was known as one of the greatest musicians in Europe and second, I was raised in the Evangelical Lutheran Church of America, founded 500 years ago by Martin Luther, which by many became known as 'Bach's church.'  Bach became the musical champion of what Luther tried to do and I was raised on what Bach was trying to do. He was a very orthodox Lutheran Christian, very earnest in his service to the Lord. It was either his way or the highway."
Bach was also quite prolific. Many of his works were cantatas (multi-sectional works based on primarily sacred subjects or texts and featuring German chorale melodies), and he wrote one every week for about five years. He used this music during worship at the churches he served, particularly the St. Thomas Church in Leipzig, and some of the most well known songs in hymnals today boast similar German roots.
Williamson began studying and playing the piano and organ at age 3—before he could even reach the pedals or read—and by age 13 was playing Bach chorales as his home Lutheran church organist. "Bach has been in my blood and my makeup ever since. As my career has gone on, much of it has been centered on his music."
Williamson was very active from 1988-1990 at the Oregon Bach Festival, which has been going strong for nearly 50 years, and he has somewhat modeled our Texas event after it. He was accepted into a conducting master class with OBF co-founder and Bach scholar/conductor Helmuth Rilling, and was selected three years in a row as an active festival conductor. "In the third year, Helmuth took me aside and invited me to compete at the 1991 European Music Festival in Stuttgart," Williamson says.
He went. And continued to achieve, and receive accolades and awards. Among them was the 1991 European Music Festival in Stuttgart, for which the International Bach Academy invites artists, ensembles, lecturers and scientists from around the world. Dr. Williamson finished as one of three finalist winners out of 63 conductors—the only American.
"TBF was founded on the premise of bringing Bach to life. I want to explain and share my passion for this music—nurtured throughout my life and career—with the people of Georgetown."  He assures us the Festival will have something for everyone. "It has music for string quartet, wind ensemble, chamber orchestra, choir with full orchestra, slow and up-tempo music and wonderful arias for soloists." There is even a cantata by Bach called the "Coffee Cantata," a humorous take on peoples' love for coffee – the closest thing to an opera that Bach wrote!
Free Concerts
Music lovers can meet Dr. Williamson, and get a whisper of the great music to come, at two free concerts. Live Music at the Library concert series will feature mezzo soprano Keely Rhodes and pianist Khanh Pham, both TBF featured performers, in a program of arias by J.S. Bach and Mozart. The concert is a gift of Friends of the Library, June 18 at 2pm.
On June 30, at 12:00 noon, the 26th District Courtroom at the historic Courthouse will host members of TBF's Artisan Quartet and Wild Basin Winds. The program will be the Oboe Quartet in F Major, KV 370 and the Clarinet Quintet in A Major, KV 581, both by Mozart.  This concert is presented by the Texas Bach Festival.
Not surprisingly, it seems Williamson is one of those people with a golden touch. Not only does he conduct, sing, play multiple instruments, teach voice, piano and conducting and administrate music programs, he is also a great businessman.
These free concerts also represent the opportunity for Dr. Williamson to share the mission and activities of TBF, build audience and ensure support and success for the festival, as well as enjoyment of the music.
"My father long ago taught me that, in any business or pursuit, to provide an outstanding product and great customer service. That is the calling. People usually don't see my business side in my performances; but as a professional musician, I am passionately committed to treating my fellow musicians as I would like to be treated – and to presenting unforgettable performances of great repertoire. People appreciate that, musicians and audience alike."
The Festival
Tickets for the concerts are $25 for general admission and are available now at TexasBachFestival.org. Patrons may choose to purchase seats for all four concerts at a discount, and there are additional discounts for seniors, students and active duty military.
There are many ways to get involved and be a part of this historic event by becoming a financial sponsor for some or all of the concerts or other TBF activities. Visit TexasBachFestival.org to donate or read about funding opportunities.
Once the festival grows, as anticipated, the TBF Board hopes to be able to give back to the community by supporting youth music programs and holding vocal and conducting master classes.
Look for Festival reviews in The Advocate in July.