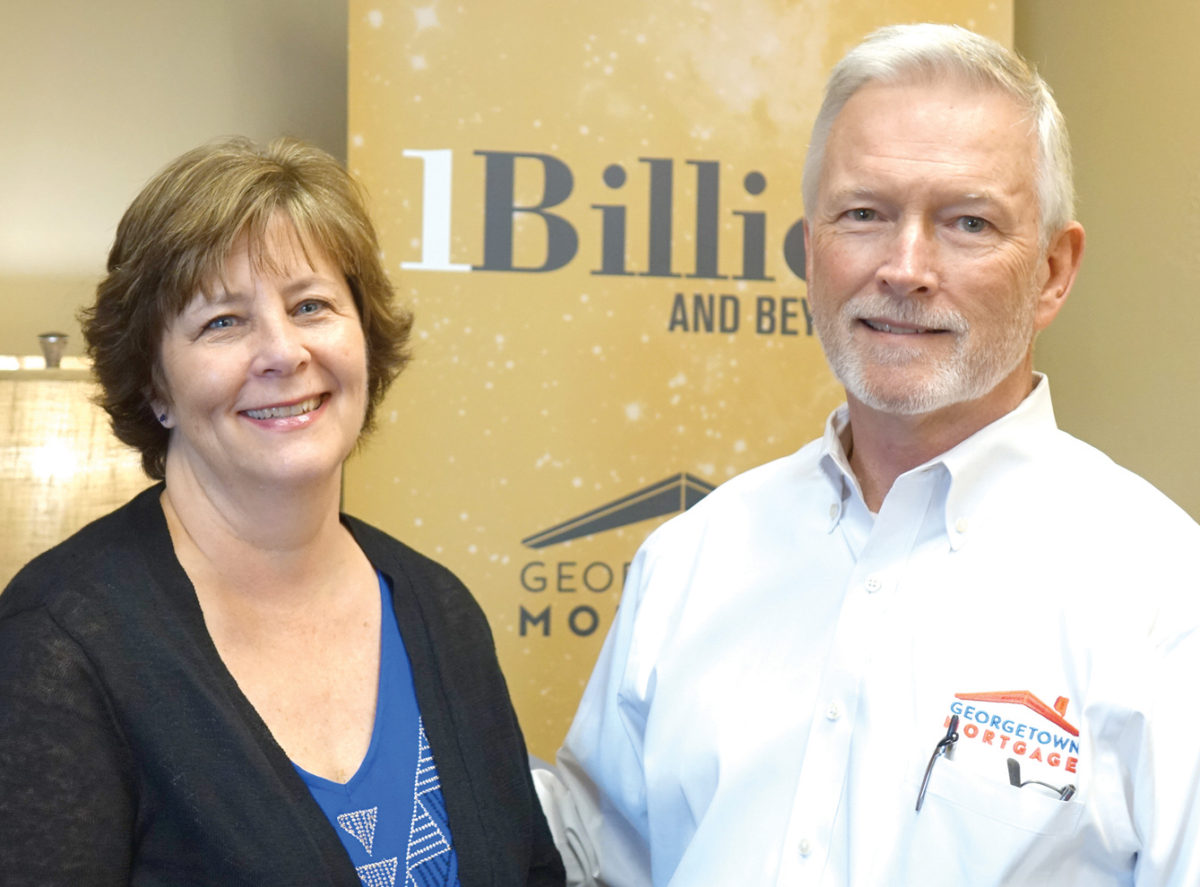 Georgetown Mortgage, a.k.a. "the building with the big copper roof", is located at 4819 Williams Drive just outside of Sun City, and celebrated their 15th year in business in 2016. Proud to be part of the thriving Georgetown business community, owners Roy and Barbara Jones started out as a three-person operation in a small suite on south Austin Avenue and now occupy 10,000 square feet, as well as a second corporate Operations Center in north Austin.
Their son, Michael, joined the company in 2012 as a Loan Officer and Branch Manager before stepping into the CFO role in 2015, which makes Georgetown Mortgage a true family-owned business, having received—among many—the Fastest Growing Texas Family Business of the Year Award in 2014 and the Texas Family Large Business of the Year Award in 2015 from Baylor University.
They employ over 300 people and operate approximately 35 branches in several states. Just last month they closed 398 loans and are on track to achieve their goal to reach $1 billion in loans in 2017.
The company provides a full spectrum of mortgage loans, and in 2012 widened their scope of services by establishing a separate Reverse Mortgage division based in Denver, CO. Reverse Mortgage Focus (RMF) is devoted exclusively to the needs of senior citizens. A reverse mortgage enables home owners to withdraw a portion of their home's equity without any requirement to make monthly payments on the funds drawn. Owners stay in the home as long as they like, and the loan is repaid when the owner moves or passes on.
Clients can receive all of the funds at closing, receive monthly installments, or use a line of credit to draw funds as necessary. "There are a lot of myths about reverse mortgages," Roy says. "Basically, if you have 50 percent or greater equity in a home you can continue to live there without a mortgage payment. This frees up a large amount of liquidity to purchase groceries or prescriptions or other needs that would normally be tied up in the value of your home. So, even with reduced income, homeowners can maintain their lifestyle and continue to live independently with dignity."
Additionally, senior homebuyers can now use an FHA-insured reverse mortgage to purchase a home. Georgetown Mortgage was the first to close a Reverse Mortgage purchase in Texas, and they are currently the largest provider in the state. "Seniors can sell their current home, use some or all the proceeds from the sale as a down payment, and then use an FHA-insured reverse mortgage to finance the balance of the purchase price," Barbara says. As with any reverse mortgage, the homeowner will not be required to make a monthly mortgage payment. New laws even make it possible to reverse purchase a home that is not built yet.
Georgetown Mortgage is committed to clarifying the benefits of reverse mortgages and purchases. Since 2013, they have held monthly educational seminars (with lunch or dinner) to explain the process and answer questions. Roy shared one of his best testimonials; "Our first reverse mortgage client was initially suspicious, because it sounded too good to be true. But they had exhausted other investments and still wanted to live in Sun City and maintain their lifestyle. We helped them with the reverse mortgage and reduced their monthly outgo by $1700. It was life-changing because they weren't forced to sell and had a line of credit to use as a nest egg. He was so excited about the investment that he became licensed and represented us to other residents of Sun City for a number of years after." Look for their flyers in your mailbox for future seminar dates or visit GeorgetownMtg.com.
The company supports a wide variety of charitable causes and strongly encourages branch locations to give back to their communities as well – whether through charitable fundraising or volunteering. The company also honors and places great emphasis on our nation's Veterans by providing VA financing, offering discounts and conducting an annual "Dust Off" car show/fundraiser, giving all proceeds to organizations that provide valuable support and services to veterans and their families. GTM is always looking to hire veterans!
Although Roy and Barbara are actively involved in the day-to-day operations, they give the credit for GTM's success to their wonderful, dedicated employees, often commenting that "…our employees have built this company – they don't work for us, they work with us."
Their faith-based philosophy of treating people fairly, being personally involved with their employees and providing a fun, motivating workplace is what drives Georgetown Mortgage's collective vision to become a "national, legendary mortgage company!"