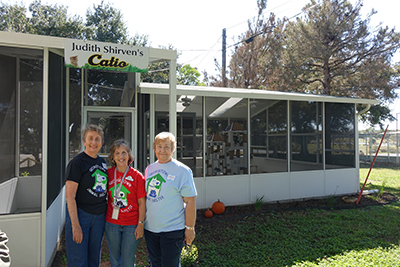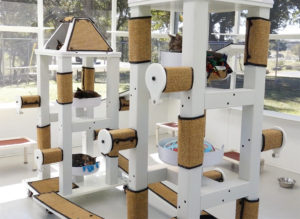 "…for the test of a civilization is the way that it cares for its helpless members."
Pearl Buck, 1954
The City of Georgetown Animal Shelter celebrated the opening of the newly-constructed Judith Shirven "Catio", a covered and screened porch, for cats October 29 with a ribbon cutting and tours of the facility.
Judith Shirven was an early supporter and volunteer for the Friends of the Georgetown Animal Shelter, which formed in 2010 to raise funds for the City Animal Shelter. She was an advocate for animals and when she passed away in 2013, she willed $75,000 from her estate to the Friends of the Georgetown Animal Shelter to be set aside for feline care.
The Shirven Catio greatly enhances the lives of cats at the shelter by giving them time outdoors in a safe environment, reducing stress and the potential for illness, and giving them mental and physical stimulation.
Inside the 250 square-foot catio, cats can play on a feline jungle gym (photo right) that includes scratching posts, ramps, and cat toys. Native plants added just outside the catio attract butterflies and bugs, which cats like to watch.
In addition to the construction of the catio, the estate gift funded the play equipment inside the catio that is specially designed for cats' needs and ease of cleaning. The gift also paid for glass walls added in the main Shelter building between the lobby and the cat area.
The shelter is located at 110 W.L. Walden Drive near the McMaster Athletic Fields. See their featured adoptee bios on page B5.