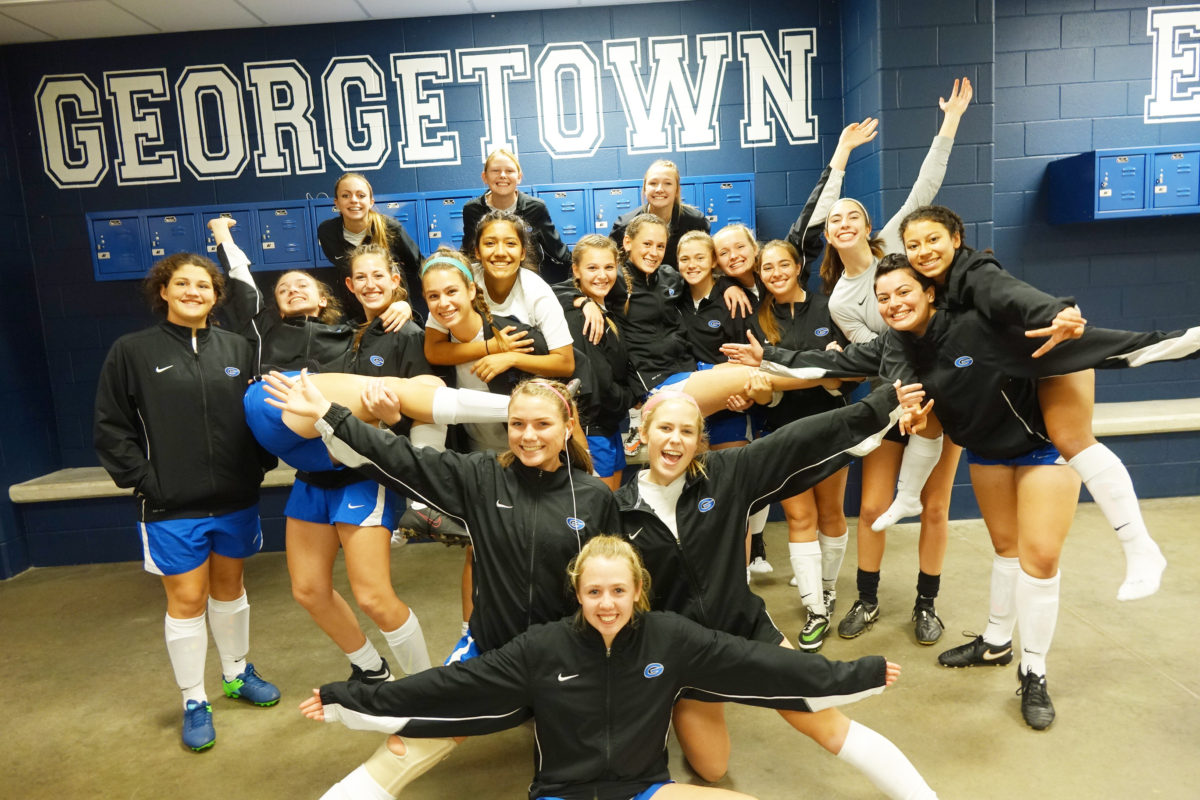 Although not covering sports events, the Advocate recognizes teams deserving coverage for their hard work, effort and energy that go into building their bonds as much as their record.
The Georgetown Girls Soccer team is coached by Sam McCutchen and is led by Junior Captains Sarah Ellison and Ashley Thiel, and Senior captains Mackenzie Pruitt and Amanda Montgomery.
These four ladies are so in sync, they finished each others' sentences so herein are their collective thoughts on the season.
So far the young women have been plagued by bad weather and played just two games, but what felt like a building year in the pre-season is starting to feel like a championship season. "We are a young team but we are doing very well as a unit and we have much better chemistry on the field than we did last year."
The team members motivate each other and hold each a other accountable. "We respect each other and because of that we all feel like we owe our best to each other. Each person's improvement is for the whole team."
All of them are very involved in and out of school. Most play soccer year round, take AP classes, volunteer at church, and participate in NHS, student council, FFA; "We know in college and in the working world, people are looking for the well rounded person. You learn important skills being on a team and being a leader. Being a bright student is important but you have to be able to understand building relationships and social skills."
Aside from Captains, the team has other leadership positions so every member feels her voice is important. "Bring your talents to the table and we will find a way for you to lead with your strengths."
As millennials, they are proud of the lifestyle that keeps them connected and accountable to each other. "We know people think we should put down the phone and read a book but we keep up with each other. We don't feel like we are missing out on a lifestyle other people used to have. This is how we grew up and we are always in touch. It's a benefit that keeps us on top."
None feels like there are stars on the team. With captains playing forward, mid-field and defense, they keep everyone connection and help maintain a solid well-rounded game.
They speak volumes of Coach McCutcheon and how supportive and tough he is. "He will do anything for us and he has taught us that participation trophies are for burning."
As for a social life, soccer takes care of that too. "We don't worry about dates or going out. Soccer is my family and the people I hang out with. In school, after school—this is our peer group."
Home games are on Fridays at the GHS complex.