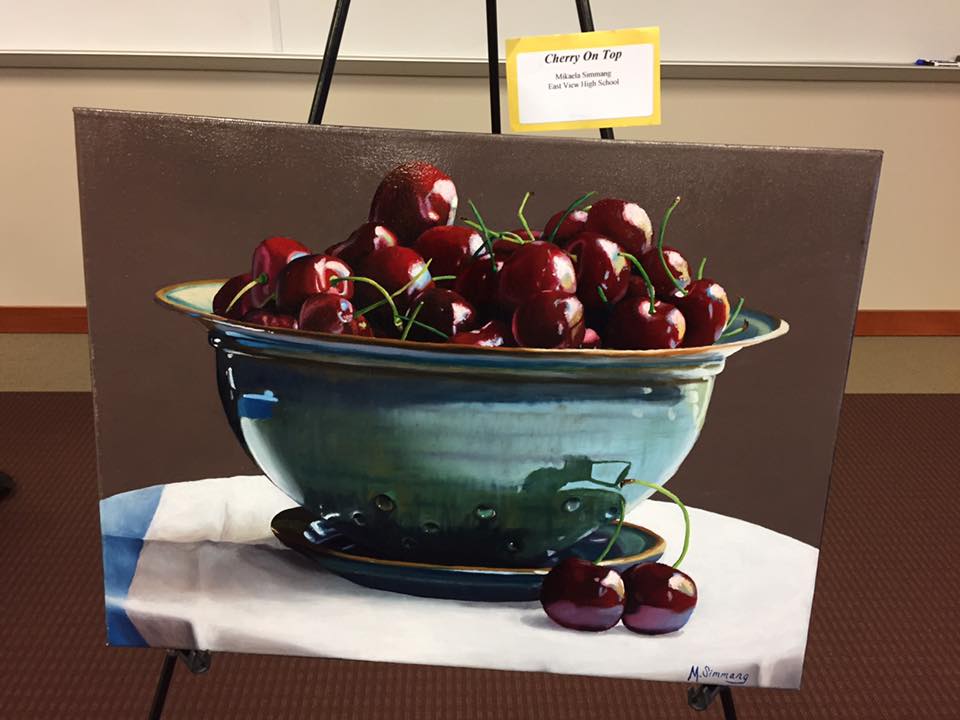 On May 6, Rep. John R. Carter (R-TX-31) held an award ceremony to announce the winners from the 31st District of Texas of the 35th annual Congressional Art Competition. This year, the Best in Show winner, was also the Facebook Fan Favorite, Cherry on Top by Mikaela Simmang of East View High School.
"As always, I have been very impressed by the artwork submitted by the talented students in District 31," said Rep. Carter.  "Especially during this time of year, Central Texans are surrounded by much natural beauty that I have no doubt inspires such great creativity in our young artists.  I'm proud to announce the winners of this year's competition, and commend all students who submitted artwork for their outstanding talent and dedication."
The Competition
Every spring, high school students from around the nation have the opportunity to enter their artwork in the Annual Congressional Art Competition, An Artistic Discovery. A panel of distinguished artists from each district selects the artwork of one talented artist from each of the 435 Congressional Districts. The winner is awarded two round trip airline tickets with accommodations to Washington, D.C. where they will be recognized at the annual award ceremony. Additionally, their artwork will represent the district and will be on display for one year at the U.S. Capitol.
Since the competition began in 1982, more than 650,000 high school students have participated.
Artists
The Advocate visited award winners Mikaela Simmang and Ezri Sullivan at East View High School about their works and love of art.
Simmang, a junior, has been painting and working with other media since middle school when her teacher encouraged her to compete in on-site drawing contests. Although she has only been working in oils for about two years, her Best-in-Show entry is only one of many wins for her. She has earned more than $2000 in scholarship money this year alone.
Sullivan, also a junior, was third place in Drawing for "Unrestrained" (a graphite of her hand on the steering wheel of her car) has been drawing since she was young but finds high school schedules quite busy and is really able to focus on art during class but is eager and confident she will have a great career in the creative arts.
What were your inspirations?
Mikaela: I really like realism and this was just a simple moment. My mom bought some cherries at HEB and when I saw them on the table I really just liked the way the light touched them. So I took a picture and worked from that. With still life, it works great to take a photo of it because the best things are apt to change alot before you finish the painting.
Ezri: I was driving at sunset and I loved the way the sunlight  caught the ring on my hand and I suddenly had a sense of being unrestrained by the scene and freedom you get behind the wheel of a car. I also took a photo rather than park in the middle of the road to draw!
What is in your Art future?
Mikaela: I really want to go to a university and continue painting as part of my education. Right now I would love to work in restoration because I also love chemistry and that is a great way to blend the two industries. There are prizes to help pay for that and there are even some colleges that provide incentives to attend for art.
Ezri: I am planning to go to the Ringling College of Art & Design in Florida. I really enjoy digital art and I think I can have a great career in animation or gaming. Playing Minecraft since I was five could really mean something someday.
Georgetown ISD Winners
Best in Show / First Place Paintings
• Cherry on Top, Mikaela Simmang,
Paintings
• 3rd: Dante, Augustus Helpert, GHS
Drawings
• 1st: Crystal Still-Life,  Katherina Spikes, GHS
• 2nd: Worn,  Emilie Burnham, GHS
• 3rd: Unrestrained, Ezri Sullivan, EVHS
Mixed Media
• 1st: Obstruction, Megan Betancourt, GHS
Photography
• 2nd: Matriarch,  Skylar Epstein, GHS
Collages
• 1st: Not So Sunflowers, Courtney Mahannah, GHS
• 3rd: Shed, Katya Tanis, GHS