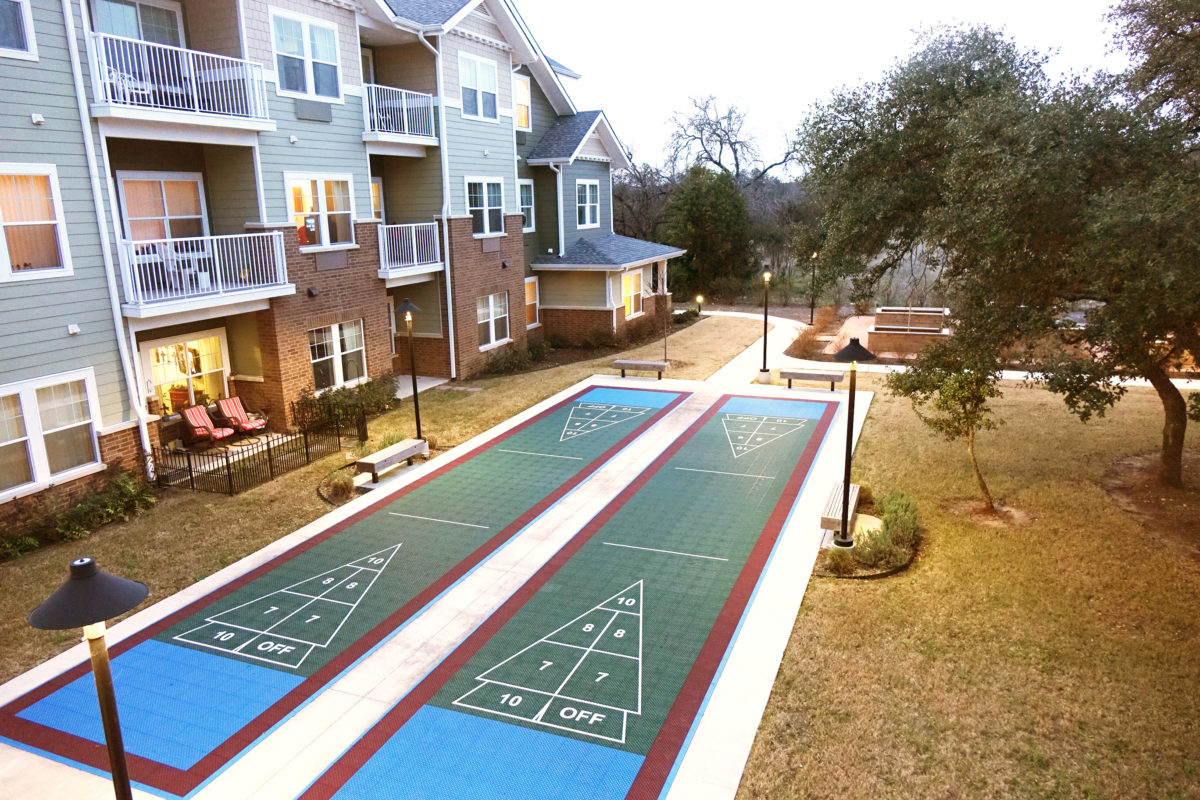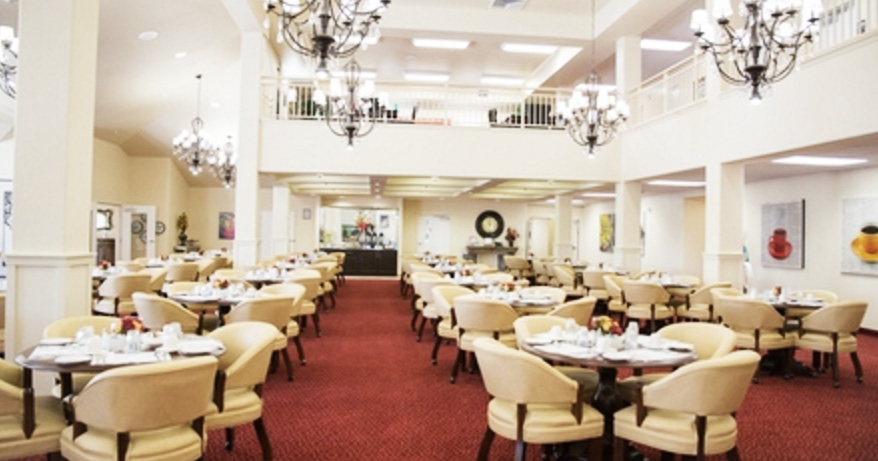 Bettie and Harold Graves call their home "a cruise without the water." Just one visit and you might believe it too. With wide open dining and activities rooms, diverse goings-on, spacious residences, rich colors and textures, and what residents call "the best staff" with so much attention to detail, The Oaks is exactly what the name says: Gracious Retirement Living.
City Insider spent some time with General Manager Rick Plummer and some of the residents at the Oaks in Georgetown. Owned by the Hawthorn Retirement Group, this property boasts 130 residential units and six cottages for those 55 and older, who need not be retired. "You can grow old gracefully with us," Rick says. "We like to think of it as 'independent-plus' living, with personal care and home health available to residents onsite, but all the amenities for vibrant lifestyles."
Among the advantages of the Hawthorn style are residential managers. Rick and his wife Pam also live at the Oaks, so not only are they just steps away if the need arises, they are neighbors of and friends to those who live there. "This is a quite a family atmosphere, and we delight in making sure all the resident needs are met.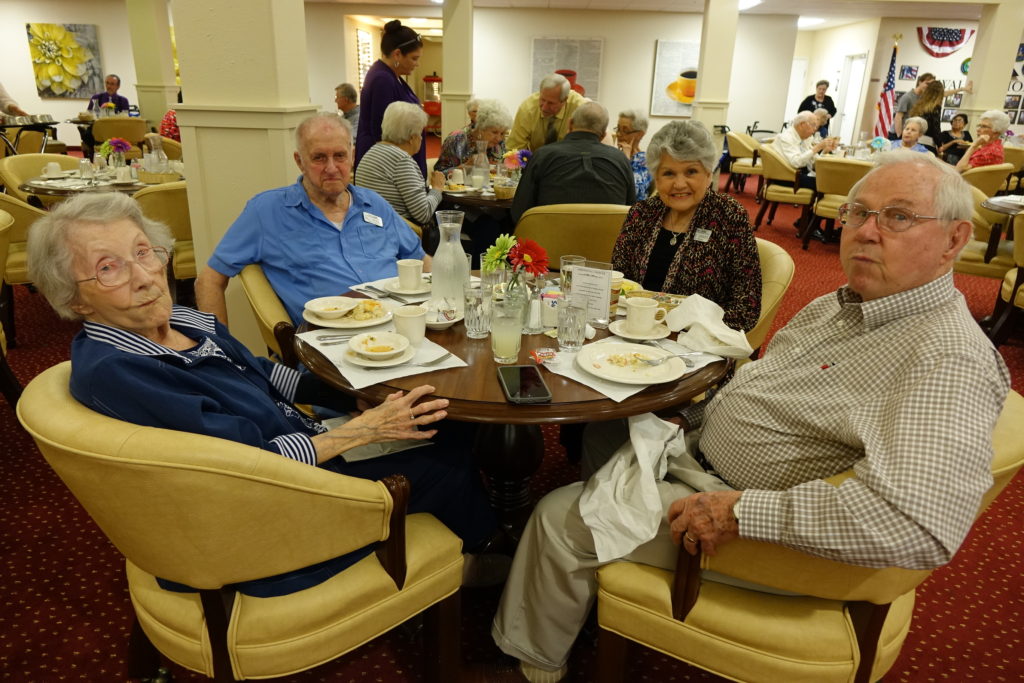 We live and breathe everything that they do and when something is wrong, we know about it first. And, I am comfortable telling visitors that if something happens to their mom or dad, I will be the first person that person sees when the in-unit cord is pulled."
Assistant Manager Mike Richards says, "Its a million little things. Hawthorn started the independent living lifestyle and they just seem to know what the residents are going to need. Look down a long hallway and you'll see comfortable chairs, because they know a resident may need to rest every now and then. It's not flashy, but it means so much to show that we're thinking of them."
Rick says he loves to see his residents thrive in this environment and having fun in their golden years. "We have an impact on folks whether we realize it or not. One resident arrived here not feeling well and she wasn't eating very healthy. Our professional chefs and the fellowship during three meals a day had an effect on her, and we were thrilled to see her looking forward to meal times and eating a balanced diet. Her family was relieved to see her increased enjoyment and motivation as well."
Residents couldn't say enough about their experience at the Oaks. Janet Stein loves the Oaks because, "I don't have to cook or clean and I really like the people; the management is very good. I came from New Jersey and my two daughters live in Sun City, so I'm happy to be near my grandkids." Midge Kondelis reports, "I came here from another facility and I am much happier here." Doris Chaille is from Atlanta and enjoys having maid service and not worrying about remembering to write a rent check; everything she needs comes out of her account once a month. Charter members James and Shirley Missler were on the list when the Oaks opened because they had lived in Sun City and wanted to stay in Georgetown when they decided it was time to down-size.
The Oaks is an all-inclusive community, so there is no maintenance, cooking or cleaning for the residents. It is pet-friendly, has onsite transportation for all purposes, and in addition to the full-time activities director, there is a movie theater, fitness center, chapel, full common-area kitchen, and outside fire pits and planters. They even provide competitive activities like bean-bag baseball and chair volleyball, and several special interest clubs for wine lovers, philanthropy, books and more.
"Independent living is a wonderful option for our seniors, and I'm so glad to be in a community with great options for the Greatest Generation and Baby Boomers. When people live alone, they have little or no opportunity for socialization. It can also be challenging to find people to help them when they are most vulnerable. Personally, I feel like I was made for this job and I've found myself in tears when I've changed locations in my career," Rick explains.
As well, The Oaks is part of the support for the City of Georgetown. It provides a tax base, and provides a secure place within the community for residents to enjoy quality of life and stay close to friends and families. Rick notes that many parents want to be near family, but not necessarily sharing a home. "Independent living is a great compromise. Where else can you be close to family, close to great hospital facilities, and enjoy bad jokes from the manager?"
The Plummers feel lucky to have such a rewarding job. "Hawthorn handed me a $25 million building and trusts Pam and me to keep it running and take good care of the residents. They understand family values and really like us to spend one-on-one time with our residents. The Bible tells us to take care of the elderly and we take that to heart. We laugh and pray and cry with them. That's how we work! I've even been blessed to pray with my friends before we lose them. Sometimes family are far away, but our people are never alone at the end because we are here. It's a privilege to get to be part of these families."
He goes on explain how Hawthorn and the Oaks just want to impact one senior at a time, and one phone call can change a person's life. "Someone out there is missing the opportunity to live here. Come see us, have a three-day mini trial stay and be part of our family. We want to see everyone living well, coming out of their shell, and having fun every day."
The Oaks is at SeniorLivingInStyle.com or contact Rick and Pam at 512-863-7788.
Top:  Janet Stein and Deleon Weston at the Oaks New Year's Eve gala • Lois Steele, 96 years young playing chair volleyball. • Bottom L, grand dining room. • Below, a second-floor view of the recreation area, shuffleboard, planters, fire pot, and lounge areas with ceiling fans.