Candidate for County Judge Bill Gravell held a public meet & greet at the Georgetown municipal airport January 9. Hosted by business leaders Jim and Patty Schwertner, Mayor Dale Ross and several others at the Schwertners' private hangar, more than 350 guests attended, enjoyed signature Texas brisket barbecue, and engaged with Judge Gravell and many other elected officials.
Around the hangar, a popular topic of conversation was reminiscent of President Trump's supporters who proudly took ownership of being "deplorable" after an insulting comment by Hillary Clinton. One campaign booster had items on hand for supporters to show they are part of team #Crony. A recent opposition press release indicated some who favor the Judge are "courthouse cronies". Gravell's many local supporters seemed happy to follow suit by wearing the branded hats and t-shirts.
Attendee Tadim Leasure, a senior leader at a community action agency in Georgetown, commented; "I just want Williamson County to stay Williamson County. I love the conservative values embraced by our leadership and I think Gravell is the person to do that as Judge."
Politics aside, guests enjoyed the unusually warm weather after the recent cold snap, which also allowed for a dramatic reveal (above) when Schwertner opened the hangar door where his jet was parked as the backdrop for speakers.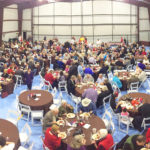 Jim Schwertner spoke first and strongly in favor of the change effected in Williamson County since the development of Sun City, which "helped bring the cowboys back!" He introduced Sun City resident Major General Robert Halverson who talked about Gravell's passion for service and how willing he is to listen to others' perspectives. He wrapped up with a rousing "The leader is in the house!"
District Attorney Shawn Dick received an ovation in his own right and talked about restoring professionalism and integrity within the entire criminal justice system. "[Judge Gravell] has always solicited feedback, not for himself but simply to improve the justice system here. Every day he deals with difficulty and death, but, every day, has a smile on his face and a kind word or prayer."
On prayer, Jim Schwertner shared "a story about Bill that you don't know. Many people don't know the hundreds of thousands he has affected in Texas. I had strong urge to bring prayer to a State school, and succeeded only with Bill's guidance and prayer. With his help, there is prayer before every sporting event at every game that Texas A&M has all over the state of Texas. Bill has a big heart, wisdom, and he's fair."
Schwertner also entreated attendees to contribute more and bring friends to the polls because the race will be a lot harder than people think and, more so, "We need to be aware of [liberal] creep;" i.e., maintain conservative values that are at work in the county.
Judge Gravell followed and spoke of his humility in the level of support and his admiration for others who also serve. He highlighted several platform issues; the "best of Williamson County who are protecting us every night while we sleep" and assured guests that law enforcement and first responders will be a priority for his administration. He also addressed taxes and drawing down the county's $1.3 billion debt, which equals $1800 for every resident. "No child born into this county should come with a tab."
As he often has, Gravell wrapped the evening with his "Why". Every day I ask myself: What am I going to do to make my Williamson County better, so when my grandkids and great-grandkids lay me to rest they will say, 'There lies my Paw-paw. A good man who loved his Williamson County, Texas, and gave it everything he had.'