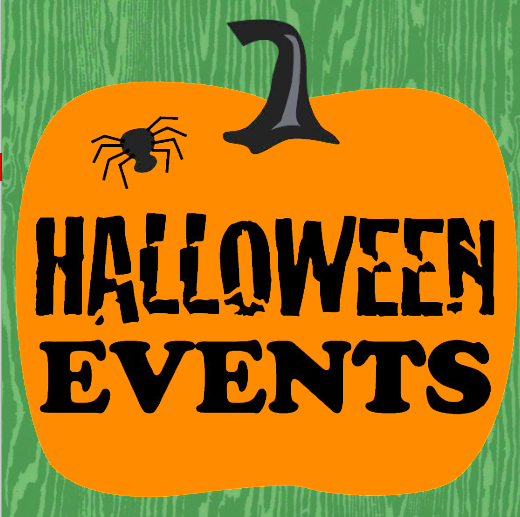 Georgetown Halloween Festival
OCTOBER 27: 5:30–8:30pm at the Community Center in San Gabriel Park
The Carnival is 25¢ per ticket; 1 or more tickets needed for each game, activity or concession. The Trick-Or-Treat Village is free and there is a hayride for kids and adults. Don't miss the costume contest with prizes in several age groups, or pumpkin decorating for free. There will also be a Movie in the Park (no charge). Hotel Transylvania begins at 6:45pm at the at the Gazebo.
Ghost Tours
OCTOBER 28-29: Ghosts on the Square Tours are hosted by the Williamson Museum. Tour times: 7:30, 8:00, 8:30 and 9:00 p.m. for both weekends. Tours held at 9 p.m. will be scarier than the earlier tours. Purchase tickets at the Williamson Museum at 716 S. Austin Ave., or by phone at 512- 943-1670. Tickets are $15 for non-museum members and $12 for members and students. For more information, go to Williamson Museum.
Dia de los Muertos
OCTOBER 29: Round Rock Procession and Festival. Join several local partners for the fifth annual Dia de los Muertos procession and festival, from 1 to 8 p.m. at Centennial Plaza, 301 West Bagdad. Día de los Muertos is a traditional Mesoamerican holiday dedicated to the ancestors; it honors both death and the cycle of life. There will be activities for kids and art, craft and food vendors. There will be an area where you can build an altar in memory of a loved one. In addition, we will have a costume contest.
Boo Run
OCTOBER 29: The 8th Annual Exceptional Georgetown Alliance (EGA) Boo Run takes place this year in beautiful San Gabriel Park. The 5K Chip-timed race starts at 9:00 am, followed by the 1 mile Fun Run at 10:00 am.
Come in your Halloween costume and stay after for a kids' costume contest.
Proceeds from this event help to fund extracurricular events, activities and summer day camp for students in Georgetown with Special Needs. Rain or Shine: We will be at the park come rain or shine. Register at exceptionalgeorgetown.org
Boo Bash
OCTOBER 30: Hosted by The Downtown Georgetown Association, this is a family-friendly trick-or-treat event around the "Most Beautiful Town Square in Texas." Merchants keep their stores open from 3 – 6 p.m. offering candy to all in costume. Boo Bash is fun and appropriate for all ages.
Trunk or Treat Around G'town
OCTOBER 29, 6-8pm: Wolf Ranch Center. Bring little ones to Trick or Treating Night at Wolf Ranch Town Center. Everyone is invited to enjoy a night of Tricks, Treats and Halloween entertainment. Trick or Treating bags will be given to all children and there will be parent treat bags too.
OCTOBER 31: Christ Lutheran Church (510 Luther Drive). Boy Scouts will be competing for the best decorated car/trunk as they hand out candy to our Cub Scouts, family, friends and neighbors. This is the first year they have done this so hopefully many families can attend and we can create a new tradition every year to come.
OCTOBER 31: First United Methodist Church 4-6pm on the church lawn. 410 E University Avenue.
OCTOBER 31: First Baptist Church of Georgetown Fall Family Festival 5:30-7:30pm. 1333 W University Avenue.