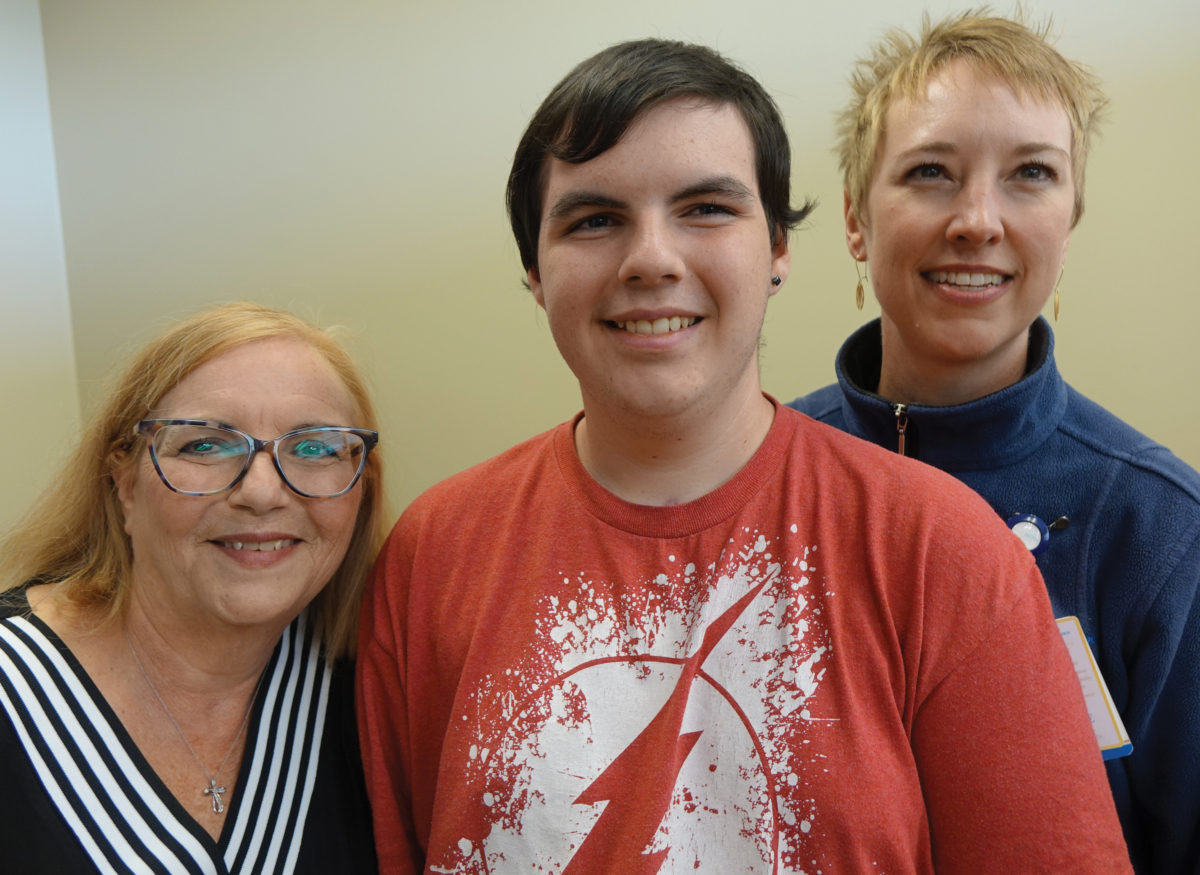 Jarrell Student Recovery Truly a Team Effort
Taylor Hardin walked into Jarrell High School a few weeks ago a happy high school senior. By all appearances, an everyday good kid. But his story is anything but typical.
Back on Christmas Day 2017, he was a typical high school junior. That morning, he had an accident that would show him, his family, and many in Central Texas, the various faces and forms of heroes that are surrounding, and inside us every day.
Taylor took his best gift, a new skateboard, for a spin that day while his dad, Brett, followed behind. When he swerved astride a passing car, he fell awkwardly backwards but got up, he said, "with mostly a sore shoulder and some blood in my mouth."
Later that day—miracle 1—the urgent care was closed. His mother, Kelly, took him to St. David's Georgetown to treat a broken collarbone. He went in walking and talking, at the right place in time. Within minutes he began seizing and—miracle 2—the eagle-eye doctors had him under a surgical drill within minutes to relieve pressure on his brain from the traumatic brain injury no one realized he had.
What followed was fast and fearful and punctuated by many along the way whose reactions ranged from heartbreak to hope.
He was taken on life support by StarFlight to a Level 1at UT. His nurse, Kyle (photo right) later told him he had never seen anyone recover from a similar injury. Taylor's parents agree anyone would be lucky to be a patient with StarFlight around.
While he lingered in a coma, friends and family converged on the hospital and started a physical-virtual prayer chain that stretched around the world. With help from The Almighty, doctors, nurses, staff, and a lot of people in Jarrell, Taylor defied every prediction the doctors made, even the one who suggested his parents begin organ donation planning. "We did not accept that prognosis," Kelly says. "He's 17 years old and it was too soon to tell. We had that doctor removed from the floor."
Once the pressure was relieved and the injuries treated, Taylor's strength snowballed daily, from grave (no brain activity) to inpatient rehabilitation in just three weeks. He was transferred to Dell Children's to recover and, miracle 3, returned to school in a wheelchair February 22. He walked into his prom in May.
Even Taylor's dog, was allowed to be part of the cure; his furry touch affected one of Taylor's first muscle movements.
Taylors dad, Brett, says "The people I've come to know in my life are the greatest, most generous and kindest people in the world. They put in their time, money and energy to make my family's lives a little easier. Thank God they did."
During his rehabilitation, Taylor got to know many more doctors and therapists at Dell and St. David's who showed (and urged) him to walk, eat, write and many other skills, again.
Today, thanks to everyone from his parents, first responders, neurosurgeons and countless nurses and staff, to his prayer warriors around the world, he is going to scho
ol, taking welding classes and looking forward to graduating with his friends. He said, "I'd still like to skateboard but my doctors have a list of things I shouldn't do." While he is not allowed to play contact sports, he still has the energy of a 17-year-old; he works out, shoots and rides horses. Still, Brett agrees with the doctors, "I will always be vigilant when it comes to what he wants to do. Taylor's first recollection begins when he knew he was okay. Ours was from day one when we didn't know if he would even survive."
When asked if he has any takeaways from his experience, he smiles big and says, "Always wear a helmet!"
Read BrettHardin posts on Facebook about the journey or follow Taylor @mitace1 on Twitter. Our thanks to St. David's Georgetown for bringing us this story of hope and heroes.