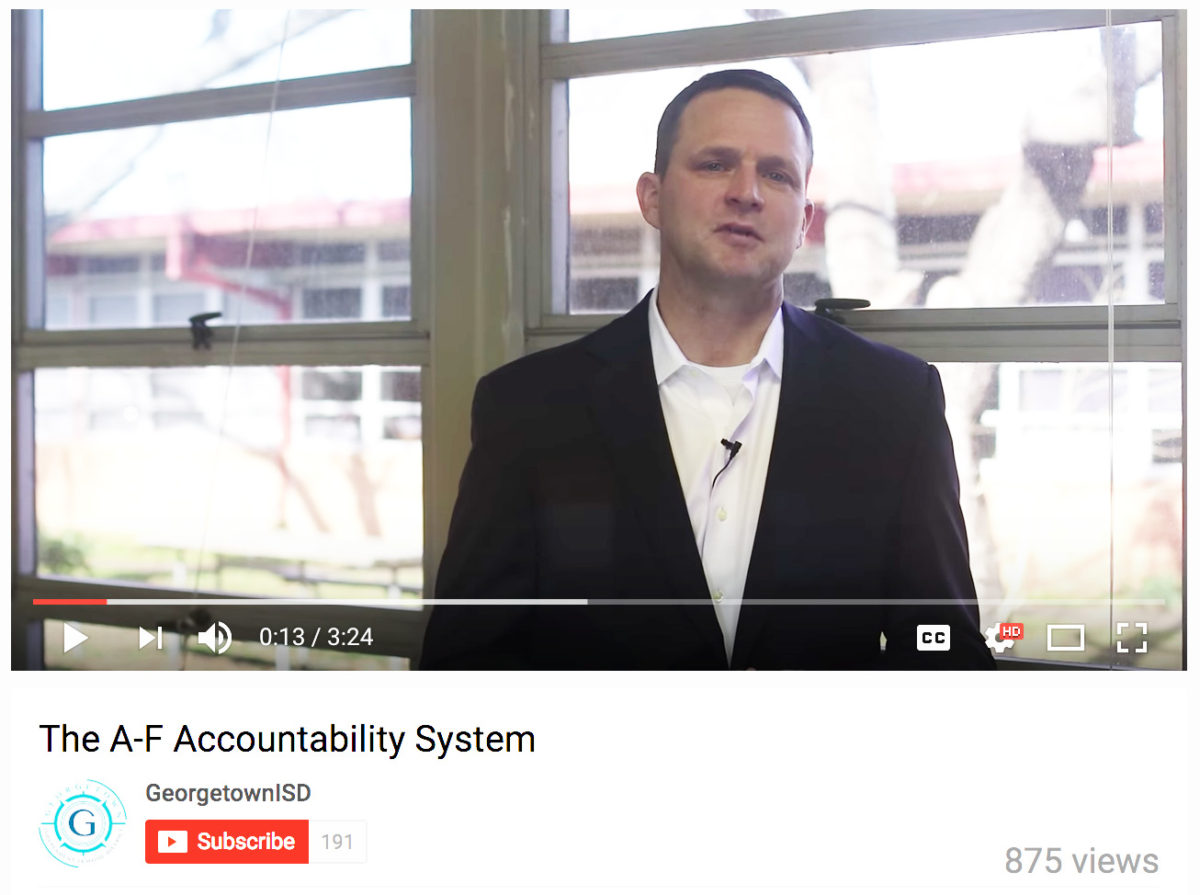 GISD Superintendent Dr. Fred Brent hosted a standing-room-only crowd at the 2nd Annual State of the District at the Georgetown Community Center January 18. The luncheon was beautifully catered by the Culinary Arts students at East View High School, decorated by artwork from several schools, and opened with a stunning performance by "One Voice", made up of GHS and EVHS show choirs. When it came to the National Anthem—well, now they were just showing off as GHS senior violinist Collins McLaughlin played so expertly, much of the room believed there were two instruments playing in harmony.
Prior to his presentation, Dr. Brent was eager to talk principles and plans for the next year. "Our State of the District is about our partnership with the Georgetown Education Foundation and letting our community see their kids doing great work, which they may not see in an everyday school life. It's all about community engagement and the fact that we want to be accountable to our students and their parents. These are their kids, it's their money and we want them to see the great things going on in our schools."
The event showcased several schools' clubs and learning programs that many were not aware of before the luncheon. Cooper GT teacher Becca Massey's 5th grade "anchors" talked about their daily video feed that has replaced morning announcements. Terri Henry's Benold Sea Perch team wowed everyone with their knowledge and expertise in engineering and marine science.
Several teachers were on hand to report back on Education Foundation grants awarded in the last school year. GEF Secretary Kevin Pitts said, "We gave out $23,000 last year and we are excited to see that money being applied for things like ergonomic seating, networked tablets for the classroom, and software for music students. I am looking forward to seeing the new creative ideas from our teachers this year as well."
Dr. Brent affirmed the district is more focused on what he feels is more valuable to the people in our community. "We talked about [community-based accountability] last year but we knew we needed another year to be solid on that curricula before beginning the process so we hope to have an action item for the board in February." He also addressed what he considers to be a flawed A-F rating system recently released by the TEA. "We will reach out to the community and ask them what they find valuable in their students' education and what measures can we use to understand and determine whether or not each student is successful. The current standardized testing does not tell us that."
Brent also went on to say that communication and engagement are priorities. "I want people to be well informed and proud of our principles and achievements; able to tell people what it is we do here in Georgetown."
Newly sworn Texas Representative Terry Wilson took time from the legislative session to attend and was very pleased, "How can you come in here and not feel optimistic? I think Georgetown needs an additional label—Destination Inspiration. Georgetown is really leaning forward on some of the projects I saw here today and you have teachers who are inspired, a school board and superintendent who are all trying to be in front of the wave looking for inspiration. Georgetown has truly embraced "it takes a village" and I pray that every child has an opportunity to be inspired."
Dr. Brent's presentation is available online at GeorgetownISD.org