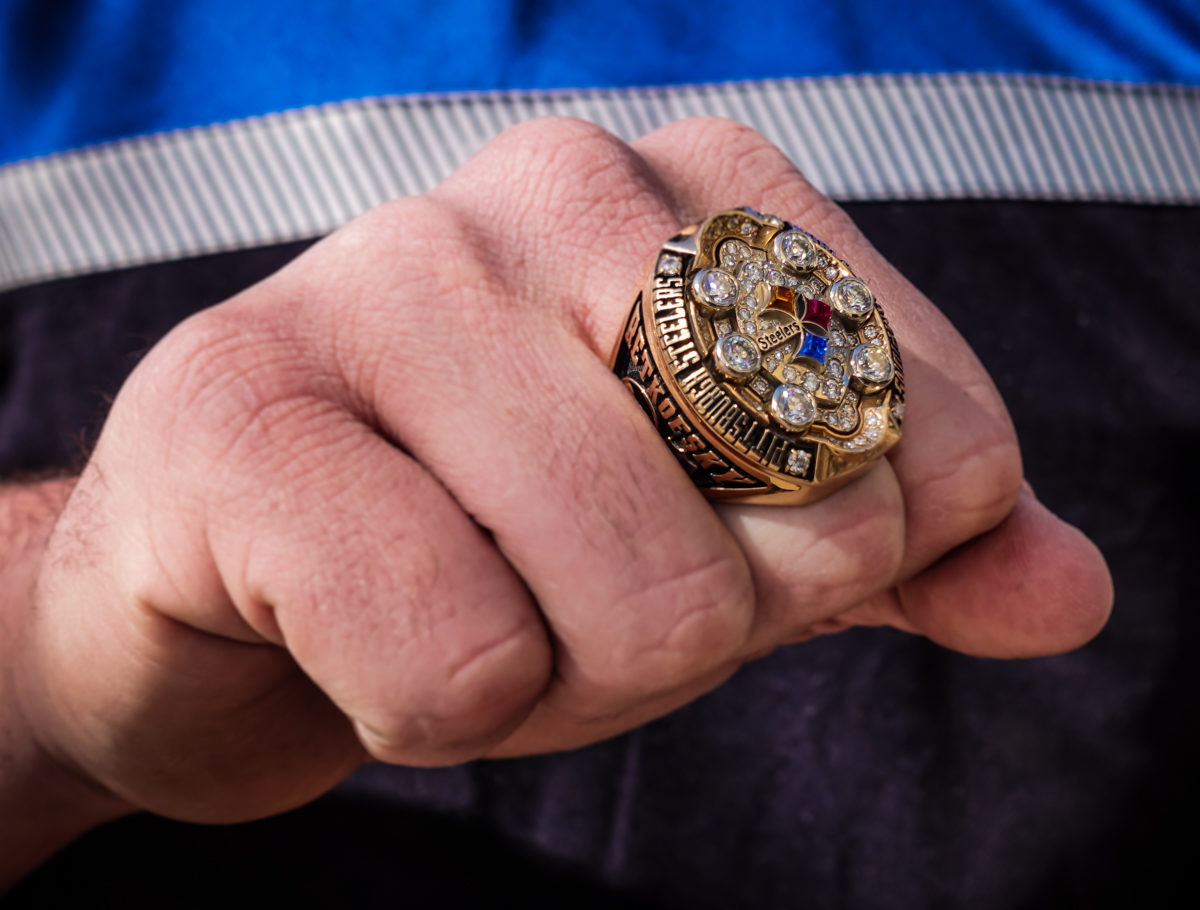 At 6'5″, he's not only as big as two regular people, he's fulfilled two lifetime dreams of many an American youngster.
In the April 6 issue of The Advocate, we introduced you to the Central Texas Wolfpack and Georgetown player Jared Retkofsky. But there is much more to him than just First Responder football. He is also a loving husband and father, an officer in the Austin Police Department and is one of the few talented people who own that most coveted of jewelry, a Super Bowl ring.
He's also not hard to find; he's been in the media plenty since joining the department and is recognized often from stories on Fox News and more. His partners sometimes enjoy asking people (while Retkofsky handcuffs them) "Hey, who's your favorite football team?"
"Growing up, I was like a lot of kids," Retkofsky says. "I wanted to be a police officer, a fighter pilot and I wanted to play in the NFL. Strange thing is, if you're big enough to play in the NFL, you're not really small enough to be a fighter pilot. But I consider myself lucky to have done two of those three."
He grew up in Fort Worth and started playing football in the third grade. "I was a little intimidated as I got older because this is Texas and everyone here is big, and good. But I must have stood out because I got a scholarship to TCU. But there I realized I wasn't as good as I thought I was. College was the best of the best. So I taught myself how to be a long-snapper, which is a specific skill and generally, teams only have one. At TCU I was it."
After college there was some interest in drafting him to the NFL; he was signed quickly as a free agent and trained with the Pittsburgh Steelers all summer. "I got cut right before camp, then was resigned and cut again. It was tough because the NFL is the goal so you don't consider other leagues or jobs if there's a chance. Over the years, I got cut and re-signed seven times."
But his commitment paid off. In the 2008 season, the Steelers' long-snapper was injured and Retkofsky got yet another call to get on a plane. He wound up playing the second half the season and on the winning end of Super Bowl XLIII.
At the end of the season, he went back to Ft Worth determined to be a police officer. He signed again, this time with APD and drove north and south to find the right place to live. "We just fell in love with Georgetown, the Village, the schools and we built here."
About the change in careers, "Football kept me motivated, paid for college, and kept me out of trouble my whole life so it was hard to walk away. It's not about the Super Bowl, it's about the game and this is my third year with the Wolfpack. Having played at the top, this is just for fun and APD is very supportive of the team and the guys who play. I'm glad to be able to do this community service without being afraid of losing my job."
Retkofsky is hoping other departments might see the benefits of having a bigger pool of players and will allow their employees to play. "We go up against teams of 100-plus players; including sanitation workers and corrections officers. We do a great job with a smaller group of players and I would love to do more. Our players are so committed to giving back and they only quit when they can't take the pains any more."
It's no surprise to hear of his commitment to the team and the activities it supports. Despite having every reason to have plenty of swagger, Retkofsky is warm, grateful, and does everything possible to juggle the priorities of work and football to spend the most time he can with his wife and three young children.
"Having a full-time job and football is tough on time management. And every practice takes officers off the street for a time. I would love to have more players from around Central Texas on the team. We moved up to Division I last year and it will be nice to clobber the likes of the bigger New York and LA teams."
Visit CTXWolfpack.org and watch Jared play May 20 at Gupton Stadium Cedar Park.
Photos courtesy of Austin Police Association, www.AustinPoliceAssociation.com.