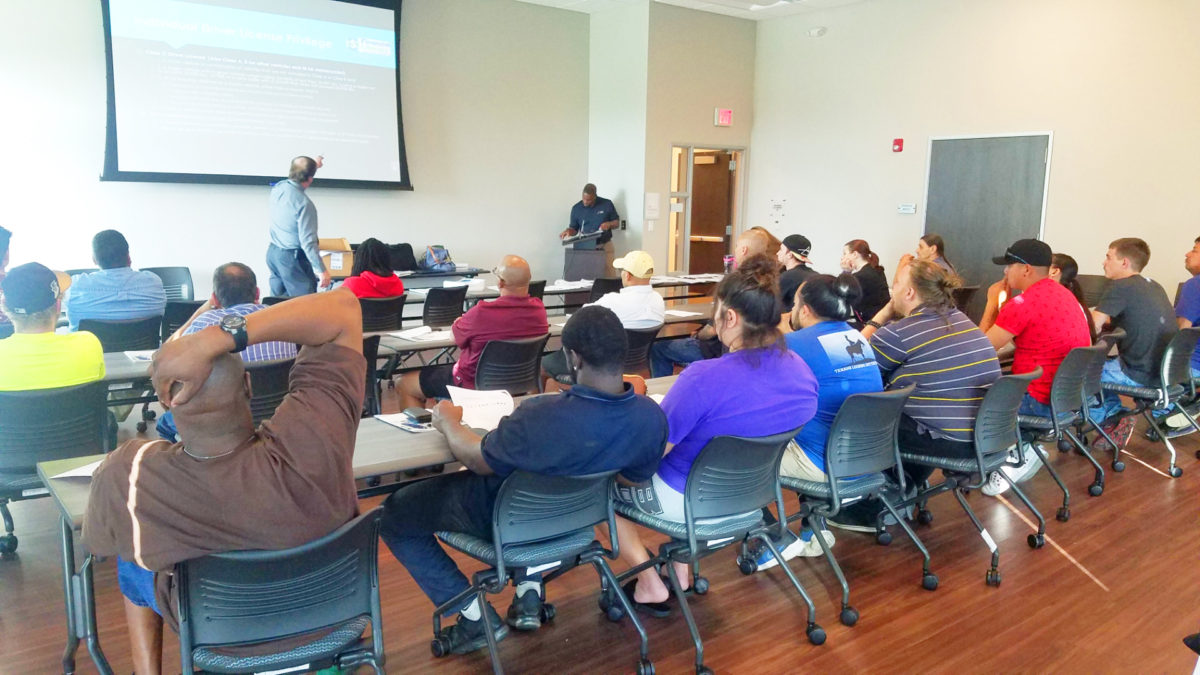 JP3 Judge Evelyn McLean held the first Financial Literacy course April 17 at the new Williamson County Annex. Since starting January 1, she said she was surprised at the number of cases for driving without a driver's license, driving while license invalid, or having no insurance.
In 2018, JP3 court had 1,341 cases of driving without a driver's license and 1,176 cases of driving while the license was invalid.
"These people tended to plead guilty, but lacked the resources to pay the fine," said Judge McLean. "If they continue to drive without a license, there is another ticket and a larger fine. It is a downward spiral from there that gets them further into debt to the court."
Judge McLean looked at ways to help provide financial education, instead of fines, for these types of offenders. She teamed up with Carol Urton of Experian who introduced her to the non-profit Financial Literacy Coalition of Central Texas (FLCCT). The FLCCT offers financial education programs to Central Texans to provide individuals the skills and knowledge to make informed financial decisions at various stages of their life. The group secured a $32,000 grant from Experian to start the pilot program.
"At FLCCT, we serve the underserved," said Lourdes Zuniga, executive director of FLCCT. "We focus on low-income communities with financial education and coaching, so we put together a course that offered general spending and budget tips along with the legal obligations and penalties for driving without a license or without insurance and the importance and cost of credit."
"Experian has a pool of grant money that can be used for projects with a focus on financial inclusion and serving the underserved in the community. As a part of Experian's overarching sustainability plan we are focused on four pillars: working with integrity, valuing our people, investing in our communities and unlocking the power of data, so this pilot program was a good fit," said Carol Urton, Experian's director of corporate responsibility and sustainability. "As a company we are committed to creating a better tomorrow."
The course is approximately one hour long and is offered once a month at Williamson County's Georgetown Annex. First time offenders can plead guilty and choose to take the course instead of paying the fine. There is no charge to the defendant to take the financial literacy course. The class has room for approximately 30 participants. If the defendant cannot take the class on the date offered at the Georgetown Annex, they can complete the course at another location offered by FLCCT. Either way, the course must be completed in 30 days and a completion certificate supplied to the Court.
"I want to look for the underlying problem to resolve issues," said Judge McLean. "Providing education for a mistake is a better service to the community other than just penalizing people."
One of the attendees, Gabriel, attended in hopes of being more financially stable to afford a home for himself and his son. "I'm going to school to be a paramedic and I just got my first credit card. I'm here because of a ticket but I have a big plan and I appreciated the information about credit scores for payments and my student loans. This is all for the future for me and my son. This has been very helpful."