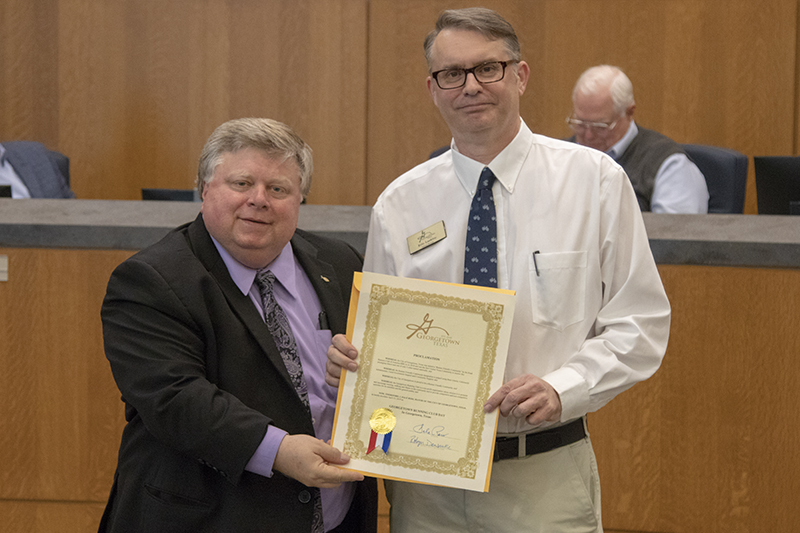 At the annual meeting of the Texas Library Association last week, Georgetown Public Library Director Eric Lashley was named Librarian of the Year. The award is given to a librarian who has shown extraordinary leadership and service in the library community.
The award recognizes Lashley's "innovative approaches to the technological and existential challenges libraries face and developed a dynamic, beloved public library that is a model for others across the state and country."
Mayor Dale Ross honored Lashley with a proclamation and declared April 23 Eric Lashley Librarian of the Year Day.
Under Lashley's leadership, the Georgetown Public Library was awarded the National Medal for Museum and Library Service by the Institute for Library and Museum Services, one of the nation's highest honors for libraries. Georgetown is only the second in Texas to win the National Medal.
Lashley has served as the library's director for 18 years. Current programs include a film series, storytime for children, teen events, a bookmobile, music concerts, art displays, a social work outreach position, and summer reading performances and events. Lashley also helped to establish ours as a Family Place Library offering programs and materials to nurture early learning young children.
In addition to his work at the library, Lashley helped downtown Georgetown to become a state-designated Cultural District, was instrumental in the creation of the Georgetown Art Center near the downtown Square, and has helped to bring outdoor public art to the library and around the Square.