Parks and Recreation hosts Hay Day event at Garey Park
The City of Georgetown Parks and Recreation Department is hosting a fall celebration at Garey Park on Oct. 12 from 1-4 p.m.
The Hay Day event will feature family-friendly activities including pony rides, lawn games, a photo station, music, community vendor booths, a hayride, pumpkin patch, and more. Food trucks will also be onsite.
Garey Park entry fees are required, and some activities will include a fee.
For more information about the event, including activity fees, visit parks.georgetown.org/hay-day.
Drain your pool safely this fall
As pool season comes to a close, many pool owners may decide to drain their pools for cleaning or necessary repairs. It's important to remember a few tips when draining your pool to protect waterways and yards. Here's how to properly drain your pool in three easy steps:
• Let your pool water sit for five to ten days to allow chlorine to break down naturally. Avoid adding chlorine to the water before draining. The water pH level should be between 6.5 and 8.
• Stop all chemical water treatments. Avoid adding any chemicals to help reduce the water pH.
• Slowly drain pool water onto your lawn. If possible, drain the pool slowly over a few days. Avoid draining the pool water directly into storm drains and be sure to watch where the water goes to avoid flooding your neighbor's yard.
• Water from your pool may drain through yards into storm inlets, which lead to streams and rivers. Along with chlorine, pool chemicals can be toxic to fish, turtles, other amphibians, and plants.
By following these three steps, you can ensure that water from your pool does not affect the water quality in rivers and streams or harm the plants, fish, amphibians, or other organisms that live in them.
For more information, visit transportation.georgetown.org/storm-water-plan/public-awareness.
October is Domestic and Teen Dating Violence Awareness Month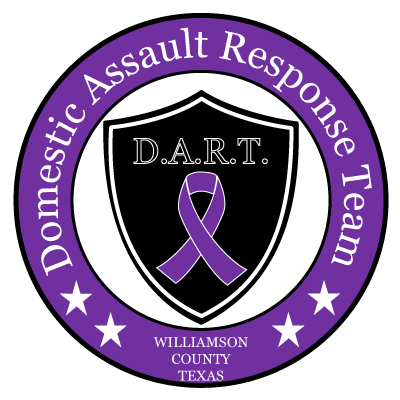 In an effort to increase awareness about Relationship Violence, the Williamson County Domestic Assault Response Team is spearheading an initiative involving local law enforcement, local high schools, and Hope Alliance. Football players will wear the national symbol representing the campaign of the "Purple Ribbon" on their helmets during the games. Volunteers will attend the Georgetown High School home football game on Friday, October 11, 7:00 p.m., and Eastview High School home football game on Friday, October 4, 7:00 p.m., to disseminate informational brochures targeting dating and family violence awareness. Announcements will be made before and during the game.
The Williamson County Commissioners Court issued a Proclamation naming October as Domestic and Teen Dating Violence Awareness Month on Tuesday, August 27, 2019, at 9:30 a.m.
The initiative entitled: "Football Can Be a Violent Sport, Relationships Shouldn't Be" involves the following entities: Georgetown Police Department, Georgetown High School, Eastview High School, the Williamson County Sheriff's Office, the District Attorney's Office, the County Attorney's Office and Hope Alliance.
For further information or questions, please contact the Williamson County District Attorney's Office @ 512-943-1234, Hope Alliance @ 800-460-7233, or the Williamson County Attorney's Office @ 512-943-1111.
Advocacy Center to Expand Facilities and Operations
Executive Director Kerrie Stannell and the board of the Williamson County Child Advocacy Center appeared before the County Commission September 24, to make a case for the County to allocate $5.5 Million for the construction of a new building to support their mission of child advocacy and support for victims of assault and violence.
Bag-the-Bag program pick up locations added
The City of Georgetown's Bag-the-Bag program, which allows residents to recycle film plastics such as plastic grocery bags and other pliable plastic wrappers, has been expanded to include more yellow collection bag pick up locations.
Georgetown solid waste customers can pick up two yellow bags each month from any of these five locations throughout the City:
Georgetown Municipal Complex, 300-1 Industrial Ave.
Georgetown Public Library, 402 W. Eighth St.
Georgetown Recreation Center, 1003 N. Austin Ave.
Sun City Social Center monitors desk, 2 Texas Drive
Transfer Station, 250 W.L. Walden Road
The yellow bags are specially designed to compact when compressed in the back of the collection trucks. Other bags may "pop" when compressed releasing their contents into the back of the collection truck. Additionally, the bright yellow color makes the bag easy to spot, and sort, on the sorting the line at the material recovery facility.
Items that can be recycled through the program include:
All types of clear or opaque common film plastics
Single-use and reusable plastic bags with handles
Dry cleaning bags
Newspaper bags
Meat and produce bags (free of food residue)
Bread bags
To-go food bags
Ziploc-type bags
Plastic wrap and cellophane products
Six-pack rings
All types of plastic wrap encasing products such as paper towel rolls, toilet papers, napkins, and paper plates
Once the yellow bag is full, tie it shut and place it in the recycling bin.
Find out more at https://recycle.georgetown.org/single-stream-recycling.
The Ducks are back!
AAUW's 4th annual Duck Race takes place at 11:00 on Saturday, October 12, 2019 on the banks of the river in San Gabriel Park, 1101 N. College Street, near the Georgetown Parks Administration building.
Tickets are $10 to adopt a duck. They are available from Mary Allen 512-778-9402, kachina103@gmail.com or Val Sandham 512-819-1043, vsandham@gmail.com.
Three prizes are available:
1st Prize – $800 cash
2nd Prize – "A night on the town for two," including dinner at Wildfire Restaurant, Palace Theater tickets and an overnight stay at the Sheraton Hotel.
3rd Prize – $100 gift card from Target.
All proceeds go towards scholarships for college-bound young women graduating from Georgetown and East View High schools.
Jarrell Community Library Fall Market
On Saturday, October 26, the Jarrell Library is having a Fall Market day, including a yard sale, vendor market, art show and more. This is a family-friendly event and yard sale/vendor spaces are still available. There will be a book reading at 11am featuring children's author Brenda O'Bannion. Bring an appetite for the bake sale and breakfast tacos from El Pitayo until they run out. Open 9am-2pm at 113 Limestone Terrace in Jarrell. Email jarrellfriends@gmail.com for more information or to rent a space.
City Celebrating San Gabriel Park Phase 2 Completion Oct. 4
The City will celebrate the completion of Phase 2 improvements to San Gabriel Park at 9:30 a.m. on Oct. 4 at the Springs Pavilion, which is near the low-water crossing and the College Street Bridge. (See Springs Pavilion 10 on the map.)
Phase 2 of the San Gabriel Park improvements project included a new basketball court, restrooms at the disc golf course, two new playgrounds and swings, additional pavilions, road improvements, restoration of two existing springs, and trail improvements—including the extension of the San Gabriel trail to the Katy Crossing neighborhood, which is expected to be completed this fall.
The $4.2 million Phase 2 project was completed by Ritter-Botkin Prime Construction Company Inc. of Pflugerville.
Future phases of the San Gabriel Park project include improvements to the remaining areas of the park. The design of Phase 3 improvements was included in the City's Fiscal Year 2020 budget.
Funding for the improvements was approved by voters in a 2008 parks bond. The San Gabriel Park Master Plan, which was completed in June 2015, identified improvements to be completed in phases to limit park disruptions.