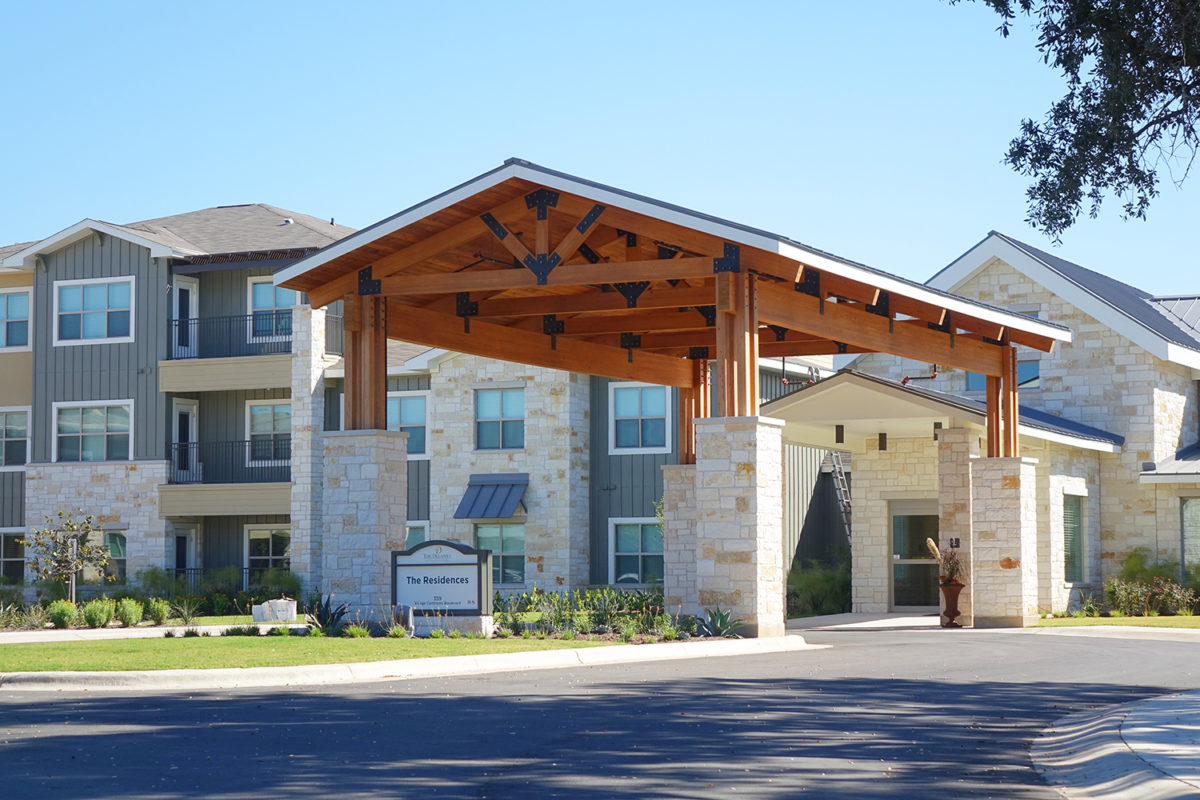 The Delaney at Georgetown Village celebrated its grand opening with an elegant open house October 26. More than 500 guests stopped by to see the majestic clubhouses and enjoyed valet parking, chic hors d'oeuvre s (crawfish etoufee!), live entertainment and sweets to take home. The event was, in part, to apprise many who are interested in the Delaney as well as dignitaries and supporters who helped bring the vision to fruition.
The Delaney is part of the Life Care Services group, which has been serving senior residents for the past 40 years. The new 13-acre community is adjacent to Shell Road near the Village and features 120 independent living residences, 54 assisted living residences and 32 Memory Care suites. It currently has 32 employees and will top off at 100 jobs locally.
The facility began moving in residents at the end of August; they have 22 in Independent Living and three in Assisted Living with a dozen more scheduled over the next two months. "Texas is a growth state for Life Care and the Delaney is a prototype for a new continuum of care," says Executive Director Greg Williams. "We have three more facilities opening in Texas over the next two years and this is a new direction from what we've done before."
The Delaney provides beautiful architecture, congregate space, restaurant-quality food, fitness and activities. As well, resident fees also includes utilities, cable, wi-fi, regular and on-demand transportation, and offers telephone service. Williams says there is also retail space available adjacent to their property but for now, the Delaney itself is complete. "Residents will have all the freedom and privacy they want in a household that offers all the modern conveniences of their current home, but with new friends and amenities right outside their door."
Williams has been with Life Care for 18 years and came to Georgetown in January. "From the minute I heard about The Delaney at Georgetown Village, I knew I wanted to be a part of it. It fits my personality; it's changing every day. We really are trying to meet the needs of seniors in Georgetown and surrounding areas. There are a lot of good providers here so the challenge for us is to bring in a good service model, which includes employee engagement, being a good neighbor to Georgetown, customer and client services, and having good partnerships with other senior providers in town. We're excited about what we can do here."
New residents Ellen and Jay Vinson just moved from Sun City to the Delaney because "It is so high class."
Among the dignitaries at the event were Commissioner, Precinct 3 Valerie Covey who said, "We are blessed in Georgetown to have so many facilities for every stage of your life." As well, Dr. Marsha Farney, TX District 20 Representative said, "This is not just care; it's high-quality care, and that is what makes the difference to our citizens."
Williams says several of his new residents have relocated from Sun City so people can reasonably expect to see old friends alongside the new.
See them online at TheDelaneySeniorLiving.com.