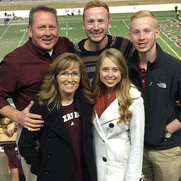 Shawn Hood, founder and owner of Shawn F. Hood Design, Planning & Consultation announced his plans to run for the Georgetown City Council District 2 seat in 2020.
Councilmember Valerie Nicholson released a statement regarding her intent not to run again; "I've been honored to serve our wonderful community, but my three-year commitment is coming to an end and so I've chosen to focus on my top priorities: family, health, and career. I look forward to supporting a candidate for Councilmember District 2 who shares my values and who will embrace our vision of a caring community honoring our past and innovating for the future."
Mr. Hood has been designing homes from his office on the Georgetown Square for nearly 20 years and is known for his artistic style and ability to build new homes with historical character.
"It's been a privilege to be on the Square for the past 20 years. More so because about 70 percent of my business is clients relocating to Georgetown. We work on their project, then walk out the door to go to lunch and, invariably, they stop and look at the courthouse and Square and say, 'I can't believe I get to live like this.' I believe all of that, the charm of our Square and all of downtown, is worth protecting and preserving for generations to come."
Mr. Hood has not only been a small business owner, youth league coach, and church elder, he recently served two terms on the Historical Architectural Review Committee (HARC) and several other city appointments. "My children are nearly grown and living in Round Rock, I've been a man without a country. I finally found the perfect property in Georgetown—I can walk to my office—and I'm now in a position to put my hand to plow; I can't wait to give back to Georgetown."
The Hoods purchased a home near Wolf Ranch, and Shawn says he loves the neighborhood and the people in it. "I am equally familiar with the life changes that bring about growth and downsizing, and I've found people will do whatever it takes to live in Georgetown."
Hood, a native Austinite and 4th generation Texan, says while he began his practice in northwest Austin, he realized he did not want to continue working in a city that did not recognize growth and how to manage it. "I moved to Georgetown because this city is pro-growth, friendly, and people here recognize the need for both; we don't stick our heads in the sand. I manage growth properties, and I always appreciated being able to have conversations with city planning staff, get things approved, and get the work done. We never got much work done in Austin because we would spend months doing prep-work and then not get approved."
Hood says the Georgetown process is well-oiled, and, while they may be overwhelmed with the volume, they are good communicators and keep things positive. "In Georgetown, we recognize growth, embrace it, and channel it in the direction we want it to go."
Hood believes he is worthy of the voters' support because he has spent 20 years creating dreams for people in Georgetown; communicating their ideas as a consultant, and delivering those plans as a consultant. "I am well-versed in building bridges. My firm works with developers on deed restrictions administration, and it's not easy to tell a client a house doesn't comply or won't look good. I spent those 20 years maintaining good relationships between homeowners, architects and developers. It is my hope to continue to build bridges in Georgetown between the constituents and the City.
"My goals as a City Council member also include maintaining Georgetown's reputation as the third safest city in the state. We need to be conscientious about growth, but maintain the good response times we are known for. We have a great city and it shows in our police and fire, and in the Square."