January 10, 2019 is the 15th anniversary of Rachel Cooke's disappearance. In 2003, at home on Christmas break from college, Rachel (then 19) went out for a run and has not been seen since. Her parents' search received state- and nationwide attention, including being featured on "America's Most Wanted". Sadly, her father Robert passed away in 2014 without answers. Her mom, Janet, has continued to search and hope, and every year at this time, she creates an event or holds a public gathering to talk about and share memories of her daughter.
Rachel's story made national news again in 2018 when new information came in the Sheriff's Office believed to be actionable and followed up on it. The boost of visibility also brought an increase in tips and renewed interviews.
The 2018 leads are still being investigated and tested, but the good news is Rachel's story was top of the news cycle again and Janet was able to renew her pleas for help to a large audience.
The Sheriff's office says incidents such as those provide a boost and a new channel for information and leads that might lead to something else.
More so than new leads, Rachel's story reminds us to be aware, to be compassionate, and to never stop trying to help because hers is just one of many the Williamson County Sheriff's Office continues to actively work to resolve.
Sheriff Chody says, "We have full-time detectives and 19 reserve detectives, with a combined 400 years of law enforcement experience, actively working cases every day and people don't realize we receive new leads every week. What we really want to know is why aren't media folks also talking about the Ritchie case or the Wallace case? Those families are pursuing the same truth and dealing with the same loss. We want those families and everyone else to know that we have many cold cases that are a priority for our entire team."
SO Cold Case Unit
Chody credits the hard work of his Cold Case team, currently directed by Sergeant John Pokorny. "The work we do is hardly cold. The term simply means the case is more than one year old or has been passed from one detective to another without being solved.
"But the trails of Cooke, Ritchie and Wallace cases are anything but cold. We have more than 1400 leads on the Cooke case alone and we get more every day."
Captain Tim Ryle added, "People comment about how much we post on social media but being visible on the web means we are also accessible to folks who may not have the courage to walk into our building. We are easy to reach now, literally at everyone's fingertips."
New, Hi-Tech Help
Williamson County is now the only department in Texas with an M-Vac® DNA retrieval system. This apparatus uses a wet-vacuum DNA collection system that sprays a solution onto the surface being tested either for cells, body fluid and even touch-DNA. The machine simultaneously creates a "mini-hurricane" that loosens DNA material that is then transferred to the collection bottle and later concentrated onto a filter. Items that previously did not yield enough matter for a DNA test, are being tested again in hopes of getting a clean sample.
Sgt. Pokorny's team works the cold cases every day and he is satisfied to use every nickel of his M-Vac budget to re-test evidence to help identify unknown victims, or find their killers. The team also continues with good old fashioned research and footwork to follow leads, re-visit files and talk to witnesses as needed because even though there may not ever be a trial, families want justice and answers above all.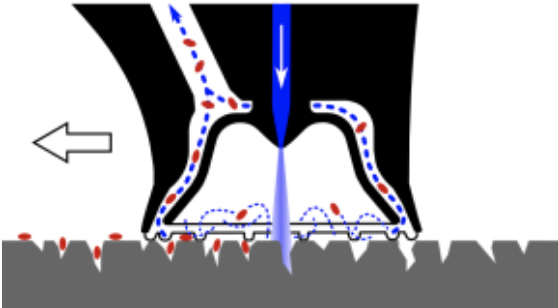 Following are the Sheriff's case summaries and updates. Visit Facebook at Williamson County Sheriff's Office Cold Cases; Like their page to read the latest or submit tips.
Oct 31, 1979 "Orange Socks" Unidentified Female, Homicide
On 10-31-1979 a civilian located the body of an unidentified female in a concrete ditch on the south bound side IH-35 just north of Mile Marker 268. The female was nude except for a pair of orange socks. The body was described as a white female in her late 20s, approximately 5'4" weighing approximately 125 lbs. She had reddish-brown hair and hazel blue eyes. She was wearing a silver, elongated oval ring containing a white stone on her right middle finger. Autopsy results show her cause of death to be asphyxia by manual strangulation. Manner of death is Homicide.
UPDATE: Detectives are sending evidence for further DNA testing against public genealogical research in an effort to find a potential family member. Sgt. Pokorny affirms that this kind of match has helped identify victims and even solve cases.
Oct 2, 1985
Althea Lanelle Rogers, White F b. 8-12-50, Missing Person
Althea Lanelle Rogers at the time of her disappearance was 5'1" and weighed 100-105 lbs. Althea has blue eyes, sandy brown to blond hair and a large hysterectomy scar across her abdomen. Althea Rogers was last seen on 10-02-1985, by her daughter Debbie Schroen, but was not reported missing to the Williamson County Sheriff's Office until 11-02-1985. Althea emptied her bank account of $150.00 on 10-02-1985. Her purse and identification were left at her house, along with a note stating, "Lanelle Rogers NO LONGER EXIST!" It is believed she left Williamson County walking North on IH-35.
UPDATE: Cold Case Unit continued to reach out to Ms. Rogers' daughter and they are following up with other interviews out of state. To date, there is no evidence to indicate what may have happened.
Dec 8, 1987
George Javier Gaitan, Hispanic Male 12-18-1950, Homicide
On December 8, 1987 a civilian located the body of George Javier Gaitan lying face down in a field at the corner of Highway 620 and Cornerwood drive in Williamson County. Autopsy results show the cause of death to be two gunshot wounds. This case was investigated but a suspect was never identified. Gaitan was from San Antonio Texas and believed to be in the Williamson County / Austin area on business.
UPDATE: The Sheriff's Office has numerous persons of interest and continues to do interviews. They have been contacted by family members and others who saw the case on Facebook and responded. This case has one full-time detective and two others in reserve. Sgt. Pokorny estimates interviews to be complete within 3-6 months and will continue to follow up.
Mar 5, 1988 S.E. Ritchey White Male, b. 11-26-07, Homicide, Agg Robbery
On March 6, 1988 unknown persons assaulted and robbed S.E. Ritchey and his wife at their residence on County Road 112. Mr. Ritchey was rushed to the hospital where he later died due to injures he sustained during the robbery. Under previous administrations, it was presumed, from the facts, that murder was not the intent, but the resulting death has plagued the family for nearly two decades.
UPDATE: Mr. Ritchey's clothing is being sent for further DNA testing and comparison to growing national databases to find a potential match. Detectives are waiting for those results but continue to do interviews in the field and within the prison population.
Oct 3, 1988 Skeletal Remains, Unidentified Male, Homicide
On October 3, 1988 a citizen of Williamson County found a human skull in his yard. The citizen contacted the Williamson County
Sheriff's Office who responded to his address. A search of the nearby area was completed. Several human bones were located and taken to the Travis County Medical Examiner's office. Travis County Medical Examiner stated the remains are that of a Hispanic Male, with black hair, in his mid-thirties, about 5'6" unknown weight. Travis County Medical Examiner said the victim had been deceased approximately six months to a year. Cause of death is unknown, manner of death is Homicide.
UPDATE: Detectives are using new DNA tests to compare against public genealogy databases to find a familial match and hopefully identify the victim.
Sept 25, 1989 "Corona",
Unidentified female, Homicide
On September 25th 1989 three civilians discovered the body of an unidentified female on the East frontage road of IH-35, north of exit 277. She was wearing black pants, a "Corona" t-shirt, was in her late 20s, about 5 feet tall, weighing approximately 120lbs, with light brown hair and an appendectomy scar. Autopsy results show the cause of death to be on gunshot to the head. The woman had been deceased one to two weeks.
UPDATE: "Corona's" clothing was considered too dirty for DNA testing. They are now using the advanced M-Vac process to re-test her clothing and compare for a familial match nationally.
Dec 14, 1991 Vicki Lynn Nisbett, White female,
Suspected Homicide
On December 14, 1991 Vicki Nisbett never arrived at a Christmas party to meet a friend. She was reported missing and presumed dead by homicide. Her body has never been found. For 20 years, the case was considered too thin and circumstantial to prove. In 2013, the Williamson County D.A. indicted her husband, Rex, having built a case on blood evidence and witness testimony. Rex was convicted for her murder in 2014 but the ruling was reversed by an appellate court due to "reversible error" and he was released in 2017. Legally, she remains missing and the Sheriff's office continues to search for Vicki and learn the truth about her disappearance.
UPDATE: Vickie's body has not been found but her husband remains in prison after his conviction was upheld by an appellate court. Detectives continue to search and re-check all the boxes in her investigation.
Jun 15, 1994 John Myatt, White male b. 12-04-50, Homicide
On June 15th 1994 a civilian contacted the Williamson County Sheriff's Office in reference to a body he found near the corner of County Road 254 and County Road 255, near Georgetown Texas. The body was later identified as John Michael Myatt of Mountain Home Texas. Due to the condition of the body, cause of death is unknown. Manner of death is Homicide.
UPDATE: Detectives have made trips to the Dallas area for interviews. There are two reserve detectives working on the case weekly. They continue to process evidence because existing samples were not sufficient for the M-Vac.
Aug 2, 1994 Jessica Lee Harris, White female b. 10-25-69,
Homicide
On August 2nd 1994 a civilian contacted the Williamson County Sheriff's Office in reference to a body he found just off the roadway, approximately half of a mile north of Highway 2338 on County Road 245, near Georgetown Texas. Autopsy results show Jessica's cause of death to be asphyxia by manual strangulation with multiple blunt force injuries of the head and face. Manner of death is Homicide.
UPDATE: Some of the persons of interest have passed away but there are additional interviews to be done.
Jul 24, 1998
Sharon Russ McCool,
White female b. 2-20-63, Homicide
On July 24th 1998 a civilian contacted the Williamson County Sheriff's Office in reference to a body he found at the corner of Great Oaks drive and Conchos Valley Drive near Round Rock Texas. Autopsy results show cause of death to be blunt force trauma to the head. Manner of death is Homicide.
UPDATE: Sgt. Pokorny reports he has used most of his DNA budget on this case. There are samples in the fingernails and on her purse and they have gotten positive results. Will continue to collaborate with other labs to narrow down the potential suspect profile.
Mar 14, 1999 Sonya Wallace, Hispanic Female b. 5-4-83, Homicide
On March 14, 1999 a civilian contacted the Williamson County Sheriff's Office in reference to a body he found just off of County Road 490 about one mile west of FM 619 near Coupland Texas. The body was identified as Sonya Wallace from Taylor Texas. Autopsy results show Sonya's cause of death to be blunt force trauma to the head. Manner of death is Homicide.
UPDATE: There remain about 300 people to interview. The evidence is not sufficient for M-Vac testing because the victim was exposed for approximately 30 days. Detectives met with the family and interviews continue. Analysts continue to look for new/additional persons of interest.
Jan 10, 2002
Rachel Louise Cooke,
White female b. 5-10-82, Missing
On January 10, 2002 at about 9:30am, Rachel Cooke, 19-year-old female, left her home in Georgetown Texas, to go for a run. Rachel never returned home. She was attending College in California but was home for the Christmas holiday break. On January 11, 2002 at about 3:00pm, Rachel's parents Robert and Janet Cooke reported Rachel Missing to the Williamson County Sheriff's Office. Since then a dedicated and focused team of investigators have investigated over 1400 tips and continue to investigate new tips as they come in.
UPDATE: There is a vehicle of interest, which is undergoing testing. A truck has been found and linked to a potential suspect. The office is awaiting DNA results. Detectives follow up on everything that is submitted and re-doing anything they believe may not have been exhausted in the case file. They review property and search results repeatedly to ensure every box is checked and re-checked. DNA testing, interviews and follow-ups continue.
Whatever it takes…
Sheriff Chody says his cold case unit is all about diligence, commitment and knowing investigators will never reach a point where they know everything, until it is solved. "In 2017 I was doing a public presentation," he says. "Sgt Brinkmann was reviewing my slides and noticed a business name in a photo that had been looked at hundreds of times. No one ever called that business and we may now be closer to knowing who one unidentified victim was and giving her back some dignity."
Chody is also proud of the progress his office has made in procedure and organization. "One thing I pledge is that no matter how long I'm in this office—whoever comes after—they will never have to backtrack or ask if something was done because we will have a record; there will be organization and they will know everything that we knew. And even though these are cold cases, I feel like it's success every day when I get a text on Facebook or we have another partner in the FBI drop everything to help us. "
Chief Ryle adds, "It is rewarding to know that these victims' families know we are still trying. Some cases are so old and there so little information to grasp onto but there are others with good information and things we can work on, and we do. Some cases have daily activity, some are every three or four days but we stay in constant contact with families who want answers and keep them in the loop. It is gratifying to make a call and hear the relief of a mom or a sister who thought their loved one had been forgotten."
Sgt Pokorny says they will continue with their game plan; "It takes time for detectives to go through reports and track people down. Every day we check and re-check the boxes, maintain continuity and connect seemingly unrelated dots, all in the name of justice and letting families know they are never forgotten. We are pleased to have and to focus attention on these cases to help us continue to follow up."
Readers are encouraged to tweet (@SheriffChody), call (512-943-1385) or visit the Sheriff's office with any information, no matter how small the detail may seem.