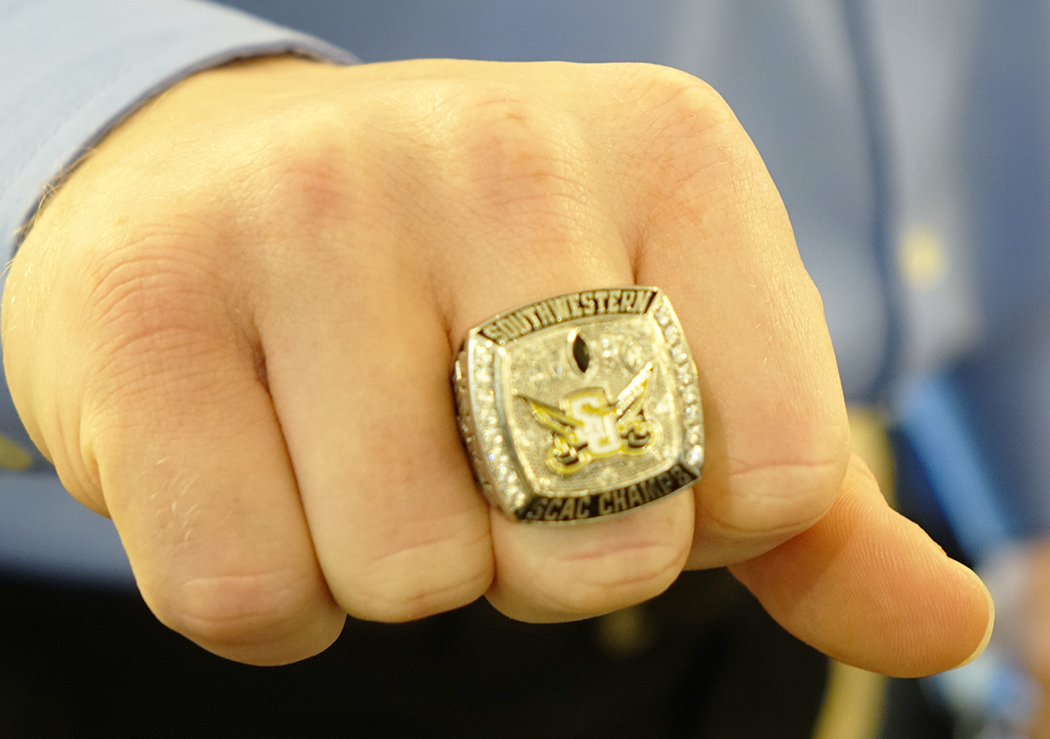 The Southwestern University football team held their season banquet February 12 at the Sheraton in Georgetown. More than 400 guests celebrated the team's undefeated Conference Title and Coach Joe Austin, who was pleased to entertain so many guests that love and support the team; players, relatives, community supporters, school administration, elected officials and students.
Austin and his staff remember the days, they say, when they couldn't even float Noah's Ark "because we didn't have two of anything, but through grit and determination, we are undefeated conference champions." Austin started the program with 80 freshman and three sophomores, and roughed it through some seasons during which they could only brag about having been in the lead at some point. Now they have won the SCAC title with 116 players in their fourth season. Austin seemed to be even more proud of the dozens of academic awards he presented; 46 conference academic awards and 16 players on the Dean's List during the season.
In the SCAC, ten players were named player of the week, 24 made the All-Conference team (Nik Kelly on offense and Defense) and they also made a clean sweep of the superlative awards; Justin Broussard was defensive player of the year and according to Austin, racked up several all-time records in the conference and is the most highly decorated player in school history. "He was only second in sacks this year but he played the last game hurt and that scared all the other kids on the field." Matt Gillen was offensive player of the year with the highest number of receptions and five touchdowns in one game (a conference record). Newcomer of the year was kicker Luke Fierst who is the second highest scoring kicker in conference history.
Team MVP and 2nd Team All-American Justin Broussard says "Coach Austin keeps us accountable and helps us grow. He's been in my head always making sure I know how important I am as a person, and what each of us means to the team." Broussard, who has also lettered in Track & Field was last to speak and was emotional and humble as he thanked a long list of people and groups for support and help along the way.
Austin closed the event with even more praise for his players; "The Veterans showed diligence and grit to be pushed down for a while to come back like this. It's not something everyone could do and it's a character trait that will serve you well. You'll be proud forever of what you're able to do." He thanked families and noted, somewhat emotionally, that the kids should enjoy the fellowship of this last time the group will be together like this. "Take advantage of it; it's kinda special."