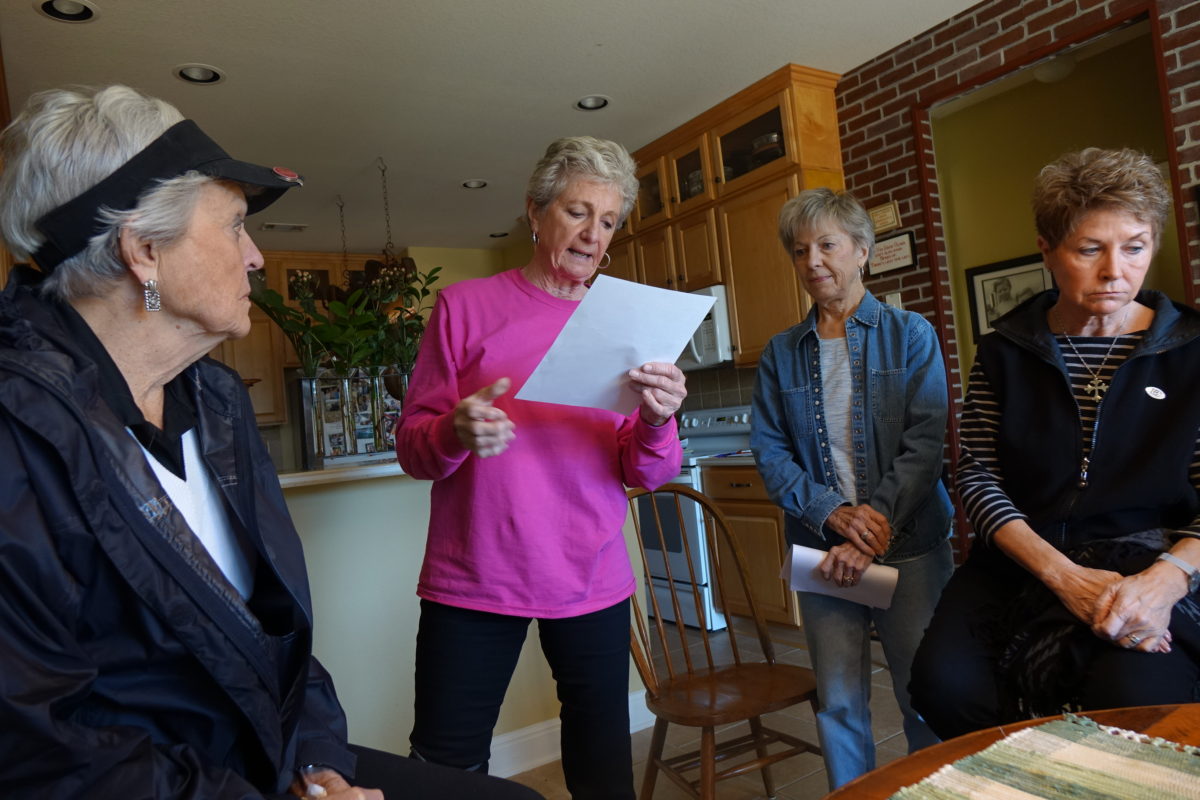 When we introduced Advocate readers to Betty Schleder in 2014, she had just singlehandedly raised $120,000 to send a contingent of Sun City veterans on an Honor Flight. Schleder is an advocate for strong conservative values, and since 2010 she has annually rounded up a group of respected and well-liked friends in Sun City to help her spread the word about qualified candidates for office in Williamson County.
"It all started with a knee injury," Schleder says. "I went to see Dr. Charles Schwertner and he asked me for advice on getting the word out in Sun City about his run for the Texas House." Schleder got busy and scheduled a Meet & Greet for all 52 neighborhoods in a two-month period. "I just came up with an idea to give a young doctor a chance to talk to people." Soon after, Dr. Marsha Farney called to see if the Grandmas could help with her Board of Education race, and the rest is history.
This campaign season, Schleder is again leading a dozen of Sun City's most well-liked, informed and respected women called "The Sun City Grandmas".
Rather than schedule multiple meet & greets, the Grandmas now have an even greater reach. In the past, they did their homework, researched all the candidates and stuffed and mailed 6,200 letters to Sun City residents with their recommendations at the polls. Now, and every year since 2014, they have personally walked the neighborhoods; rain, shine or snow, to hand-deliver their slate cards. "It takes a lot to reach every door, but we try to connect with every person we can. It's hard for anyone to know for sure about all the candidates on the ballot and we feel this is a valuable public service, not just for the voters but for the candidates we truly believe in." The Grandmas even carry voter registration cards just in case.
Not surprisingly, the personal touch has had a tremendous impact. It is statistically significant for any candidate to win the Sun City precincts if he or she is to win county-wide. "We are very proud of people like Judge Rick Kennon, who won by .08 percent countywide, but carried Sun City by a nearly 20 percent average. Our insights served us well—he has been our county's highest rated judge three years in a row."
The Grandmas are also big advocates of lawn signs. "When people are out and they see someone they know and respect displaying a sign, it matters. I even have people drive by my yard and take notes. If we know a race is going to be contentious we make the effort to do the homework and, literally, the footwork to get the word out."
Paula Dennis is a 2018 Grandma; "I am super conservative and if I'm not willing to go out and walk, then I have no reason to gripe if the values we love in this county are not upheld." Barbara Hallmark, as well, is passionate about her party. "I want to keep things conservative and I love being part of a such a positive effort. I feel like it is my responsibility to share what I learn."
Schleder is delighted to welcome new Grandmas to each campaign season. "We embrace people from all parts and interests in Sun City. It helps us reach out to and engage the diverse interests and opinions we have here. And, be on the lookout for more progress in our group as the median age grows younger and more social media-savvy. We will take on any challenges and challengers like we always have."
Contact Betty at TheSurvivor@suddenlink.net or check out the slate card p. A10.