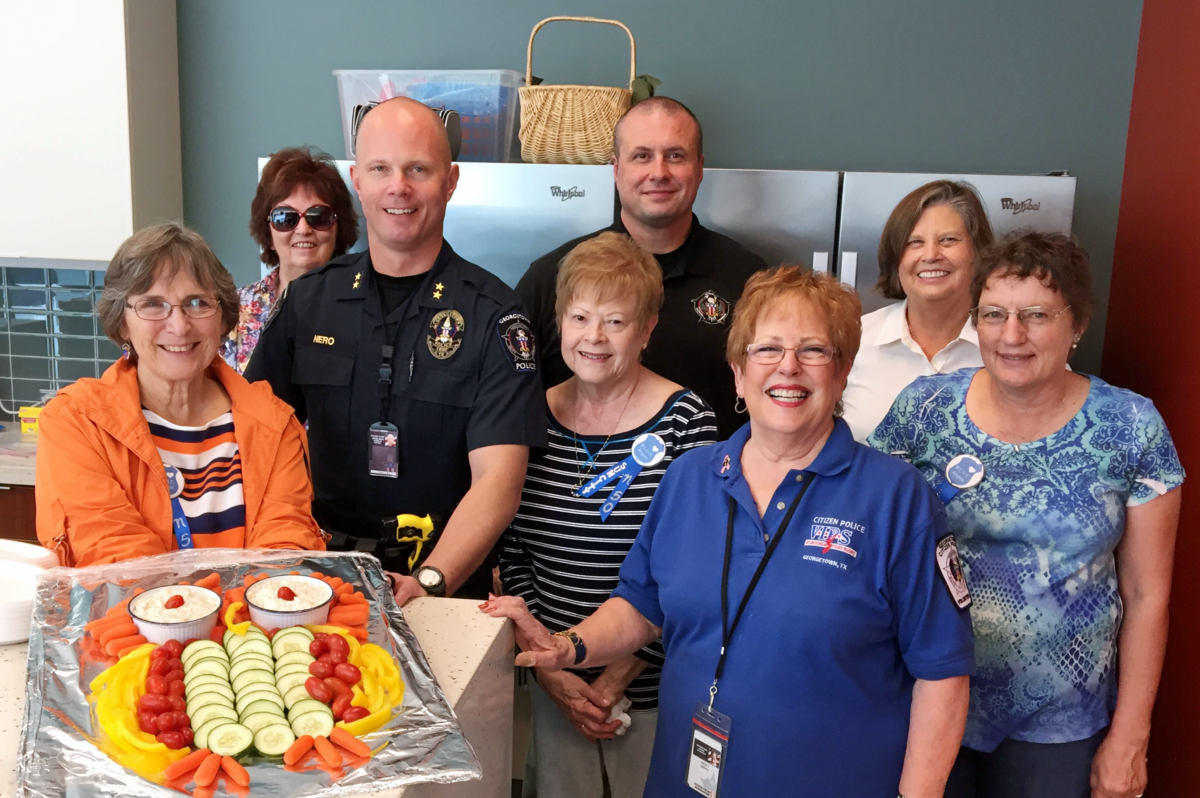 The B.L.U.E. Angels aren't just a Navy phenomenon. In Sun City, they are a collective of residents who regularly show their appreciation for Georgetown Police Officers and their support staff.
Sandy Phillips is one of the team leaders for N50 ladies who had an idea during a Bible study last year.
"It was right after the Dallas shootings and we were talking about the incident. We formed the idea of a support group for our local police department and it just evolved."
After presenting the idea to Police Chief Wayne Nero, who was very enthusiastic, the Blue Angels began preparing and delivering a catered lunch for the department on a monthly basis. The Angels have about 40 members in the neighborhood, and residents choose which months they are available to make up the food; then teams of six to eight deliver and serve the meal.
Along with Sandy, Patti DeGroot and Gail Dodson round out the team's leaders. Phillips says NH50 is also involved in other ways; the crafters made badges for the catering crew to wear on deliveries, and many people donated funds to purchase the food and supplies.
"The teams meet and plan the menu and decide who will fix which food. We even have about a dozen men on the team and they made up a great batch of chili with  fixins.
It was a spectacular sight to watch them cook," Phillips says. She reports the officers are delighted to have the food and are excited about the group. Chief Nero agrees, "The Sun City Blue Angles are an exceptional group of citizens who have gone above and beyond to show the men and women of the Georgetown Police Department that the work they do and sacrifices they make are appreciated by our community. I think I can speak for all of my staff that we greatly appreciated their continued support."
The group has recently changed their schedule to quarterly because some members are not able to prepare the large meal as often, but they are considering opening membership to other neighborhoods to expand availability and increase the frequency of deliveries.
"We are a very enthusiastic group and we have a lot of good ideas in the works. We hope to do more for those who serve us."