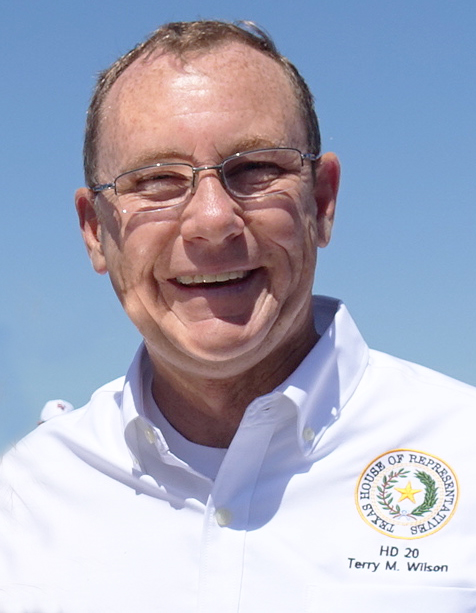 Colonel Terry Wilson, US Army Retired, is in his freshman session as Texas Representative of District 20, which includes Burnet, Milam and part of Williamson Counties.
The Advocate sat down with Rep. Wilson to gain a better understanding of the symbiotic relationship between our counties and state. Well known for his frank talk and not being a fan of "because that's how we've always done it" we asked him to share his impressions on Williamson County Judge candidate Bill Gravell.
"I saw Judge Gravell at the capitol on a regular basis. As president of the Central Texas Justices of the Peace and Constables Association, and a member of the statewide organization's legislative committee, he was regularly in and around the capitol helping to push for legislation for the people of Texas."
When asked about Gravell's leadership style as it relates to legislative efforts, Wilson says, "His work with the legislature proved to me that he can help bring people together to get things accomplished. He is highly respected in both chambers and on both sides of the aisle, and helped get 8 of the JPCA's legislative priorities passed in one session, which is more than many legislators can claim."
Since the job of County Judge must prioritize the needs of Williamson County over the interests of the State, Wilson added, "He knows the challenges of the day to day work at the county level, and brings with him a host of ideas on how to improve that workload. He saw how our JPs, from time to time, need help with death inquests, especially in times of disaster. He worked tirelessly to make sure that in those times, JPs from neighboring counties could come and help with the workload when asked."
Wilson shared his admiration for the need to have greater security for and around our judges at every level. "[Gravell] saw how judges were made targets of retribution for their decisions in court, and he helped to get a judge's information made private so their personal information cannot be found in public records." 
Overall, he added, it is the personal relationship Judge Gravell has with all of the people he meets on the campaign trail and in his courtroom that people in leadership should want to model. "It's not just that he fought for things that make our government more efficient and effective, he fought for things that make a real and lasting difference to people.
"He fought for the opportunity for parents to view the body of their deceased child before an autopsy is performed. That one moment, which won't make much a difference to the coroner's schedule, can make a massive difference in the lives of grieving parents looking for closure." 
As "Colonel" Wilson, he also found common ground between a judge, a commander and a lawmaker. "Bill saw in his courtroom the need for intervention over mere punishment. How, if you could help people make a change, they can become better members of society if we just give them the chance. He fought for innovative reforms to help make intervention possible. That is what we do in the military and that's how true leaders try to live as role models." 
Wilson says he was fortunate to have had occasion to work with Gravell on a professional level. "It was through his recommendation that Chief Justice Hecht of the Texas Supreme Court came to my office to discuss criminal justice reforms that both he and Judge Gravell had worked on side by side.
"He didn't just make changes at the state level though, in the administration of his own Court Judge Gravell helped modernize record keeping and processing, pushing towards an electronic system to save Williamson County Taxpayers both time and money."
Wilson feels the job is bigger than one person. "Judge Gravell showed us that people with fresh ideas and the drive to fight for positive changes to our system can make a huge difference. What I've said here are simply the observations I've gathered by watching the actions of Bill," says Wilson. "He's certainly been a game changer in his position, and is a formidable candidate for County Judge."