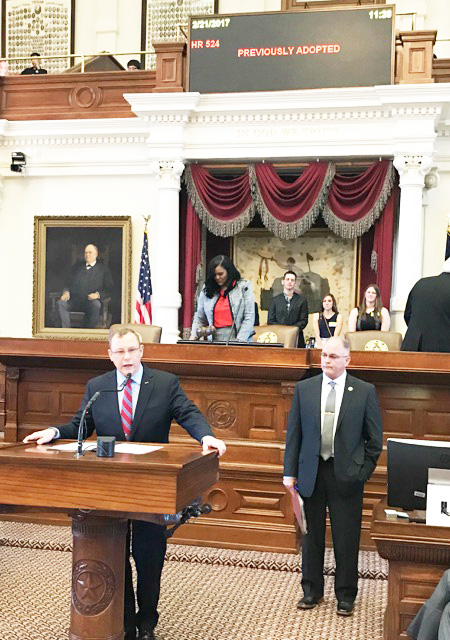 On Tuesday, Feb 21st 2017 I had the pleasure of presenting my first resolution on the floor of the House of Representatives honoring the town of Buckholts for the excellent example they set over the past year, but to tell the full story I have to go back to my very first day as a State Representative.
As you may remember from my last report, on the opening day of the 85th Legislature friends and supporters from across House District 20 had packed into my new office to show their support and to help celebrate my grandfather's 90th birthday. Just as I returned to my office from the swearing in, however, I received a phone call from Mike Morath, the Texas Education Commissioner, letting me know that after four consecutive years of poor performance, the Texas Education Agency (TEA) would be closing Buckholts ISD.
Buckholts ISD has served the small rural town for almost 130 years. To some, having an entire school district inside one building is unthinkable, but for their rural portion of Milam County, sending their child to another, larger, school district would mean an unacceptably long commute time to get their kids there and back again. How can a city grow if parents know moving there means getting their kids up a 5am just to get them to the bus on time and not having them back home until 5pm? Small as it is, Buckholts ISD provides a vital service to the area.
For the last four years, however, Buckholts, for the first period in its almost 130-year history, was rated "unacceptable" by TEA based on students STAAR test scores. Now, I understand that, sometimes, a bad school just has to close. But numbers alone never tell the whole story, so I decided to dig a bit deeper and see the situation for myself.
I first met with the brand-new superintendent, Nancy Sandlin, hired just this year. She explained to me that the district had tried for some time to change their leadership, and that it had taken all four years and two election cycles to remove the previous superintendent and make some major changes. That level of change alone would have impressed me, but I honestly was not prepared for the level of dedication that poured out from the town when their school district faced closure.
Kris Shaver, who serves as Principle, teacher, tutor, bus driver, and part time janitor for the school showed us multiple examples, herself included, where members of the community volunteered to come in and play multiple roles to ensure the students had what they needed to succeed. Parents and Retired teachers from as far away as Georgetown gave up their own time to teach and tutor students in algebra, math, and reading at every grade level.
Beyond direct contributions to the student's education, parents and community members came together to bring up morale for the district. Donors set up individual prizes for the students who had the most improved STAAR Test score, booster clubs were revitalized to provide fun events around the 6-man football team, and a PTO was established for the first time in years.
The morale of the district has completely turned around, but they have not yet had the chance to show TEA numbers to reflect these changes, not until this year's numbers come out. For that reason, both myself and our State Board of Education member, Tom Maynard, decided separately to contact Commissioner Morath to brief him on the situation on the ground, because if there is one thing I learned in my time as a senior leader in the Army, it's that numbers don't tell the whole story, you have to get your boots dirty and see the situation on the ground for yourself.
To his great credit, Commissioner Morath spent an entire day driving Milam County, including all the future bus routes, and seeing the changes for himself. After he concluded his visit we had a chance to speak on the phone, I asked him to give Buckholts one more year, to see if these changes had lifted the student's scores as much as they had the morale of the community.
He called me back that afternoon to tell me he and his staff agreed, and would give Buckholts one last year to prove themselves. We are blessed to have a man like Commissioner Morath heading up TEA, his brand of leadership should be an example to all of us.
Buckholts also showed me that penalties the legislature places on small school districts, hoping to force consolidation, have outlived their purpose. Schools have consolidated as much as they can, and it's time to end that penalty so districts like Buckholts can better serve their community.
Next Time – Committees and Coalitions