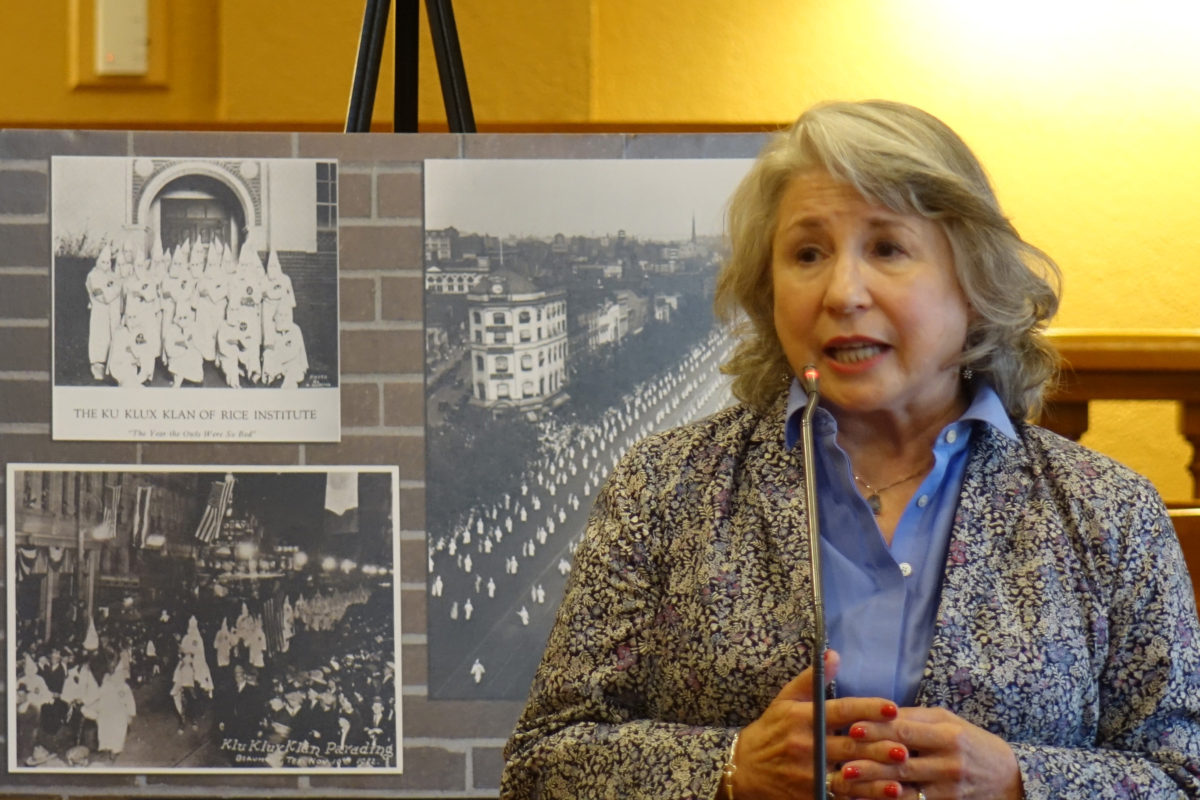 The Williamson Museum hosted a conversation and book signing with Patricia Bernstein, author of Ten Dollars to Hate May 17, at the historic Williamson County Courthouse.
Bernstein's most recent book tells the story of the Ku Klux Klan of the 1920s—by far the most "successful" incarnation since its inception in the ashes of the Civil War—and Dan Moody, the first prosecutor in the nation to successfully convict and jail Klan members.
Bernstein is the author of The First Waco Horror: The Lynching of Jesse Washington and the Rise of the NAACP, and she is President of Bernstein and Associates, in Houston.
About 75 people filled the historic 26th District courtroom while Bernstein talked about her admiration for early 20th-century heroes; suffragettes, civil rights leaders and Moody himself.
Museum Executive Director Mickie Ross says Bernstein visited Georgetown while she was researching the book. "Between us and the County, we were able to provide primary resources and she was able to do some work here rather than visiting the courthouse. We're very pleased to have her here and her book will be available in Willie's General Store at the museum."
Bernstein said "It is daunting to speak to you in the very courtroom that I wrote about; this is like a sacred space. But I think it is so important in the history of Texas and really the whole country."
The idea for her book was inspired by a conversation she had about the millions of members of the Klan in America and she couldn't believe the data was true. But she researched the widespread and diverse nature of the group and wanted to clarify who the good, bad and ugly really were.
She also fielded questions from guests about the city's Confederate statue, despite being a private citizen of Houston. "I wish more cities would follow Georgetown's example and erect statues, like your Dan Moody, that reflect and celebrate those who fought for civil rights."
Ross added the museum has developed a packet of information about the trial and the 1920s that will be distributed as part of Texas history at the national level. Visit WilliamsonMuseum.org for events and info.