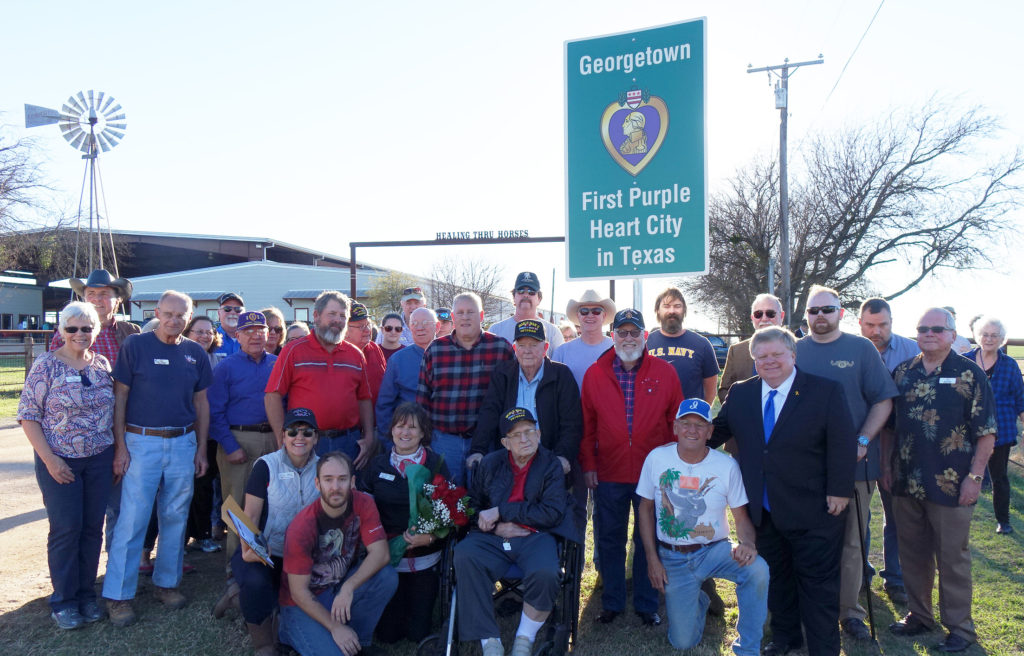 ROCK (Ride On Center for Kids) joined the fraternity of Purple Heart sites in Georgetown Feb 21, which the Mayor's proclamation named "ROCK On Veterans Day in Georgetown".
More than 60 ROCK supporters, many of them veterans and Purple Heart recipients, attended the ceremony during which Mayor Dale Ross recognized all veterans and those "who have given a piece of their body in service to our country."
The proclamation specifically honored World War II Veteran and charter ROCK volunteer Merlin Hoppe for his dedication to the foundation. Mr. Hoppe was awarded a Bronze Star, Silver Star and Purple Heart and he has recently become a client at ROCK as well.
As well, George Taylor, also a World War II Veteran, is a ROCKateer and has been instrumental in keeping the front office working.
Another inspiration for the proclamation was Heidi Derning, who has worked at ROCK since its opening in 1999 and has been instrumental in as well as passionate about the veteran program.
ROCK serves many veterans who have been awarded the Purple Heart to help with physical rehabilitation as well as mental and emotional well-being.
Annual Barn Dance
ROCK will host its 11th Annual Barn Dance benefit "¡VIVA ROCK!" at their Georgetown center, Saturday, March 25 with a special performance by Grammy-Award winning Mexican American country music artist Rick Trevino (above). Doors open for registration and Silent Auction bidding begins at 5:00 pm. Event start 6:15 pm.
All proceeds from the event will support their mission of "healing through horses" by improving independence and life skills in partnership with the horse. Proceeds will be used for sponsoring a rider with special needs, providing feed or care for therapy horses and funding the 20 acres to expand the ROCK On Veterans program.
Presented by Sport Clips, Embree Group, and HEB Tournament of Champions, "¡VIVA ROCK!" will feature live music, dinner, dancing, live and silent auctions.
For almost 19 years, ROCK has served Central Texas residents with equine-assisted learning, activities and therapy – or "hippotherapy," the use of the natural movement of a horse as a physical and cognitive healing tool. What started out as a one-horse center for kids soon grew to a facility with over 25 horses, serving over 250 clients of all ages, ranging from stroke patients to children with autism to veterans with conditions like post-traumatic stress disorder and more.
The Barn Dance has become one of the premier fundraiser events of the year in Georgetown.
For complete event information, and to purchase tickets and sponsorships, visit: https://my.bidpal.net/vivarock