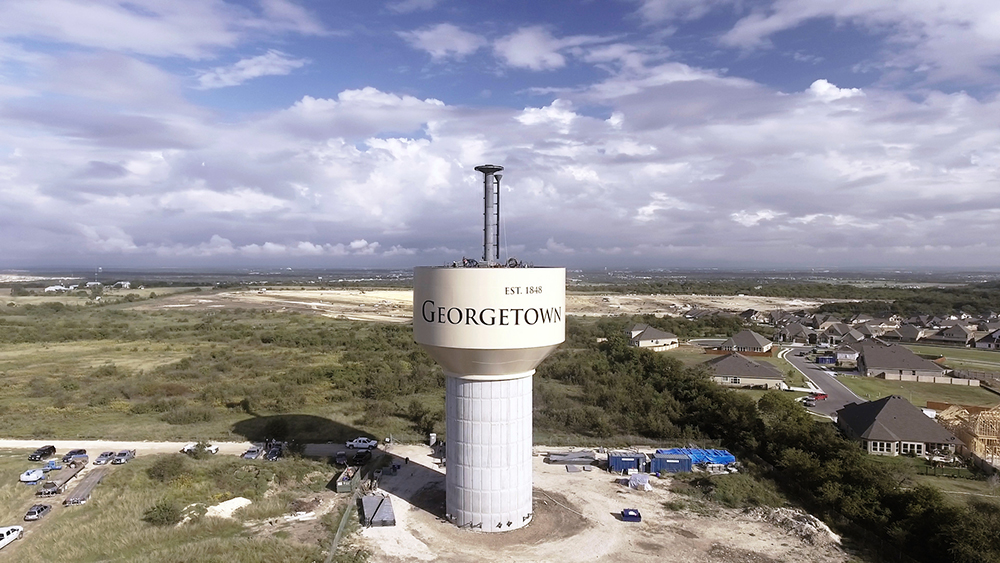 by Mayor Dale Ross
Now that we have reached the hottest months of the summer, irrigation systems are running and water use is reaching our peak demand of the year. During the summer months, 75 percent of the water treated by the City is used for outdoor lawn irrigation. Our staff at Georgetown Utility Systems recognizes that water conservation practices need to become the new normal in our growing city.
This summer, the City continues our #PickTwo campaign to encourage wise water use. The watering schedule allows outdoor irrigation on up to three days each week. We hope you will take the step that is the single biggest way to conserve water and choose to #PickTwo days to water. The watering schedule is based on your address.
Watering schedule
If your house has an automatic irrigation system or if you use hose-end sprinklers, the schedule is based on the last digit of your address number:
Odd addresses may irrigate on Tuesday, Thursday, and/or Saturday. Even addresses may irrigate on Wednesday, Friday, and/or Sunday.
Irrigation is not permitted on Mondays, since they are a recharge day for the City's water treatment plants and storage tanks.
Watering with a handheld hose or bucket can be done any day, as well as other outdoor uses such as washing a vehicle or filling a swimming pool.
Another step you can take to conserve water is to drop three minutes on the zone run times on your irrigation system. Shaving a few minutes off the zone run times can save a significant amount of water. And your lawn will still be getting enough to stay healthy. If you need help adjusting your controller, contact Customer Care at (512) 930-3640 or customercare@georgetown.org.
Irrigation system check rebates
This year the City is introducing a new rebate program to help encourage wise water use. Georgetown Utility Systems is offering a $75 rebate to customers with an underground irrigation system for a system inspection by a licensed irrigator.
The $75 rebate helps defray the cost of having a licensed irrigator inspect your system, set the controller to the correct schedule, and teach you how to maintain the proper settings in the future. Go to gus.georgetown.org/water for details on the irrigation system check rebate and an online form.
Rebates are processed on a first-come, first-served basis and will continue until available funding is used. The rebate will be processed as a credit on your water bill.
AquaAlerts
Another way you can help to monitor and adjust your water use is to sign up for AquaAlerts by AquaMessenger. When you sign up for AquaAlerts, you choose water use thresholds and then receive an automated email when you hit those levels each month. For instance, you can set email alerts when you reach 10,000 gallons, 15,000 gallons, and 19,000 gallons of water each month. You decide the alert levels and you can adjust them or turn them off at any time. Sign up at gus.georgetown.org/water.
Water supply
When the City promotes water conservation, some may wonder if Georgetown is "running out of water." Our growth in population does mean that we need to carefully manage our water resources. However, managing our seasonal water supplies to meet peak summer demand is not the same issue as our long-term water supply contracts.
Georgetown's current water supply comes from ground water as well as surface water in Lake Georgetown and in Stillhouse Hollow Lake. The current projection in the Water Master Plan, given population growth, is that these water sources will meet demand through 2047. With additional conservation measures, our water sources can meet demand past 2060.
Water use by Georgetown residents currently averages about 125 gallons per person per day. To meet future demand, we need to scale back residential average use to 120 gallons per person per day. In taking steps to help us meet that goal, the City is using several strategies such as irrigation schedules, offering rebates for water conservation practices, and reducing the irrigated lawn area for new homes.
Water storage
capacity
Keeping up with water demand in a growing city also means that Georgetown Utility Systems is adding system capacity.  A one-million gallon elevated storage tank on Westinghouse Road was completed last year to increase water storage on the southwest side of the city. A two-million gallon elevated storage tank at Cedar Breaks and DB Wood Road will be completed this summer. Later this year, a new two-million gallon storage tank is planned for Sun City along Sun City Boulevard.
As we enter the months with the highest demand on our water treatment, storage, and distribution system, I hope you will do your part to use water wisely. Check the irrigation schedule for your address and then #PickTwo days to water. Sign up for AquaAlerts to learn about your water use practices each month. And sign up for a $75 rebate when you get an irrigation system check from a licensed irrigator—while supplies last. Go to gus.georgetown.org/water to sign up for AquaAlerts or rebates.
We each have a role to play in adopting water conservation practices that ensure long-term supplies of this important shared resource. Together we can change our water use habits to make sure we have the water we need for the future.