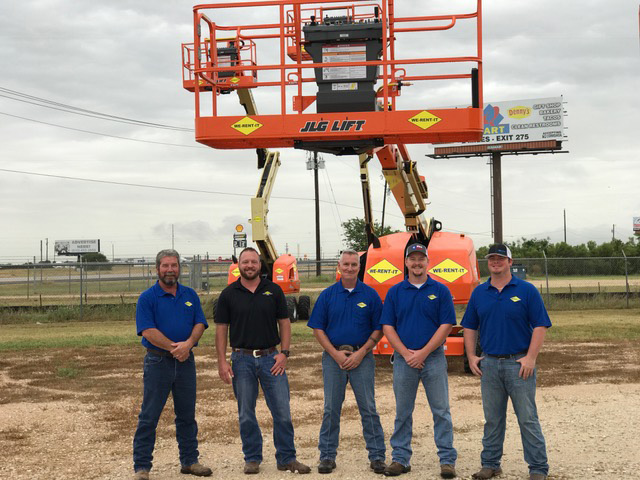 We-Rent-It (WRI), a Texas-based, family-owned business with locations throughout the state is opening its newest store May 22 to provide equipment rental and safety supplies for Jarrell, Georgetown and surrounding areas. WRI is the leading source for rental equipment and contractor supplies in Texas. The company has been providing large, heavy, and small equipment for commercial and home construction projects since 2001.
The new Georgetown location—just south of Ronald Reagan Blvd on IH-35—will focus on rentals, and the company is eager to become a primary and valuable resource to builders and contractors in the area. Marketing Coordinator Mallory Mobly says, "We rent everything from excavators and boom lifts to generators and hand tools. While commercial construction is our bread and butter, we have plenty of quality products for a home-owner's weekend project."
WRI also provides repair services for heavy equipment. We Rent It's technicians will keep rentals working smoothly, and, where possible, they can even help with maintenance on outside equipment to keep crews up and running.
WRI is also excited about being part of the significant progress in Central Texas. "We are expanding into Georgetown because we saw a lot of growth in the area and we want to be a resource," says Mobly. "Georgetown and Jarrell are in the center of a lot of growth on the I-35 corridor; no matter which direction you go, there is something big going on." Mobly estimates the new location will also mean 10-15 new jobs locally, including drivers, inside sales and mechanics.
Customers say WRI is "the place to go for all your rental needs. The staff is very knowledgeable and friendly…excellent customer service, with good people and great equipment." The company also boasts some very socially conscious employees who are encouraged and supported to provide outreach in their communities. "We get calls from employees all the time with ideas and projects to give back," Mobly adds, "and we are always pleased to back their efforts in any way we can."
Customers can visit the new store at 8810 N IH-35 in Georgetown, on the web at We-Rent-It.com, or call them at 512-746-1800.