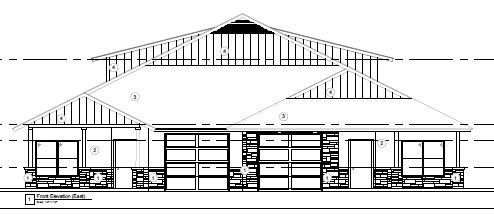 Jarrell is growing again and by end of June, the Calumet development will have its first ten new homes ready for a walk-through.
Blue Rock Construction and Carothers Homes are building Calumet on 220 lots in Jarrell, which will include duplexes and single family homes.
Blue Rock's Mark Allen is very excited to have the opportunity to expand in Jarrell, "I've been in this area for 25 years and Jarrell's growth is as outstanding as it is obvious. Our homes are less than a minute from I-35, we have amazing access to Austin, Killeen and Temple, plus we are proud to introduce fiber optic Internet to the area. These are perfect starter homes for young families or for anyone looking to downsize but still enjoy upgrades."
Allen says although unusually rainy weather held them up last Fall, he credits Adam's Excavation and Lone Star Paving for keeping things on track and on schedule. He also was glad to be working with Steve Wadsworth, who provided base material for roads in the development. "All of these companies are fantastic to work with," Allen says, "and we can't thank them enough."
Jason Carothers Builders have purchased more than 50 percent of the lots on the property. Jason is a fourth generation builder and has homes from Troy to Leander. They feature several different series of homes in the spec sector and have been successful in the $200,000 to $1M price range.
Jared Bryan at Carothers says the homes' prices will be much like the Sonterra area but they are located in Jarrell, rather than a MUD, so the city will benefit. "Our homes have a lot of custom features and we have an in-house interior designer to bring clients something more than what they are used to. We believe that what others consider an upgrade, we call standard. These are nice options for folks who are looking to move to Jarrell or move to a new home here."
Right now, there are duplexes for sale on the outer area of the property and as the City signs off on the permits, there will ten single family homes on the interior ready for a look.
Some are available for rent but Bryan says they are designed for homeownership to ensure continuity and pride in ownership.
Living in Calumet
Residents will notice right away that the development has a decidedly equine theme. The name Calumet is from a 762-acre thoroughbred breeding and training farm established in 1924 in Lexington, Kentucky.
Allen is quite proud of his own family's history and reputation in the horse racing world. "My family owned the winner of the first Breeders' Cup held in Lexington, in 1984. It was the greatest field of horses ever assembled; there were champion 2, 3, and 4 year olds and our horse, 'Wild Again' wasn't nominated to the race. The family had to pay a lot of money to enter and he was the winner at 31:1 odds. Our horse took the whole field and went on to be one of the most successful stallions in the world." Allen is still taking risks and achieving great success.
To honor that racing history, the entrance sign is adorned with Secretariat, at full gallop, and all of the streets in Calumet are named for Triple Crown winners.
Allen says he loves Jarrell because of the location. "We are smack dab in the middle of where we build in Central Texas. We send people by this area every day and when the opportunity presented itself—to be a part of what is going on here—we jumped on it. We know a lot of people are moving north from Austin and many are wanting to move South from the growth in Temple and Belton and this is a good fit for that as well."
Bryan says he expects the first homes to be move-in ready by the end of June or mid-July.
He says it is a great place to live and also welcomes inquires and feedback on the project at www.Carrotherstx.com.