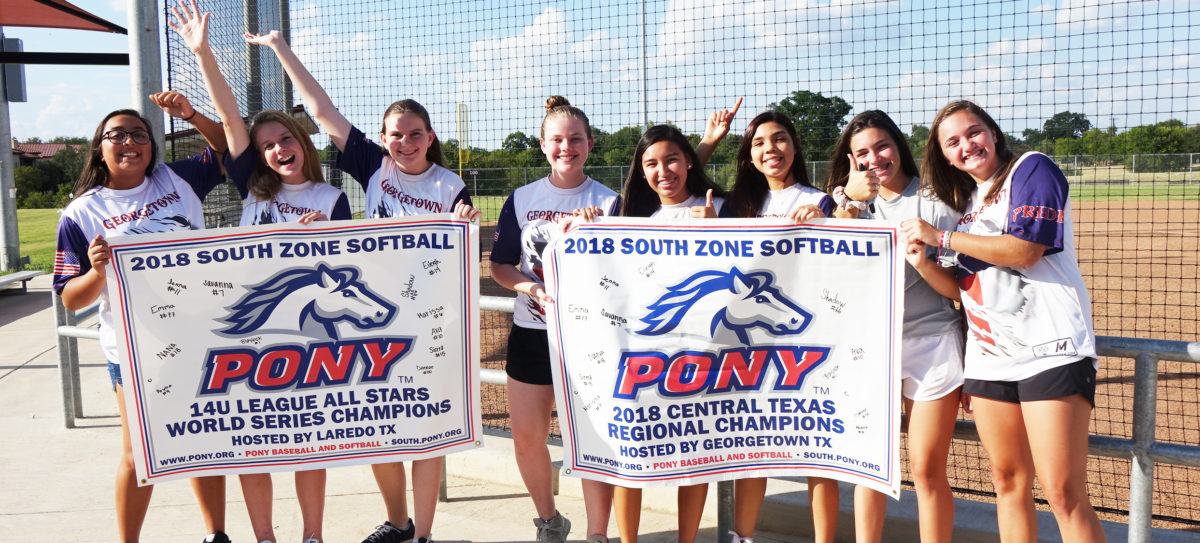 The 14U All-stars—Georgetown Pride— represented the Georgetown Youth Girls Softball Association at the 2018 World Series Championships in Laredo last month. This plucky group if 15 young athletes, assembled from Georgetown, East View and Jarrell High School club teams after the regular season, played double-headers, endured 100-plus-degree days together and even toughed it out though one day of six games with a single 40-minute break.
This was the GYGSA's second visit to the World Series and they bested everyone to come home Sectional, Regional and World Series Champions. And the name is not symbolic; they beat teams from all over Texas, Mexico and Puerto Rico for the first-ever Pony League ring.
Players bonded well through the heat and the long days and most play softball year-round for their schools or on club teams; several are on track for scholarships at the end of their club journey. Unusually shy for our interview, they agreed that winning is a big motivator but they play for the joy of the sport, the cameraderie and the adrenaline.
Coach Gabriel Dominguez says club teams are already holding signups for the next season and players are looking forward to getting to know and trust each other all over again. You can see these champions play in the Blue Santa tournament November 8-11. Contact Shawn Wright 512-350-5770 for info.