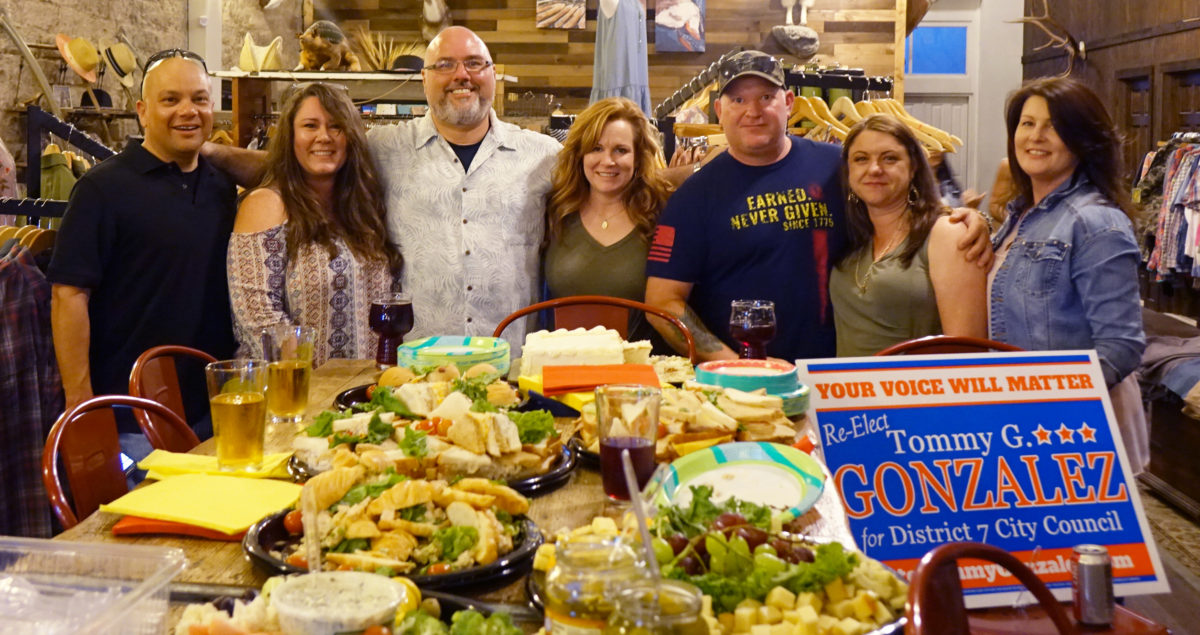 There was little shakeup in Georgetown city leadership based on unofficial election results on May 4th.
Although voter turnout was less than 7 percent in District 7—just 427 ballots cast—Council Member Tommy Gonzalez was elected to a fourth term. Gonzalez was ahead when early voting results were posted at 7pm, and, while his lead diminished as election day boxes were counted, he won by a margin of 15 votes.
Gonzalez said he was out block-walking in the morning and stood at the polls for several hours to thank those who exercised the right and privilege to vote. He later celebrated at Mesquite Creek Outfitters on the Square to show appreciation for close friends and supporters, and said, "Campaigns are hard-fought and at the end of the day all it takes is one more vote than my opponent, and we can keep on pushing forward. The process matters to me and I am looking forward to getting back to work."
County Judge Bill Gravell was on hand as well, a little sunburned from having spent the day encouraging and thanking voters at polls all over Williamson County. "This is amazing; Tommy Gonzalez is an exceptional example of what makes our county amazing. A man who has been successful in Georgetown in business, politically, and he makes our Williamson County a much better place to live, work and raise a family. I'm excited for Tommy, and I'm excited for Steve Fought, and for the future of Georgetown."
District 4 Council Member Steve Fought was with his team at Mulligans in Sun City to celebrate as well. Fought was also ahead at early voting, and with nearly 25 percent overall turnout, he will be seated for his third term with 66.49 percent of the vote.
"We did everything right, and by right I mean correct. I think Joe Reedholm ran a good race and hats off to him. He started kind of late, but he ran a good and honest race and I hope he stays engaged in the political process. I will salute anyone who steps up to run. I also salute my team and my wife, Gina. I think the challenges of campaigning are often harder on the spouse. I believe my newsletter makes a big difference. We can't underestimate its influence with our neighbors and even people outside of Sun City."
Challenger Mike Triggs unseated two-term member John Hesser by 71 votes for City Council District 3. Triggs has a strong background in finance and energy, and hopes to effect open communication on council business. "I always believed that I would be in the running and I am very happy to have won the seat. There are a couple of issues I dealt with throughout my working career, and I think I can help city council get going in the right direction. I am ready to pitch in and give whatever advice they will take." Triggs celebrated with many friends and team members; "We felt we were largely outspent, so I give credit for a lot of word of mouth support."
Georgetown ISD
Trustee Scott Stribling won his race unopposed, Andy Webb will serve a third term for Georgetown ISD with a 51.6 to 48.40 win margin. Webb, who is vacationing in Iceland with his family said, "I am just happy the campaign is over and ready to get back to work. It's a very cool job and an honor to serve."
Elizabeth McFarland was pleased to have won the open seat at Place 2 in a 72 percent landslide. "I am excited to serve and am encouraged by the outreach and inquiries I've received on social media. I'm looking forward to being on the Board and am eager to get to work."
Mayor Dale Ross says he is pleased to see more people availing themselves of the electoral process for city leadership. "It's a good sign when people recognize local elections have much more impact in our daily lives than those on the national level. But today the people have spoken how we can continue doing the business of the people. Congratulations to those who were brave enough to put their names on the ballot, and congratulations to those who won those races. I look forward to working with Mr. Triggs; his first council meeting will be May 14."