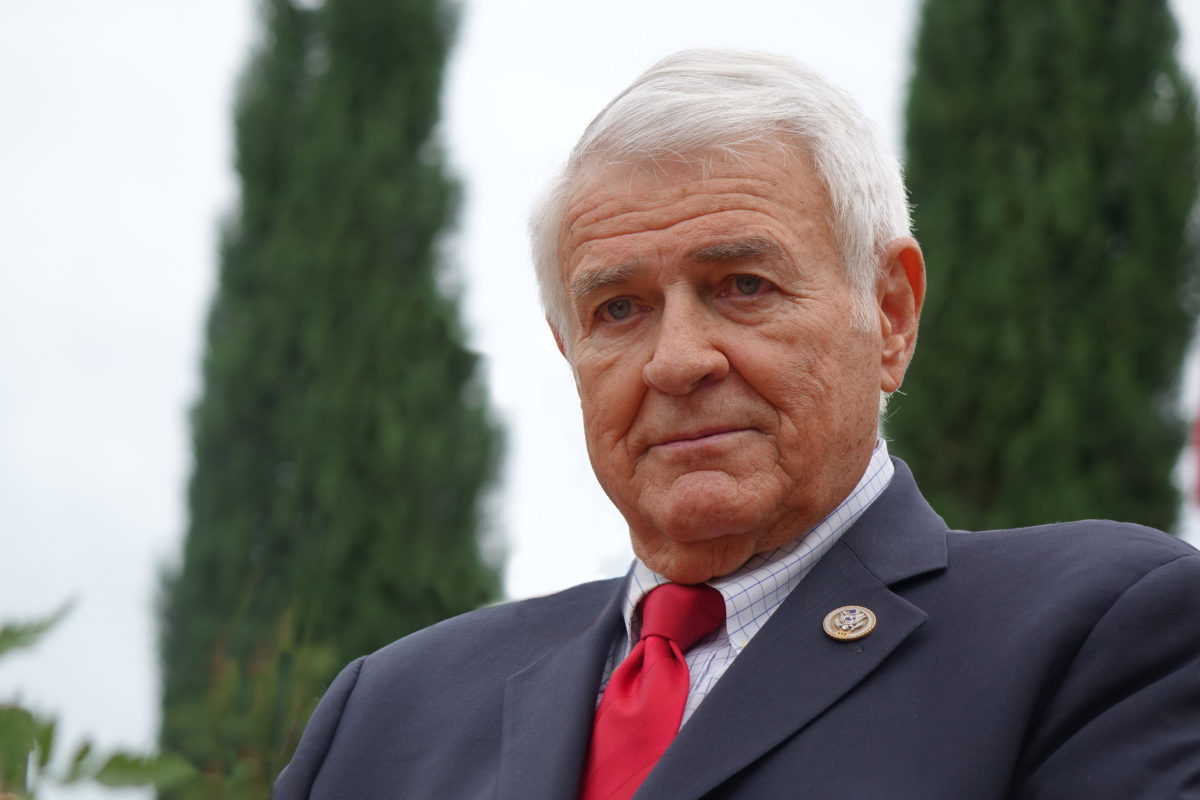 United States Congressman John Carter spoke of pride and patriotism during his keynote speech at Georgetown & Williamson County Veterans Plaza in Sun City.
The annual service to honor the men and women of our armed forces who have given their lives in service to our country is presented by the Sun City Community Association, and music was provided by the 36th Infantry Division Band of the Texas Army National Guard.
The program began with a presentation by color guards from East View and Georgetown high schools, the Georgetown Fire Department, and the Williamson County EMS. The ceremony also included singing of the national anthem, presentation of wreaths at both Memorial Walls, and sounding of Taps. To conclude the ceremony Sergeant Bonnie Rosensteel led the crowd singing "God Bless America" together.
Rep. Carter, who was recently elected to his eighth term of office is currently the Chairman of the Homeland Security Subcommittee on Appropriations. Yet, after 15 years in Congress, he is still affectionately referred to in Williamson County as "Judge", having served as 277th District Judge for 20 years.
Following are excerpts from his speech:
This may be the biggest gathering of patriots in the entire state, maybe the whole country. The patriotism of Sun City is unbelievable.
This is a hard day for a lot of people. Today I was watching television and I saw a young man who is going around the country interviewing WWII veterans. He just decided to do it on his own and he said one of the things that really touched his heart is that— almost to the person—the strongest memory they all had was of someone they lost side by side in battle.
I realize that feeling probably exists in this gathering today. There is nothing more tragic than to lose a young American in battle.
One of the things that always comes to mind when I think about the wars and I watch it on television; the actors are always way older than they should have been. We don't realize that our young go to war.
When I visit Iraq, one of the things they do is gather people from my district to come have lunch. There was a young man who looked like he was about 16. While we were talking I asked him, "Have any of y'all ever been in bad fights?" He said, "Yes sir, we had one yesterday."
"We were on convoy duty to Kuwait and they attacked us. You know, when they actually stand and fight, that's the dumbest thing they can possibly do because we wipe them out. Now, the only way they are killing us over here is blowing us up, because if they stand and fight they lose to the American Soldier and Marine; you can count on it."
I asked myself—where do we get these kids? He didn't stand 5'6″ and looked like about 130 pounds, but he was a warrior. There's something very special about Americans when they respond.
So as we gather here today, I know many of you has someone in your heart. I know you're thinking about someone you lost or some of the tragedy you had to deal with.
We as Americans have a duty and responsibility to those who have passed to honor and respect their service. We have a duty and responsibility to put the best possible Soldiers and Sailors and Airmen and Marines in harm's way. And they need to be the best supplied in the entire world.
Who we put in the war matters. How they are trained and how they are supplied matters. We win because we are the best trained, best armed, best supplied Army, Navy, Air Force, and Marines in the world. That's why that little kid was a fierce warrior—because he'd been trained.
There are also many veterans here who, when the North Koreans came sweeping down from the north, we were occupation troops. We were supposed to be running Japan and the soldiers we had in that theater were all occupation troops. They were going out and training; they were learning how to make Japan work.
All of a sudden we had to have American soldiers in the line to try to stop the North Koreans. It was  called the Smith Expedition. They pulled out approximately 200,000 troops who happened to have gone through one exercise since going to Japan, and they sent them to Korea. It was probably the closet thing to the Alamo since the Alamo.
Those guys stood in a line with a million soldiers and held the line until only 600 were left. But they slowed them down until we could get resources there, and the rest is history.
Today, we have been fighting an insurgent war for 15 years and we have to be ready to fight tonight.
So as you think about those you've lost—think about those young men and women who we're sending today.
I promise you, my life is dedicated to providing the funds to make us the best in the world so we will never lose a battle.
People [here] come from everywhere; not just Texas. So they've got congress members back home. Write a letter and tell them to finance our military. It's the most important thing we can do as Americans, and I promise you that is my goal.
Join us, so we have less to mourn on Memorial Day. It's a sad time, but it's also a proud time.
Join me in remembering those with a heavy heart and thinking about your young people, so we can sit here and freely enjoy each other's company. We are a truly blessed nation by those who serve. God bless you, He has, and He will. God bless the great state of Texas and God bless the United States of America.